Dunlop SP Sport 01 Tire Review & Rating
The SP Sport 01 from Dunlop is designed to deliver ultra-high summer driving performance for drivers of all types of sport coupes and sedans. The Sport 01 has also been used as original equipment on various vehicles from Subaru, Volkswagen and other manufacturers.
A high-performance 100% silica tread compound provides increased traction on dry and wet road surfaces, while also extending treadwear. An asymmetric tread pattern and three unique tread design segments focus in on delivering a smoother ride, enhanced handling and added safety.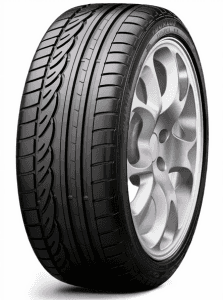 The continuous center rib gives the tire quicker and more responsive steering while also creating added stability throughout the speed range, which is something this tire does well. Circumferential grooves evacuate water from under the tire and reduce the risk of hydroplaning on wet pavement.
Inside the tire you will find two steel belts that are nylon reinforced for added strength and durability at higher speeds. A rayon cord casing and Dunlop's Jointless Band Technology increases ride comfort and smoother all-around driving performance. There's also a built-in rim protector to help prevent accidental damage to your wheels from curbs and other obstructions. Sizes are available from 15-21 inches, and in speed ratings up to a Y.
Pros
Excellent dry traction

 

 

 

Quick and responsive steering

 

 

 

Cornering grip is very good

 

 

 
Cons
Tires can be noisy as they age

 

 

 

Tread life could be better

 

 

 
Overall Thoughts
The Dunlop Sport 01 not only looks aggressive, but it also performs like it on dry road surfaces. Braking and acceleration are very good, and cornering grip is excellent. Wet handling is not bad at all and just slightly below dry performance levels. On any surface you can expect responsive steering and confidence inspiring control.
Our only issues with the tire is the increased road noise, which gets louder as the tire ages, although this is pretty normal for tires like this. The other area we would like to see improved on is a bit more tread life. Naturally, driving habits play a big role in mileage, but we still feel the tread should give more mileage.
Finally we've also heard a few drivers  sidewall bubbles occurring due in part to weaker sidewalls. We don't know anything more than that other than to say we've not had anyone tell us that it's happened to them. It may just be an isolated issue with a batch of tires at the plant, or it may be more than that. If this has happened to you we would like to hear from you.  
Overall, we rank it down in the middle of its class.While we like models such as the BFGoodrich g-Force Sport COMP-2 or Cooper Zeon RS3-S among others as higher ranking options, we still give this Dunlop a thumbs up.
What Vehicles Will The SP Sport 01 Fit?
(This is not a complete list of ALL vehicles this tire will fit)
Audi S4, A6, Q5

 

 

 

BMW 535i, X3, 330i

 

 

 

Chrysler 300C

 

 

 

Dodge Intrepid

 

 

 

Ford Focus, Mustang

 

 

 

Honda Insight, Fit, S2000

 

 

 

Mazda 6

 

 

 

Mini Cooper

 

 

 

Nissan Maxima SE

 

 

 

Saab 9-3, 9-5

 

 

 

Subaru Impreza WRX, Outback

 

 

 

Toyota Corolla, Yaris

 

 

 

Volkswagen R32, GTi, Passat, Golf

 

 

 
Tire Sizes
15″
175/65R15 84H BLT
17″
225/45R17 91W BSW
235/45R17 94W BSW
225/50R17 94Y BLT
18″
225/40ZR18 92W VSB
19″
275/35ZR19 96Y BSW
245/40ZR19 94Y BSW
21″
265/45R21 104W BSW
Price Range
Dunlop SP Sport 01 prices range from approximately $165 and up. You may also find occasional rebates, discount prices, coupons and special offers on this tire.
Click Here To Find Current Prices On All Dunlop SP Sport 01 Sizes
Warranty
Dunlop provides a limited tread warranty on the Sport 01. Tire uniformity is guaranteed for the first year or first 2/32 inch of wear. Materials and workmanship are warranted for 6-years and includes free replacement during the first year or first 2/32 inch of wear. A prorated amount is given for the remaining time period or down to the final 2/32 inch of tread depth.
---