Dunlop Signature II Tire Review & Rating
The Signature II from Dunlop is designed to provide all-season touring performance with a more comfortable ride quality and sporty handling. Built for drivers of coupes, sedans, minivans, and crossovers, the Signature II has become one of Dunlop's more popular models in their tire lineup.
An all-season tread compound and symmetric tread pattern are optimized to provide more even treadwear and a longer overall tread life. Larger outside shoulder blocks enhance dry traction and add increased cornering grip, which is an area this tire does very well in, especially on V-speed rated sizes.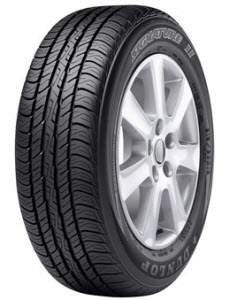 Handling on wet road surfaces is made safer through Dunlop's circumferential and unique Evaqua Grooves. These grooves are specially designed to pump water from under the tire, which makes for safer driving and a reduced risk of hydroplaning. Multi-directional sipes around the tread further enhance wet traction and provides added grip on snow covered roads, which other driver reviews have mentioned as doing a decent job in for an all-season tire.
Inside the tire you will find two steel belts and VersaLoad Technology that adds strength and durability, as well as improved handling. A polyester cord body adds to ride comfort and a smoother overall ride. Sizes are available from 14-18 inches, and it comes with a T, H or V-speed rating. Dunlop also provides a 65,000 mile tread guarantee.
Pros
Very good dry and wet traction

Tires provides solid cornering grip and overall stability

Comfortable ride

Long lasting tread life
Cons
Overall Thoughts
Many times a second generation tire fails to live up to its billing, but this isn't the case with the Signature II. We feel the performance, especially with dry traction and cornering grip, is a big step above the first Signature model.
Expect a smooth and more comfortable ride with responsive steering and excellent stability at higher speeds. Road noise is minimal for the most part until the tire reaches its later stages of wear, which at that point can become more noticeable. Winter handling is good overall, but we would like to see improvement on icy road surfaces, although this is not a winter tire.
Tread life is very good on Signature II, something that has been mentioned by many drivers. Overall, this Dunlop model is a good choice in touring tires. We give it a rank in the upper half of its class.
Click Here To Find Current Prices
What Vehicles Will The Signature II Fit?
(This is not a complete list of ALL vehicles this tire will fit)
Chevrolet Aveo, Equinox, Monte Carlo

Chrysler PT Cruiser, Town and Country

Dodge Grand Caravan, Neon

Ford Freestyle, Focus

Honda Accord, Civic, Odyssey, CR-V

Hyundai Elantra, Sonata, Tiburon

Mitsubishi Outlander

Nissan Altima, Versa, Rogue

Saturn Vue, L200

Toyota Camry, RAV4, Corolla, Sienna, Prius
Tire Sizes
14″
185/65R14 86T BSW
15″
185/60R15 84T BSW
195/60R15 88H BSW
205/60R15 91H BSW
185/65R15 88T BSW
195/65R15 91H BSW
205/65R15 94T BSW
205/70R15 96T BSW
215/70R15 98T BSW
16″
205/55R16 91H BSW
215/55R16 93H BSW
205/60R16 92H BSW
215/60R16 95H BSW
225/60R16 98T BSW
235/60R16 100T BSW
215/65R16 98T BSW
225/65R16 100H BSW
235/65R16 103T BSW
17″
215/50R17 95V XL BSW
225/50R17 94V BSW
215/55R17 94V BSW
225/55R17 97V BSW
235/55R17 99H BSW
215/60R17 96T BSW
225/60R17 99T BSW
215/65R17 99T BSW
225/65R17 102T BSW
18″
225/55R18 98H BSW
Price Range
Dunlop Signature II prices range from approximately $67 and up. You may also find occasional rebates, discount prices, coupons and special offers on this tire.
Click Here To Find The Current Prices On All Dunlop Signature II Sizes
Warranty
Dunlop provides a 6-year or 65,000 mile tread warranty on the Signature II. Tire uniformity is guaranteed for first year or first 2/32 inch of wear.
Materials and workmanship are warranted for 6-years and include free replacement during the first year or first 2/32 inch of wear. A prorated amount is given for the remaining time period or down to the final 2/32 inch of tread depth. A 30-day customer satisfaction guarantee is also provided.
---