Dunlop Direzza ZII Tire Review & Rating
Dunlop has recently unveiled its new Direzza ZII extreme high performance tire that is designed to eventually replace the widely popular Sport Z1 Star Spec model. Built for high performance sports cars, coupes and sedans, the Z2 utilizes the latest in racing technology for serious driving enthusiasts who are seeking the most out of their tires, whether for street use, at the track, in autocross events or drifting.
A directional tread pattern and wider contact patch is matched to a tread compound that is designed to provide maximum grip. The tire's continuous center rib and wide shoulders give this model faster steering response and a higher level of dry traction and handling as you will find on tires in this class. More rigid shoulders and tread grooves deliver added stability at all speeds. The bottom line on grip is that this tire flat out sticks like glue in the corners. It's not hype as you will find many driver reviews mentioning this very thing.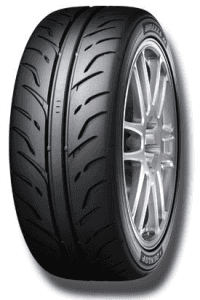 Wet traction is enhanced, and outperforms the Z1Star Spec, due in part to the dual circumferential grooves that are wider and evacuate more water from under the tread. Dunlop has designed the grooves in a way to move water to the sides of the tire and increase grip on wet surfaces.
Inside the tire you will find dual steel belts that are wider than normal and incorporate Dunlop's JointLess Band technology that includes spirally wrapped polyamide cord. The result is added strength and handling at higher speeds, as well as a better overall ride quality. The sidewalls on this tire have been strengthened with the addition of two-ply polyester that is designed to deflect lateral forces and enhance cornering. A wide range of 14 to 19 inch sizes are available, with speed ratings of V and W.
Pros
Dry and wet traction

 

 

 

Stiff sidewalls and glue like cornering grip

 

 

 

Tire stability

 

 

 

Quick steering response

 

 

 

Tread life

 

 

 
Cons
Road noise could be just a bit lower

 

 

 
Overall Thoughts
There is no doubt about it… Dunlop has come out a big winner with the new ZII tire. Not only does it outperform the older Z1 Star Spec in every category, but it holds its own with other competitors like the BFGoodrich g-Force Rival, Bridgestone RE-11, Yokohama Neova AD08R and Hankook RS3.
Wet and dry traction are excellent, but it is the cornering grip that separates this tire from the others. The stiffer sidewalls and unique tread compound give this tire glue like performance in the corners throughout the speed range. Expect excellent stability and lightning fast steering response.
Although it is a bit early for definitive results on tread life, what we are seeing is very positive. The tread life is longer than its predecessor, and in our opinion it is better than others in its class. Overall, if you're looking for both an aggressive street tire and one that also performs right up there with the best tires in this class at the track, the Z2 will not disappoint.
What Vehicles Will The Direzza ZII Fit?
(This is not a complete list of ALL vehicles this tire will fit)
BMW Z4, M3

 

 

 

Chevrolet Camaro, Corvette

 

 

 

Honda Civic, S2000

 

 

 

Mazda RX-8, Miata, Mazda 3

 

 

 

Mercedes-Benz SLK55

 

 

 

Mini Cooper

 

 

 

Pontiac GTO, G6

 

 

 

Porsche 944, Cayman

 

 

 

Scion FR-S

 

 

 

Subaru Impreza WRX, BRZ Limited

 

 

 

Volkswagen R32

 

 

 
Tire Sizes
14″
185/60R14 82H BW
15″
195/50R15 82V BW
195/55R15 85V BW
205/50R15 86V BW
16″
205/50R16 87V BW
205/55R16 91V BW
225/45R16 89W BW
225/50R16 92V BW
17″
205/45R17 84W BW
215/40R17 83W BW
215/45R17 87W BW
225/45R17 91W BW
235/40R17 90W BW
235/45R17 94W BW
245/40R17 91W BW
245/45R17 95W BW
255/40R17 94W BW
18″
225/40R18 88W BW
225/45R18 91W BW
235/40R18 91W BW
245/40R18 93W BW
255/35R18 90W BW
265/35R18 93W BW
275/35R18 95W BW
285/30R18 93W BW
19″
245/40R19 94W BW
275/35R19 96W BW
Price Range
Dunlop Direzza ZII prices range from approximately $114 and up. You may also find occasional rebates, discount prices, coupons and special offers on this tire.
Click Here To Find Current Prices On All Dunlop Direzza ZII Tire Sizes
Warranty
Dunlop provides a limited tread warranty on the Z2. Tire uniformity is guaranteed for the first year or first 2/32 inch of wear. Materials and workmanship are warranted for 6-years and include free replacement during the first year or first 2/32 inch of wear. A prorated amount is given for the remaining time period or down to the final 2/32 inch of tread depth.
---