Dunlop Direzza Sport Z1 Star Spec Tire Review & Rating
The Direzza Sport Z1 Star Spec is one of Dunlop's more popular high performance summer tires in their lineup. Built for drivers who are seeking the highest levels in traction and cornering grip, the Z1 fits all types of sports cars, coupes and sedans. The Star Spec takes up and improves on where the original Direzza Sport Z1 left off.
While the tread design on the Star Spec is the same as the original Direzza Sport Z1, the compound is different. Dunlop has incorporated a newer high-performance directional tread compound that is made to provide more consistent grip and perform at a much higher level in a wider temperature range than the original.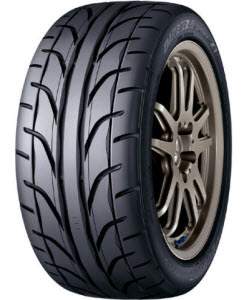 The tire's larger shoulder blocks and continuous ribs around the shoulder and center of the tread help deliver increased traction and grip on dry and wet pavement. In fact, cornering grip on this tire is among the best in any class. It sticks like glue and is difficult to break loose at higher speeds. The center rib also provides enhanced steering response and stability throughout the speed range.
Two circumferential center grooves combine with lateral and unique shoulder grooves to increase handling on wet road surfaces. They help channel away water from under the tread and reduce the risk of hydroplaning.
Inside the tire you will find two steel belts that utilize Dunlop's JointLess Band technology which includes polyamide wrapped reinforcement for added strength and improved high speed performance. Sizes are available from 14-18 inches, and speed ratings up to a W.
Pros
Excellent dry and wet traction

 

 

 

Cornering grip is exceptional

 

 

 

Steering response is quick and inspires confidence

 

 

 

Braking and acceleration is impressive on this tire

 

 

 
Cons
A little extra road noise

 

 

 
Overall Thoughts
It's hard not to be a fan of this Dunlop maximum performance tire. It does just about everything you could want out of a tire, whether it be on the street or at the track. Cornering grip is nothing short of amazing on both dry and wet pavement. The steering is quick and tire stability is excellent.
Sure, the tires give a little bit of hum to them, but it's nothing excessive in the least. Braking and acceleration is another strong area for this tire and will leave you feeling very impressed.
Overall, the Direzza Sport Z1 Star Spec sits right up there with the Yokohama Neovo AD08 and the Bridgestone RE11 as the best in this class. You can't go wrong in choosing this tire if ultra-high performance is what you're looking for.
What Vehicles Will The Dunlop Sport Z1 Fit?
(This is not a complete list of ALL vehicles this tire will fit)
Acura Integra, TL

 

 

 

BMW M3, Z4, 328i, 335i, 135i, 540i

 

 

 

Chevrolet Camaro, Malibu

 

 

 

Dodge Neon SRT4

 

 

 

Ford Mustang GT, Probe, Escort ZX2

 

 

 

Honda Civic, Fit, S2000

 

 

 

Kia Forte SX

 

 

 

Mazda Miata, Mazda6, RX-8, RX-7, Mazda3, Protege

 

 

 

Mini Cooper

 

 

 

Mitsubishi Eclipse, Lancer

 

 

 

Nissan Sentra

 

 

 

Pontiac GTO, Trans Am, G8, Solstice GXP

 

 

 

Porsche 911, Boxster

 

 

 

Saturn Sky

 

 

 

Scion tC

 

 

 

Subaru Impreza WRX

 

 

 

Toyota MR2, Prius

 

 

 

Volkswagen GTi, Golf R32

 

 

 
Tire Sizes
14″
185/60R14 82H BSW
195/60R14 86H BSW
15″
195/50R15 82V BSW
195/55R15 84V BSW
16″
205/50R16 87V BSW
205/55R16 89V BSW
225/50R16 92V BSW
17″
215/40R17 83W BSW
215/45R17 87W BSW
225/45R17 90W BSW
235/40R17 90W BSW
235/45R17 93W BSW
245/40R17 91W BSW
245/45R17 95W BSW
255/40R17 94W BSW
18″
225/40R18 88W BSW
225/45R18 91W BSW
235/40R18 91W BSW
245/40R18 93W BSW
245/45R18 96W BSW
255/35R18 90W BSW
265/35R18 93W BSW
275/35R18 95W BSW
Price Range
Dunlop Direzza Sport Z1 Star Spec prices range from approximately $119 and up. You may also find occasional rebates, discount prices, coupons and special offers on this tire.
Click Here To Find Current Prices On All Dunlop Direzza Sport Z1 Star Spec Tire Sizes
Warranty
Dunlop provides a limited tread warranty on the Direzza Sport Z1. Tire uniformity is guaranteed for one-year or the first 2/32 inch of wear. Materials and workmanship are warranted for 6-years and include free replacement during the first year or first 2/32 inch of wear. A prorated amount is then given for the remaining time period or down to the final 2/32 inch of tread depth.
---