Dunlop Direzza DZ102 Tire Review & Rating
The Dunlop Direzza DZ102 ultra-high performance summer tire is intended for drivers of all types of sports cars, sporty coupes, and performance sedans. Drivers of these types of high end vehicles need a tire which can keep up, which is why this offering is built to provide excellent handling, response and cornering on both dry and wet surfaces.
A silica and carbon black tread compound has been created to increase traction over dry and wet road conditions. The directional tread pattern utilizes wider shoulder blocks and three center ribs to enhance steering stability and tighter cornering.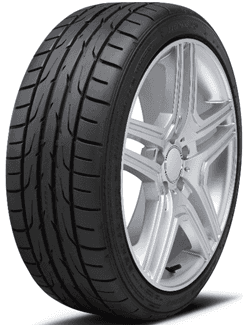 The DZ102's wide circumferential grooves help with traction on wet pavement by evacuating more water and lowering the risk of hydroplaning. As a quick note on this model, this is not a tire to try and drive on in cold weather or winter weather conditions.
Internally, the tire features dual steel belts that are reinforced with a polyamide cord cap ply, which is part of Dunlop's Jointless Band technology. This helps to reduce tread wear, improve handling and response at high speeds as well as to improve ride comfort. Dunlop has also added flange shields to help in preventing damage to the tire's rim from curbs or other obstacles.
Dunlop has a wide array of sizes available that range from 15-22 inches, and speed ratings of V or W. A limited tread life warranty is also part of the package.
Pros
Excellent grip on dry road conditions

Improved design over predecessor (DZ101)

Low price point
Cons
Slight boost in wet traction
Overall Thoughts
If you drive a high performance vehicle, choosing the correct tire can make a world of difference in your car's handling, response, and cornering ability. The DZ102 aims to be a high end solution for these driving characteristics, and for the most part this tire delivers just that.
A big improvement over the original DZ101, which had noticeably poorer performance in wet road conditions, the DZ102 can provide you with sufficient grip on most dry and wet surfaces. Wet grip is good, but for more spirited drivers we feel that it could be bumped up when it comes to 'at the limits' traction.

Ride comfort is good, while road noise-after an initial period to break in the tire-is also acceptable. The tire is available in a wide range of sizes which increases the likelihood it will be available for your particular vehicle. It also has an attractive price point when compared against some other top tires in this class.
Overall, the DZ102 is a reasonably priced, reliable, and fun to drive summer tire that we rank in the upper half of its class. It competes favorably against other top models like the Bridgestone RE760 Sport, BFGoodrich Sport Comp-2 and Firestone Firehawk Indy 500.
Click Here To Find Current Prices
What Vehicles Will The Dunlop DZ102 Fit?
(This is not a complete list of ALL vehicles this tire will fit)
Acura TSX, Integra

Audi S4, TT, A4

BMW Z4, 540i, M3, 330i, 320i, 428i, X1

Cadillac CTS

Chevrolet Impala, Corvette, Camaro, Malibu, Cruze

Ford Mustang, Fiesta, Focus, Fusion

Honda Civic, Fit, Accord

Hyundai Tiburon, Sonata

Infiniti G35, I35, Q45

Jaguar XKR

Kia Rondo

Lexus SC400, GS350, GS450

Lincoln LS, MKZ

Mazda Miata, Mazda2

Mitsubishi Eclipse, Lancer

Nissan 350Z, Maxima

Porsche 944

Saab 9-3

Scion FR-S, xB

Subaru Impreza WRX, Legacy

Toyota MR2

Volkswagen Jetta, Rabbit, Golf

Volvo S80
Tire Sizes
15″
195/50R15 82V BSW
205/50R15 86V BSW
195/55R15 85V BSW
205/55R15 88V BSW
16″
205/45R16 87W XL BSW
195/50R16 84V BSW
205/50R16 87V BSW
215/50R16 90V BSW
225/50R16 92V BSW
205/55R16 91V BSW
215/55R16 93V BSW
225/55R16 95V BSW
17″
245/40R17 91W BSW
255/40R17 94W BSW
205/45R17 88W XL BSW
215/45R17 91W XL BSW
225/45R17 94W XL BSW
235/45R17 94W BSW
245/45R17 95W BSW
205/50ZR17 93W XL BSW
215/50R17 91V BSW
225/50R17 94W BSW
235/50ZR17 96W BSW
215/55R17 94V BSW
235/55ZR17 99W BSW
18″
255/35R18 94W XL BSW
265/35R18 97W XL BSW
275/35R18 95W BSW
225/40R18 92W XL BSW
235/40R18 95W XL BSW
245/40R18 97W XL BSW
275/40R18 99W BSW
225/45R18 95W XL BSW
245/45R18 100W XL BSW
255/45ZR18 99W BSW
235/50ZR18 97W BSW
19″
265/30R19 93W XL BSW
275/30R19 96W XL BSW
225/35R19 88W XL BSW
235/35R19 91W XL BSW
245/35R19 93W XL BSW
285/35R19 99W BSW
245/40ZR19 94W BSW
20″
245/35ZR20 95W XL BSW
255/35R20 97W XL BSW
245/40ZR20 99W XL BSW
22″
265/35ZR22 102W XL BSW
Price Range
Dunlop Direzza DZ102 prices range from approximately $70 and up. You may also find occasional rebates, discount prices, coupons and special offers on this tire.
Click Here To Find The Lowest Prices On All Dunlop Direzza DZ102 Sizes
Warranty
Dunlop provides a limited tread warranty on the Direzza DZ102. Tire uniformity is guaranteed for the first year or first 2/32 inch of wear. Materials and workmanship are warranted for 6-years and include free replacement during the first year or first 2/32 inch of wear. A prorated amount is given for the remaining time period or down to the final 2/32 inch of tread depth.
---