Dunlop Direzza DZ101 Tire Review & Rating
Designed for drivers of sport coupes, sedans andother sports cars, the Dunlop Direzza DZ101 is one of Dunlop's high performance summer driving tires. With a budget-friendly price on most sizes, it provides several features normally found only in higher priced models.
Dunlop has incorporated a Silicarbon Matrix in the tread compound that claims to enhance dry pavement grip and provide better cornering. The compound is a mix of silica and carbon black that improves wet road performance as well.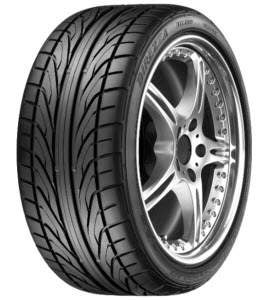 The Dunlop DZ101 utilizes a 5-Pitch Technology that creates a more quiet riding tire. They have done a nice job with this added technology.
The tire sports a directional tread pattern to go with more ridged shoulder blocks and dual tread channels that are wider than normal and feature oblique grooves to aid in hydroplane resistance.
Inside the tread you will find two steel belts that use Dunlop's unique Jointless Band Technology. It helps to increase tread wear and improve overall handling at higher speeds. They have also included a Max Flange Shield which is basically a rim protector so that you do not damage the rims if you curb your vehicle while parking.
Due to this being a summer driving tire it is not recommended that you drive in near-freezing or winter weather conditions.
Pros
Ride comfort is good and the tire is quiet

 

 

 

Tire performs well for everyday drivers looking for a summer driving tire

 

 

 

Aggressive tread design is attractive

 

 

 
Cons
Dry pavement traction is adequate, but sidewall is too soft for more aggressive driving in the corners

 

 

 

Grip on wet roads can be an issue at higher speeds

 

 

 

Treadlife has been problematic for some owners

 

 

 
Overall Thoughts
While this Dunlop model looks great, we wish it had more "under the hood" so to speak. Dry performance is good for those looking for a tire that handles well at normal speeds, whether around town or on the highway, but wet pavement requires more caution.
For those looking for more "spirited" performance, there are many other tires in this class that would be a better option for your particular vehicle. That said, the Direzza DZ101 rides comfortably for a summer performance tire and road noise is minimal.
What Vehicles Will The Direzza DZ101 Fit?
(This is not a complete list of ALL vehicles this tire will fit)
Acura TL, RSX

 

 

 

BMW 3 Series

 

 

 

Chevrolet Cobalt

 

 

 

Ford Mustang

 

 

 

Honda Civic

 

 

 

Infiniti G37

 

 

 

Mercedes C-Class

 

 

 

Nissan 350Z, Maxima

 

 

 
Tire Sizes
15″
195/50R-15 82V BSW
195/55R-15 85V BSW
205/50R-15 86V BSW
205/55R-15 88V BSW
16″
195/50R-16 84V BSW
205/45R-16 83W BSW
205/50R-16 87V BSW
205/55R-16 91V BSW
215/45R-16 86W BSW
215/50R-16 90V BSW
215/55R-16 93V BSW
225/50R-16 92V BSW
225/55R-16 95V BSW
17″
205/45R-17 84W BSW
205/50R17 93W XL BSW
215/45R-17 87W BSW
215/50R-17 91V BSW
225/45R-17 XL 94W B
225/50R17 94W BSW
235/45R-17 94W BSW
235/50R17 96W BSW
235/55R-17 99W BSW
245/40R-17 91W BSW
245/45R-17 95W BSW
255/40R-17 94W BSW
265/40R-17 96W BSW
18″
215/35R18 84W XL BSW
225/40R-18 88W BSW
225/45R-18 91W BSW
235/40R-18 91W BSW
235/50R18 97W BSW
245/40R-18 93W BSW
245/45R-18 96W BSW
255/35R-18 90W BSW
255/45R18 99W BSW
265/35R-18 93W BSW
275/35R-18 95W BSW
19″
215/35R19 85W XL BSW
225/35R19 88W XL BSW
245/35R-19 89W BSW
245/40R19 94W BSW
265/30R19 93W XL BSW
275/30R-19 92W BSW
20″
225/30R20 85W XL BSW
245/35R20 95W XL BSW
245/40R20 99W XL BSW
255/35R20 97W XL BSW
22″
265/35R-22 102W XL B
Price Range
Prices on the Dunlop Direzza range from around $95 and up. You may also find occasional rebates, discounts, coupons and special offers on this tire.
Warranty
Dunlop does not provide a treadlife mileage warranty on the Direzza DZ101, but there is a 6-month or first 2/32 inch of wear guarantee on tire uniformity.
Materials and workmanship are guaranteed for 6-years and include a free replacement during the first year or first 2/32 inch of wear. Dunlop prorates out the amount for the remainder of the time period.
There is also a 30-day customer satisfaction guarantee whereby you can exchange the tires for another Goodyear brand.
---