Duck Commander Mud Terrain Tire Review & Rating
You knew it would only be a matter of time, but we now have a new MT tire based off the hit TV show Duck Dynasty. The Duck Commander Mud Terrain tire, which is made by Cooper Tire, is built specifically for drivers of pickups, SUV's, jeeps and other 4×4's who are looking for tough off-road performance to go with reliable on-road manners.
Taking a quick glance at the tread pattern on this tire you'll immediately notice it is basically the same pattern that is on the Mastercraft Courser MXT mud tire. It looks like the only difference is that the lugs have been shaved and are less aggressive than the MXT. Oh, we can't forget you also get the cute duck commander stamping on the sidewall as well.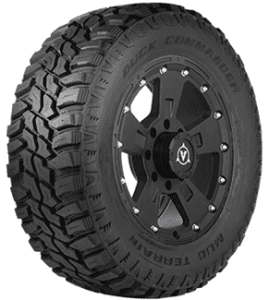 The tires' high void tread works well in dirt, sand and deeper mud while wider shoulder grooves and scalloped edges clear away excess mud and other debris.
On road performance is enhanced through the use of full-depth sipes around the tread. These added biting edges help in maintaining wet traction on pavement, as well as providing increased grip on snowy road surfaces.
Duck Commander Mud Terrain tires are available in a range of 15-20 inch LT and flotation sizes with C, D and E load range ratings. All sizes come with a limited tread warranty.
Pros
Good off-road performance
Well-mannered on the street
Better than average treadlife
Cons
Tires tend to run larger than actual size
Overall Thoughts
Creating products based off hit TV shows is nothing new of course, so it should come as no surprise to see something like a set of tires coming out of Duck Dynasty. What is somewhat surprising is that this tire is nearly identical to the Mastercraft MXT. In fact, if you removed the duck commander emblems on the sidewalls, I doubt many everyday drivers could tell the difference between the two tires.
OK, back to the tire itself. As you can read in our review on the MXT, this model delivers solid overall performance off the beaten path. It also performs well on the street. No real complaints here.
While I'm all for commercialism, has it gone too far in this case? It's easy to understand kid's lunchboxes, backpacks, clothing and all sorts of toys, but a set of mud tires may be a bit much. That said, when you put those feelings aside, the tire itself is a very good option regardless of whether you're a fan of the show or not.
What Vehicles Will The Duck Commander M/T Fit?
(This is not a complete list of ALL vehicles this tire will fit)
Chevrolet Silverado, Colorado, K1500, Avalanche, S10, Blazer, Tahoe
Dodge Ram, Dakota, Durango
Ford F-150, Ranger, Bronco, Expedition, F-250, F-350
GMC Sierra, Canyon, Jimmy, Suburban, Envoy, Yukon
Hummer H3
Isuzu Trooper, Hombre5, Rodeo, Amigo S
Mitsubishi Montero
Nissan Crew Cab, Titan, Pathfinder
Jeep Wrangler, Cherokee, Grand Cherokee, Liberty, CJ5, CJ7
Land Rover Range Rover
Toyota FJ Cruiser, 4Runner, Tacoma, Tundra, Sequoia
Tire Sizes
15″
31×10.50R15 C 109Q OWL
33×12.50R15 C 108Q OWL
16″
LT235/85R16 E 120/116Q BLK
LT265/75R16 E 123/120Q BLK
LT285/75R16 E 126/123Q BLK
LT315/75R16 E 127/124Q OWL
17″
LT265/70R17 E 121/118Q OWL
LT285/70R17 E 121/118Q OWL
LT295/70R17 E 121/118Q OWL
LT305/65R17 E 121/118Q OWL
LT315/70R17 D 121/118Q OWL
18″
LT275/70R18 E 125/122Q OWL
LT275/65R18 E 123/120Q OWL
20″
35×12.50R20 E 121Q BLK
LT305/55R20 E 121/118Q BLK
Price Range
Duck Commander Mud Terrain prices range from approximately $218 and up. You may also find occasional rebates, discount prices, coupons and special offers on this tire.
Warranty
Duck Commander provides a limited tread warranty on the Mud Terrain.
---