Dick Cepek Radial F-C II Tire Review & Rating
Created and designed for pickup truck and sport utility vehicle drivers, the Dick Cepek Radial F-C II is able to handle across a wide range of conditions. While not quite a full off-road and mud tire and not quite an on-road one either, they sit somewhere in between and offer consistent performance throughout.
Off-road grip and traction is provided by the deep symmetric tread design and tread lugs which ensure the tires hold their grip on less than ideal surfaces.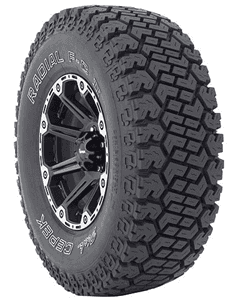 They also have stone ejector technology to prevent punctures and any performance inhibitors while on off-road surfaces and this is further improved by thin sipes. Longevity and durability is provided by a heavy-duty tire casing which also features twin steel belts on top of a polyester casing.
Pros
Solid off-road performance

Excellent dry, wet and snow traction

Tread lasts forever
Cons
Perhaps out of some drivers' budget
Overall Thoughts
If high performance on a diverse selection of road (and non-road) surfaces is what you are after then these tires from Dick Cepek are really worth considering. They feature an effective range of technology for driving throughout the year. While they are not the cheapest tire on the market and perhaps out of budget for some people, it may be worth paying a bit extra for tires of this quality.
Getting close to 90,000 miles out of them is not unheard of and they can be a tire that lasts years rather than months. The tread simply wears like iron. As an on/off road tire that is comfortable on just about every road surface, the Radial FC-II is a nice option.
Click Here For Current Dick Cepek Coupons
Tire Sizes
15″
31X10.50R15LT 109Q OWL C
33X12.50R15LT 108Q OWL C
35X12.50R15LT 113Q OWL C
16″
LT265/75R16 123N OWL E
LT285/75R16 122N OWL D
LT305/70R16 118N OWL D
LT315/75R16 121N OWL D
17″
LT265/70R17 121Q OWL E
LT285/70R17 121Q OWL D
33X12.50R17LT 114Q OWL D
35X12.50R17LT 119Q OWL D
37X13.50R17LT 121Q BLK D
18″
LT275/65R18 123Q OWL E
LT305/60R18 121Q BLK E
LT325/60R18 124Q BLK E
LT305/70R18 126Q BLK E
LT325/65R18 127N BLK E
20″
LT305/55R20 121Q BLK E
LT325/50R20 120N BLK E
35X12.50R20LT 121Q BLK E
35X13.50R20LT 122Q BLK E
Price Range
Dick Cepek Radial FC II prices range from approximately $273 and up. You may also find occasional rebates, discount prices, coupons and special offers on this tire.
Warranty
Dick Cepek provides a limited tread warranty on the F-C II. Tire uniformity is guaranteed for one-year or the first 2/32 inch of wear. Materials and workmanship are warranted for an unlimited time and include free replacement during the first year or first 2/32 inch of wear. A prorated amount is given for the remaining time or down to the final 3/32 inch of tread depth.
---