Dick Cepek Mud Country Tire Review & Rating
Driving in mud and off-road conditions while still maintaining some semblance of on-road manners is a big challenge for many tires, however, the Dick Cepek Mud Country has attempted to do just that. Built for pickups and sport utility vehicles, the Mud Country features an aggressive tread design that is created to provide high performance regardless of the terrain.
An 18/32″ to 23/32″-deep (depending on size) symmetric tread design and 3-ply sidewalls ensure added strength and puncture resistance in even the worst off-road conditions. Stepped tread blocks clean out the tires to make sure that mud doesn't stick and hinder performance.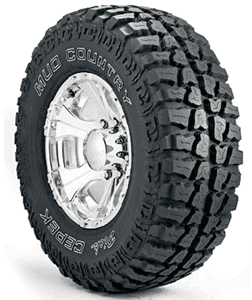 The Mud Country tires also come with DC Sidebiters which are a trademark of Dick Cepek and improve durability, sidewall defense as well as grip on and off-road. The tires are M+S branded and available in 15 to 20 inch sizes.
Pros
Dick Cepek innovative technology on board

Consistent driving in summer and winter

Solid on and off-road

Tread is long lasting
Cons
Not the best for daily highway driving
Overall Thoughts
For drivers that often embark on long journey's that take in conditions and terrain that are not always suitable for normal driving, the Mud Country is a great solution. This is simply one tough tire that doesn't wear out. It's not unheard of to see drivers getting 80,000 miles out of the tread, which is a testament to how well Dick Cepek tires hold up.
Great for dealing with mud, rugged terrain and even snow in the winter months, while right being right at home on dry gravel roads, the tires are a win-win all year round.
While they can have some road noise which is not unusual for a mud tire of course, Dick Cepek has done a good job of keeping it minimal. Overall, this is a good quality tire that provides excellent performance.
Click Here For Current Dick Cepek Coupons
What Vehicles Will The Dick Cepek Mud Country Fit?
(This is not a complete list of ALL vehicles this tire will fit)
Tire Sizes
15″
31X10.50R15LT 109Q OWL C
33X12.50R15LT 108Q OWL C
35X12.50R15LT 113Q OWL C
16″
LT265/75R16 123Q OWL E
LT285/75R16 122Q OWL D
LT285/75R16 126Q OWL E
LT305/70R16 118Q OWL D
LT305/70R16 124Q OWL E
LT315/75R16 127Q OWL E
17″
LT265/70R17 121Q OWL E
33X12.50R17LT 114Q OWL D
35X12.50R17 121Q OWL E
18″
LT305/60R18 121Q BLK E
LT325/60R18 124N BLK E
LT305/70R18 126Q OWL E
20″
LT305/55R20 121Q BLK E
35X12.50R20LT 121Q BLK E
PriceRange
Dick Cepek Mud Country prices range from approximately $176 and up. You may also find occasional rebates, discount prices, coupons and special offers on this tire.
Warranty
Dick Cepek provides a limited tread warranty on the Mud Country. Tire uniformity is guaranteed for one-year or the first 2/32 inch of wear. Materials and workmanship are warranted for an unlimited time and include free replacement during the first year or first 2/32 inch of wear. A prorated amount is given for the remaining time or down to the final 3/32 inch of tread depth.
---