Dick Cepek Fun Country Tire Review & Rating
For those who drive pickup trucks and sport utility vehicles and need a tire that can cope equally with on road and off road driving then Dick Cepek Fun Country tires may be the answer.
The tires are a hybrid of many all-terrain and mud-terrain tire designs and feature a range of technology to help achieve maximum performance. For example wide lateral and offset tread grooves combined with stone ejector ribs and ultra-thin sipes offer excellent off-road driving and an ability to handle most rugged terrains.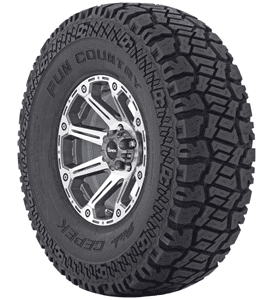 This is further enhanced with the notched shoulder edges, scalloped ribs, and an enhanced buttress design which allow the Fun Country to handle a variety of challenging situations.
Normal driving benefits from the deep, aggressive, multi-dimensional side biters that offer traction across many road surfaces and weather conditions and road noise is decreased via the computer optimized pitch sequence on the tread.
Pros
Effective across any terrain and road surface

Durable and long lasting tread design

Not as loud on-road as you might expect
Cons
Overall Thoughts
The Fun Country tires from Dick Cepek are made for on-road and off-road driving and they perform very well in both scenarios.
With a lot of technology and design on board the tires are able to handle most road conditions (however they can slide on ice) with ease and this is enhanced by good tread wear and longevity.
They are adept in sunny weather, rain, light snow, mud or simply going through roads that are not designed for everyday driving and they define the term all-rounder, and they offer very good value for the money.
Overall, if you frequently head off the beaten track then these tires could be the perfect solution.
Click Here For Current Dick Cepek Coupons
Click Here To Find Current Lowest Price
Tire Sizes
15″
31X10.5R15LT 109Q BLK
32X11.5R15LT 113Q BLK
33X12.5R15LT 108Q BLK
16″
LT265/75R16 123/120Q BLK
LT285/75R16 126/123Q BLK
LT305/70R16 124/121Q BLK
LT315/75R16 127/124Q BLK
17″
LT265/70R17 121/118Q BLK
LT285/70R17 121/118Q BLK
LT305/65R17 121/118Q BLK
LT315/70R17 121/118Q BLK
37X12.5R17LT 124P BLK
18″
LT275/70R18 125/122Q BLK
LT305/60R18 121/118Q BLK
LT305/70R18 126/123Q BLK
20″
LT275/65R20 126/123Q BLK
LT285/55R20 122/119Q BLK
LT305/55R20 121/118Q BLK
35X12.5R20LT 121Q BLK
37X12.5R20LT 126P BLK
Price Range
Dick Cepek Fun Country prices range from approximately $189 and up. You may also find occasional rebates, discount prices, coupons and special offers on this tire.
Click Here To Find Current Lowest Prices On All Dick Cepek Fun Country Tire Sizes
Warranty
Dick Cepek provides a limited tread warranty on the Fun Country. Tire uniformity is guaranteed for one-year or the first 2/32 inch of wear. Materials and workmanship are warranted for an unlimited time and include free replacement during the first year or first 2/32 inch of wear. A prorated amount is given for the remaining time or down to the final 3/32 inch of tread depth.
---