Dick Cepek Extreme Country Tire Review & Rating
The Dick Cepek Extreme Country is the company's latest mud-terrain model that has been developed as a replacement to both the Fun Country and Crusher models. It's built to deliver maximum off-road traction and responsive handling, a long tread life, and provide for more even tread wear.
Like most MT tires, the Extreme Country is M+S rated and not RMA Severe Service rated. The tread pattern features a deeper tread level with a strong tread compound that created to increase cut and chip resistance, as well as enhance traction and treadlife.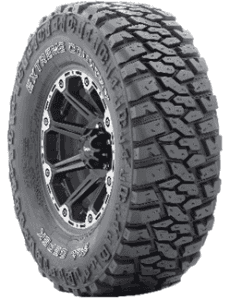 Dick Cepek has added stone ejector tread grooves to prevent stone retention, which is a plus on this tire. The tread also features specially designed chamfers and notched inner and outer lugs for added stability and more responsive grip, especially on irregular surfaces like rocks, limbs and other debris.
Naturally, this mud tire features Dick Cepek's unique Sidebiters that are molded onto the upper sidewalls. These Sidebiters add a further layer of protection to the sidewall, while also giving you added traction on loose surfaces.
The internal construction is built tough and should satisfy the needs of most drivers in off-road terrain. It does this without compromising on weight or riding comfort. In fact, you'll find significantly lower road noise from this tire than you find on many others in this class. More on that below in our Overall Thoughts.
Inside the tread you'll find a two-ply next generation high tensile body ply cord for added resistance to rolling and heat buildup. This latest high-tensile body weighs a bit less than we expected to see. The Dick Cepek Extreme Country is available a wide range of 15-20 inch sizes to fit all types of trucks, jeeps, SUV's and 4x4s. A limited tread warranty is also included.
Pros
Sidebiters provide solid protection against punctures and bruises
Excellent overall off-road performance
Stone ejector grooves do their job
Tires are very easy to balance
Extra tread depth helps with treadlife
Cons
Traction on hard-pack and ice
Overall Thoughts
We'll start off by saying upfront that we really like what Dick Cepek has done with the Extreme Country. From the aggressive and deeper tread design to its performance on off-road rugged terrain, this tire doesn't disappoint. It's not always easy to be a replacement to a popular selling tire, but to replace TWO different tires can be extremely difficult for any tire maker. However, DC has pulled it off for the most part.
One look at the tread design and you can tell that it should deliver the type of traction and performance you want in a mud tire. It handles rocks very well and we haven't heard complaints from anyone in regards to chips, cuts, punctures or any other issues when aired down and traveling over rock.
The biggest surprise is this tires on-road manners. The ride is very good for an MT tire. No, it's not the luxury ride comfort of a Michelin touring tire, but it's nowhere near a bone-jarring experience either. There's not much in the way of excessive road noise, and we feel it's quieter than the Firestone MT and many other bigger brand name models.
Overall, we feel that the Extreme Country is ideally suited for anyone who likes to enjoy their weekends driving in the dirt, mud, sand and rock, but are also seeking a good quality tire for driving on the street. It rates in the upper half of this class.
Click Here For Current Dick Cepek Coupons
Click Here To Find Current Lowest Price
What Vehicles Will The Dick Cepek Extreme Country Fit?
Fits these vehicles and many others:
Chevrolet Silverado, Blazer
Dodge Ram, Dakota
Ford F-150, F-250, F-350, Bronco
GMC Sierra
Hummer H3
Jeep Wrangler
Nissan Armada, Titan
Toyota Tacoma
Tire Sizes
15″
31X10.50R15LT 109Q OWL
33X10.50R15LT 108Q OWL
33X12.50R15LT 108Q OWL
35X12.50R15LT 113Q OWL
16″
LT235/85R16 120/116Q BW
LT245/75R16 120/116Q BW
LT255/85R16 123/120Q OWL
LT265/75R16 123/120Q OWL
LT285/75R16 126/123Q OWL
LT305/70R16 124/121Q OWL
LT315/75R16 127/124Q OWL
17″
LT265/70R17 121/118Q OWL
LT285/70R17 121/118Q OWL
LT295/70R17 121/118Q OWL
LT305/65R17 121/118Q OWL
LT315/70R17 121/118Q OWL
18″
LT295/70R18 129/126Q BW
LT305/60R18 121/118Q OWL
LT305/70R18 126/123Q OWL
20″
35X12.50R20LT 121Q BW
LT305/55R20 121/118Q BW
Price Range
Dick Cepek Extreme Country prices range from approximately $175 and up. You may also find occasional rebates, discount prices, coupons and special offers on this tire.
Click Here To Find Current Lowest Prices On All Dick Cepek Extreme Country Tire Sizes
Warranty
Dick Cepek provides a limited tread warranty on the Extreme Country. Tire uniformity is guaranteed for one-year or the first 2/32 inch of wear. Materials and workmanship are warranted for an unlimited time and include free replacement during the first year or first 2/32 inch of wear. A prorated amount is given for the remaining time or down to the final 3/32 inch of tread depth.
---