Delinte Thunder D7 Tire Review & Rating
The Delinte Thunder D7 is billed as an affordable, ultra-high performance all-season tire that delivers the performance required by a wide range of sports cars, coupes, sedans, and smaller sport SUV owners. Built to provide excellent grip, handling and traction, this low-profile tire also provides you with a more comfortable and quieter ride.
Sporting a blaze-shaped tread pattern and manufactured using an advanced silica content in the tread compound, the Thunder D7 is designed to offer dependable traction, quicker steering response and enhanced cornering stability.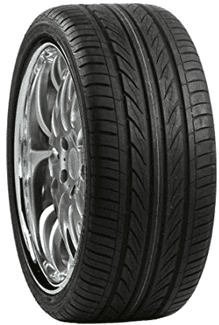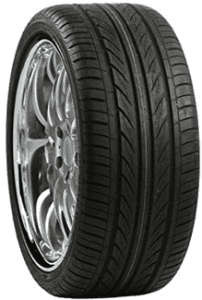 The tires' continuous center rib ensures that it remains stable and increases braking performance, even when you drive in testing circumstances.
Delinte Thunder D7's perform well in wet conditions too and this is due in part to their four wide circumferential grooves and added silica. These grooves, along with there lateral grooves, removes excess water and reduces the likelihood of your vehicle hydroplaning on wet surfaces.
This tire's unique groove shaping, directional tread pattern and different spacing between its pitch blocks come together to help in reducing excessive road noise. Though not the quietest UHP tire, noise is not a major issue for this model.
Delinte offers a vast number of 17-22 inch sizes, with H, V, W and Y speed ratings available. A 30K mile limited treadwear warranty is also provided as well.
Pros
Good dry and wet handling, grip and traction
Smooth ride
Cheaper cost
Cons
Treadlife can be shorter than expected
Traction in winter conditions
Overall Thoughts
The Delinte Thunder D7 features a good looking tread design and has the type of performance that is not often found in a budget-brand tire. Arguably, its most appealing factor is the far lower cost than the more established tires in its class.
The vast majority of owners of this tire have said that they were skeptical about buying a cheaper tire like this, but in most all cases they stated that the Thunder D7 performs just as well as many of the more expensive options available in this class.
Traction and handling on dry or wet pavement is very good. The steering is quick and responsive, while cornering grip and stability is as good as most any other budget tire.
Like all cheaper tires, there are negatives to go along with the positives. Naturally, traction in winter weather conditions is predictably poor. Anything more than a light amount of snow is likely going to create traction/braking/acceleration issues for you. The other area of concern is treadlife. It may be shorter than expected, especially if you tend to push the limits on a frequent basis.
Overall, the Delinte Thunder D7 tire is an average ultra-high performance tire that could be a good solution for sport sedan, coupes, SUV and truck owners who won't be driving their vehicles to the limit and want to save a good deal of money as well. However, if you require more grip, traction and better cornering ability, and you can stretch your budget, other top models like the Michelin Pilot Sport A/S 3 Plus, Continental ExtremeContact DWS06 or BFGoodrich Comp-2 A/S among others would make for a better option.
What Vehicles Will The Delinte Thunder D7 Fit?
(This is not a complete list of ALL vehicles this tire will fit)
Acura TL, RL, RSX
Audi A6, A4, A8L, TT, A3
BMW 135i, 545i, 550i, 750Li, M5, M3, 330i
Buick Regal
Chevrolet Corvette, Impala, Monte Carlo, Camaro, Cobalt, Cruze, Malibu
Dodge Charger, Avenger, Challenger, Stratus
Ford Mustang GT, Fusion, Focus, Contour
Honda Civic, CRZ
Hyundai Sonata, Veloster
Jaguar XKR, XK8
Lexus GS350, GS430, IS300, LS460L
Lincoln LS
Mazda3, RX-8, Miata
Mercedes-Benz E550, SL55, SL500, SLK320, CLK430
Mercury Milan
Nissan 370Z, Maxima
Pontiac GTO, Grand Am, G8, G6, Grand Prix, Trans Am
Scion tC
Subaru Legacy, Outback, Impreza, BRZ
Volkswagen Jetta, CC Sport, Passat, GTi
Tire Sizes
17″
215/55ZR17 94W BLK
225/55ZR17 101W XL BLK
235/55ZR17 103W XL BLK
205/50ZR17 93W XL BLK
225/50ZR17 98W XL BLK
205/45ZR17 88W XL BLK
215/45ZR17 91W XL BLK
225/45ZR17 94W XL BLK
235/45ZR17 97W XL BLK
245/45ZR17 99W XL BLK
205/40ZR17 84W XL BLK
245/40ZR17 95W XL BLK
18″
235/55R18 104V XL BLK
235/50ZR18 101W XL BLK
225/45ZR18 95W XL BLK
245/45ZR18 100Y XL BLK
215/40ZR18 89W XL BLK
225/40ZR18 92W XL BLK
235/40ZR18 95W XL BLK
245/40ZR18 97W XL BLK
255/40ZR18 99W XL BLK
215/35ZR18 84W XL BLK
255/35ZR18 94W XL BLK
19″
225/45ZR19 96W XL BLK
245/45ZR19 98Y BLK
225/40ZR19 93W XL BLK
245/40ZR19 98W XL BLK
215/35ZR19 85W XL BLK
225/35ZR19 84W BLK
225/35ZR19 88W XL BLK
235/35ZR19 91W XL BLK
245/35ZR19 97W XL BLK
255/35ZR19 96W XL BLK
275/35ZR19 100W XL BLK
265/30ZR19 93W XL BLK
275/30ZR19 96W XL BLK
20″
255/45ZR20 105W XL BLK
245/40ZR20 99W XL BLK
225/35ZR20 93W XL BLK
235/35ZR20 92W XL BLK
245/35ZR20 95W XL BLK
255/35ZR20 97W XL BLK
275/35ZR20 102W XL BLK
225/30ZR20 85W XL BLK
245/30ZR20 97W XL BLK
255/30ZR20 92W XL BLK
275/30ZR20 97W XL BLK
285/30ZR20 99W XL BLK
305/25ZR20 97W XL BLK
22″
225/30ZR22 89W XL BLK
235/30ZR22 90W XL BLK
245/30ZR22 95W XL BLK
255/30ZR22 95Y XL BLK
265/30ZR22 97W XL BLK
285/25ZR22 95W XL BLK
305/25ZR22 103Y XL BLK
Price Range
Delinte Thunder D7 prices range from approximately $65 and up. You may also find occasional rebates, discount prices, coupons and special offers on this tire.
Warranty
Delinte provides a 30,000 mile tread warranty on the D7.
---