Cyber Monday 2019 Deals on Tires and Automotive Acessories
If you are used to buying tires online or have decided you're going to start doing it, Cyber Monday should be one of your favorite days of the year. Seriously, pencil it down, circle it with red, whatever you need- just make sure you don't skip on the biggest online sale event of the year. Just after we're done with all of the Black Friday madness, and right in time before the Christmas holidays are in full swing, Cyber Monday deals are there to give us another reason to celebrate. The bargains and offers rival those of Black Friday and sometimes even surpass it- after all, the online arena is what Cyber Monday is all about. Also, if you want to make sure your car is ready for that Christmas trip, this is the last chance for it- grab it while you can and rejoice the fact you'll be doing it for way less money than it would usually take.
Buying tires online during Cyber Monday sales is something your bank account will be thankful for. Tires and automotive accessories are cheaper online to start with, let alone when everything is up for grabs with prices slashed to the max. Once you know what you need, all that's left is to track down which of the big online retailers and e-commerces offers the best deals on your preferred items, and few clicks later, your purchase will be on its way. That's why we love about Cyber Monday (and online shopping for tires in general)- no fuss, no trouble, just a straightforward shopping experience that doesn't require you to move from your bed. Not to mention you won't have to deal with aggressive salespeople pushing products on you or having to go from one place to another until you find what you've been looking for.
The selection of tires and automotive accessories for Cyber Monday 2019 deals is really impressive. All of the big names are on sale, from Goodyear, Hankook, Westlake, Milestar to other popular brands. The deals will include a wide array of tires and accessories, from all-season and all-terrain tires to performance and touring tires- tires for motorcycles, SUVs and light trucks will also be up for grabs. And don't get us started on all the accessories you can get for your car during the Cyber Monday sale event- you'd be hard-pressed not to find something you need.
To make sure you'll get the best Cyber Monday deals on tires and automotive accessories without having to scour the world wide web for 'em, we've put together a list of the finest offers- meaning both the biggest discounts and the highest quality. Take a look at what Cyber Monday 2019 deals are on tires, hub caps, lug nuts, chains, and much more- and choose something nice for your car without putting a dent in the budget.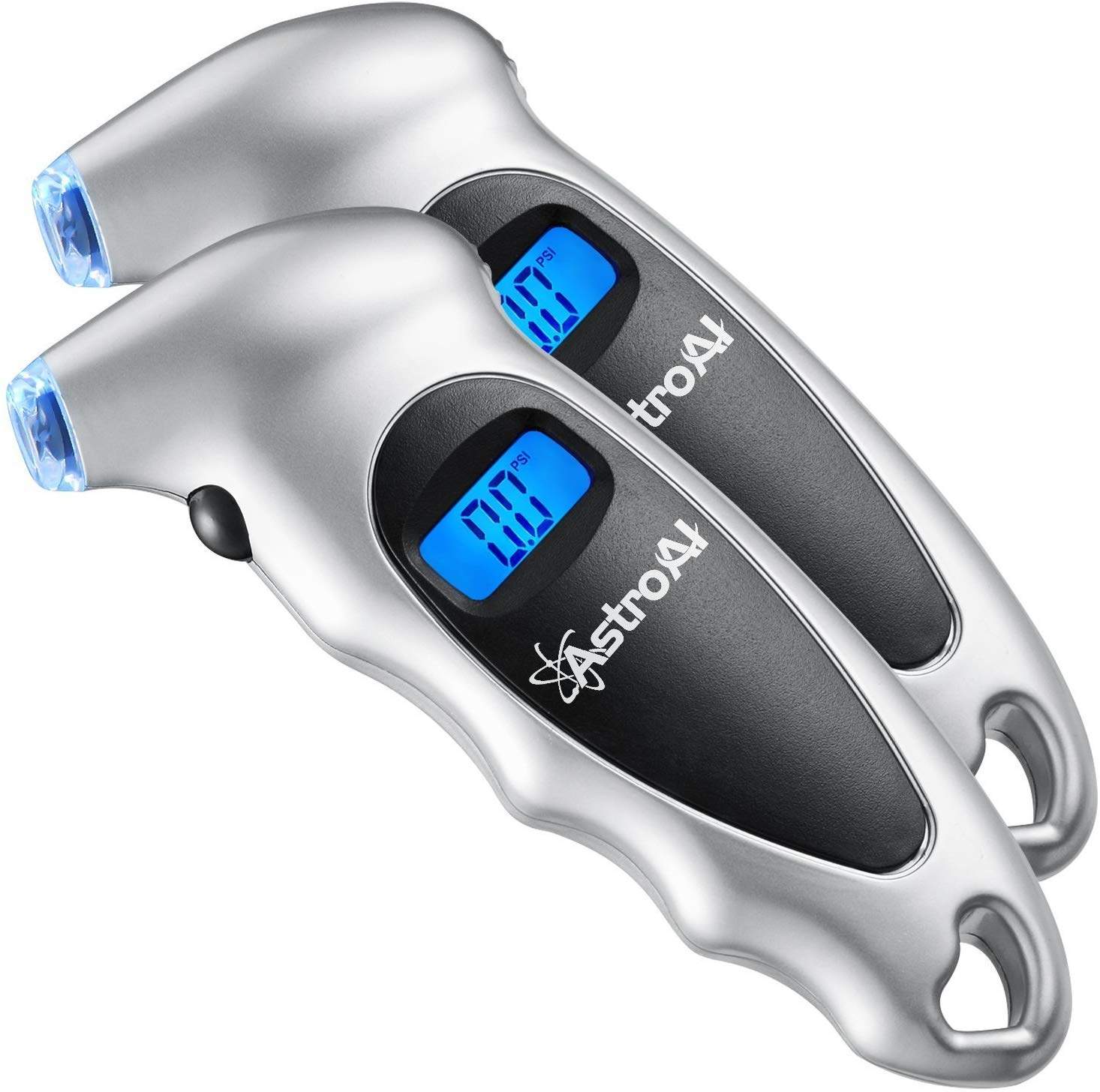 Having the right tools and gadgets can save you a lot of money on car repairs and purchases, and one such ingenious device is this digital tire pressure gauge. Designed to maintain correct tire pressure, reduce tire wear, and extend tire life, AstroAI ATG150 will make sure you get your money's worth out of your new and expensive set of tires. The nozzle is compatible with the valve stem on Schrader valves, so you can use this pressure gauge on truck tires, motorcycle tires, car tires, etc. And since you get two in the pack, you can make sure to have one with you at all times.
If you want your car to look like it slid from a showroom floor, start from the bottom up- with tires. Carfidant Ultimate Tire Shine Spray will keep your tires spotless and shiny, but even more importantly, protected from UV rays, road salt, and grime. The unique nano-polymer formula coats the tires with just a few spritzes and a quick wipe. And, the best part is, you get to control the amount of shine: from a light, "natural" looking sleek gleam to wet and dark look. The formula is safe to use on all types of tires, as it is water-based.
This portable air compressor pump will be a literal lifesaver on the road- with its powerful motor, it can inflate a tire from 0 to 36 PSI in around 4 to 6 minutes. The fast inflation rate of 35 L/min combined with the built-in tire pressure gauge makes sure that the tire is not over-inflated or under-inflated: the device will automatically shut down when the optimal level is reached. MOICO Portable Air Compressor Pump is designed for car tires, motorcycles, bikes, balls, etc. It will come in handy more than once!
Unless you're vigilant about keeping your wheels clean, the dust and grime will build up in no time. Carfidant Ultimate Wheel Cleaner Spray helps you effortlessly clean your rims without damaging the tires- and without having to scrub like a maniac to get everything shine and tidy. Just spray it on, let it sit for a bit, and wipe it off to reveal shiny wheels, free of filth and nasty dust. Combine with the Carfidant Ultimate Tire Shine Spray that's also on sale for a full effect- your ride will look brand new after you're done cleaning with these products.
Whether you're looking to increase the resale value of your car or you're just tired of it looking like a complete mess, Adam's Interior Detailer can help you out. This water-based car cleaning product will leave behind a factory finish. It dissolves surface oils and residue and efficiently cleans dust and grime. Adam's Interior Detailer is safe to use on leather, vinyl, and non-porous interior surfaces, so you can clean everything from your dashboard to seats with it. Use after cleaning and conditioning your car's interior to give it the finishing touches that make a world of difference.

Let your car do the work for you- even when you need to inflate the tire! VacLife Air Compressor Tire Inflator connects to the 12V power outlet to use your vehicle's "juice" to power up its operation. Just flip connect the hose to the tire that needs more air in it and flip the switch- and that's literally everything you need to do. The tire inflator will shut down on its own once the tires reach the right level of pressure. The hose that connects the tires to the inflator is 11.5 feet long, so you'll have more than enough maneuvering space.
There's only one thing worse than having a flat tire–not being able to fix it on the spot. Luckily, if you pack this 76 piece tire repair kit into your car, you'll never be in that sticky spot again. Compact and convenient, this set has everything you could possibly need to patch a punctured tire, from string plugs and sealing lubricant to T-handle tools and tire pressure gauge. In addition to being compatible with car tires, MATCC 76Pcs Tire Repair Plug Kit can be used on dirt bikes, motorcycles, RVs, tractors, lawnmowers–you name it!
You know what they say- an ounce of prevention is worth a pound of cure, and the same can be applied to your car, as well. With ZUS Smart Tire Safety Monitor, you'll be able to catch issues with your tires on time, prevent dangerous blowouts, and save money by doing so. This nifty gadget tells you real-time tire pressure and tire temperature, as well as detect slow leaking. All you have to do is connect the four external cap sensors to the pressure valves and install the smartphone app that the sensors communicate with. It takes just a few minutes!
This digital tire inflator can take a midsize car tire from flat to 30 Psi in under 3 minutes. Quick, efficient, and convenient to carry with you, this compact digital tire inflator will be a lifesaver in roadside emergencies. It plugs into a cigarette lighter socket or 12V outlet- the integrated hose and cables will have no problem reaching the tires once you connect it. In addition to being a handy tire inflator, this device doubles as a lamp (with 100 Lumens LED light) and a red SOS light.
This premium deflator kit is easy to use- once you attach it, the tools do all the work for you. All you have to do is set the desired psi, attach the deflator to the pressure valve and wait for it to do its magic. To boot, you can lock in the psi value for next use- making the process even more effortless. You . can set the value to anything between 10 and 65 psi. This tire deflator and heavy-duty mechanical tire gauge set is suitable for use on cars, jeeps, bikes, motorcycles, RVs.. essentially anything that has air-filled tires!