Corsa Highway Terrain Tire Review & Rating
With its dependable traction and increased durability, the Corsa Highway Terrain all-season tire offers drivers of pickups and SUV's a low-cost option to fit any budget.
An all-season tread compound and symmetric tread pattern deliver solid dry traction and handling. Corsa has added an interlocking semi-solid continuous center rib that is designed to quicken steering response and provide additional cornering stability at highway speeds.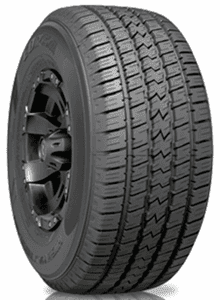 Four circumferential grooves and added sipes around the tread enhance wet grip and reduce the risk of hydroplaning. With their biting edges, these sipes further aid with traction on snow and ice, although winter traction is not a big strength for this highway tire.
Ride comfort is addressed through an optimized tread pattern that works to reduce the outside noise. Inside the tire you'll find twin steel belts with a 3-ply construction for increased strength and durability.
Corsa offers a select number of 16-17 inch LT sizes in the Highway Terrain, and all models feature a load range E rating. A 40K mile tread warranty is also included as part of the package.
Pros
Reliable dry traction
Low priced for budget-minded drivers
40K mile tread warranty
Cons
Boost winter traction
Needs an improvement in highway handling
Soften the ride a bit
Overall Thoughts
Not a lot of people have heard of the Corsa brand, which is owned by Omni United Pte. Ltd and based out of Singapore, but they provide some decent low-cost tires. (Omni also has other tire lines such as Goodride and Timberland tires to name just a couple.)
The Corsa Highway Terrain delivers respectable dry and wet traction for a cheaper tire. Road noise is reduced but not entirely eliminated of course.
Ride comfort is average at best and could stand improving. The ride is a bit more rough than you'll find on other value-priced tires. Treadlife is average for models in this class.
Winter traction, acceleration and braking is our main area of concern and one in which you may encounter difficulty. While it handles lighter amounts of snow and ice pretty well, when you get into deep snow and hard-packed ice, you may find traction issues. In addition, handling at highway speeds could use a boost. The sidewalls flex too much, especially under heavier loads.
Overall, as a second-tier model, the Corsa Highway Terrain is a middle to lower end of class performer in our opinion.
Click Here To Find Current Prices
What Vehicles Will The Corsa Highway Terrain Fit?
(This is not a complete list of ALL vehicles this tire will fit)
Chevrolet Suburban, Silverado 2500, 3500, Express 2500, 3500, Avalanche
Dodge Nitro, Ram 1500, 2500
Ford F-150, F-250, Ranger, Excursion, Expedition, Explorer
GMC Savanna 2500, 3500, Suburban, Yukon
Honda Passport
Isuzu Trooper
Jeep Cherokee
Nissan Pathfinder, Frontier, Xterra
Ram 2500, 3500
Toyota Land Cruiser, Tacoma, FJ Cruiser, 4Runner, Land Cruiser
Tire Sizes
16″
LT225/75R16 115S E BSW
LT235/85R16 120S E BSW
LT245/75R16 120S E BSW
LT265/75R16 123S E BSW
17″
LT265/70R17 121S E BSW
Price Range
Corsa Highway Terrain prices range from approximately $87 and up. You may also find occasional rebates, discount prices, coupons and special offers on this tire.
Click Here To Find Current Prices On All Corsa Highway Terrain Tire Sizes
Warranty
Corsa provides a 40,000 mile tread warranty on the Highway Terrain.
---