Corsa All Terrain XL Tire Review & Rating
Designed for light duty off-road driving as well as reliable highway performance, the Corsa All Terrain XL tire is built to offer good value for budget-conscious truck, SUV and 4×4 owners.
Corsa uses a tougher tread compound that was created to withstand the rigors of off-road use. The aggressive tread pattern features multi-angled and deeper tread edges that help the tire bite into dirt, sand, gravel, mud, grass and other light terrain. Stone ejector ribs prevent potential damage and add to durability.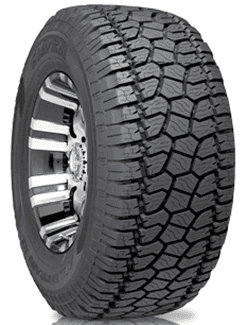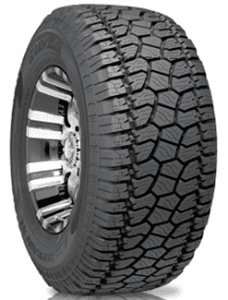 The tread is optimized to reduce road noise and increase ride comfort, which this model does a fair job at. Raised rubber ridges and inter-connecting tie bars enhance handling and cornering performance both on or off-road. Four circumferential grooves aid wet traction and reduce the risk of hydroplaning.
Corsa offers 16-17 inch LT sizes in the All Terrain XL, and all sizes come with an E load rating. A surprising 40K mile tread warranty is also included with each tire.
Pros
Dependable dry and wet traction
Mild mannered on the highway
40K mile warranty is a pleasant surprise for a second tier brand
Value priced
Cons
Deep mud traction
Rock climbing
Overall Thoughts
Although not many people may have heard of Corsa tires before now, they are part of the same parent company that also manufactures Goodride and Radar tire models.
The Corsa All Terrain XL delivers reliable performance in light-duty all-terrain conditions. It's not designed for serious mudding or rock climbing, but handles itself well on dirt, light mud, sand and gravel.
On the road you'll notice a little extra noise, as is the case with many all-terrain tires. It's nothing excessive, but we wanted to mention it anyway. Beyond that our biggest issue would be with its traction in deep mud. The addition of sipes around the tread does help, especially on snow and ice, but this is still a basic all-terrain tire that works well for those looking to get to the lake or their favorite campgrounds, etc.
Overall, we give the All Terrain XL from Corsa a middle of class rating among all other AT tires.
Click Here To Find Current Prices
What Vehicles Will The Corsa All Terrain XL Fit?
(This is not a complete list of ALL vehicles this tire will fit)
Chevrolet Silverado 1500, 2500, 3500, Tahoe
Ford F-150, F-250, F-350, Ranger
GMC Sierra 1500, 2500
Mitsubishi Montero Sport
Nissan Pathfinder, Xterra, Titan
Ram 2500, 3500
Suzuki Equator
Toyota Tundra, FJ Cruiser
Tire Sizes
16″
LT265/75R16 123Q E BSW
LT285/75R16 126Q E BSW
17″
LT285/70R17 121Q E BSW
Price Range
Corsa All Terrain XL prices range from approximately $125 and up. You may also find occasional rebates, discount prices, coupons and special offers on this tire.
Click Here To Find Current Prices On All Corsa All Terrain XL Tire Sizes
Warranty
Corsa provides a 40,000 mile tread warranty on the All Terrain XL.
---