Cooper Zeon RS3-S Tire Review & Rating
The Cooper Zeon RS3-S is their ultra-high performance summer driving tire that replaces the older Zeon 2XS, (which was lacking in performance in several areas). Designed for drivers of high performance sports cars, coupes and luxury sedans, the RS3-S sports an attractive appearance to go along with Cooper's advanced tire technology.
The silica tread compound is engineered to provide outstanding dry pavement traction and cornering, as well as enhanced wet surface handling, which is a real strength for this model. An advanced tread mold profile creates a larger tread contact patch with the road, which results in improved all-around traction.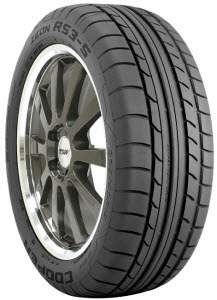 An asymmetric tread design features outer shoulder blocks and intermediate tread elements that are specially tuned to increase dry surface grip and handling. Even when pushed to the limits in the corners, the tire still holds very well.
On wet roads the tire's wide circumferential grooves and increased void ratio enhance traction and handling. The inside grooves expel water from under the tread to reduce the risk of hydroplaning.
Inside the tire you will find twin steel belts that are strengthened with spirally wrapped nylon to give the tire added durability and stability at higher speeds. A dual pitch tread sequence helps quiet the tire and provides more comfort. Available in W and Y- speed ratings, Cooper includes a 20,000 mile tread guarantee, which is rare for a tire in this class.
Click Here For Current Cooper Coupons
Dry traction and cornering grip is a plus

Steering response is quick and crisp

Impressive wet surface handling

Tire rides comfortably
Cons
Higher performance at the expense of treadlife
Overall Thoughts
The new RS3-S has some of the best dry pavement handling and cornering performance among tires in this class. The harder you drive it through the corners, the more it grips the road. If you drive a rear-wheel drive vehicle you are going to love this model.
Beyond that, the steering response is excellent. It provides the feel you would expect from a world-class performance tire. Ride comfort is good and the tire is fairly quiet for what it is. Treadlife is also good depending on how you drive. If you push them hard you can naturally expect to see fewer miles.
Overall, Cooper has produced a solid performing UHP summer tire that ranks in the upper half of this class.
What Vehicles Will The RS3-S Fit?
(This is not a complete list of ALL vehicles this tire will fit)
Acura RSX, TSX, CSX

Audi A3

Bentley Continental

BMW 3, 5 Series

Chevrolet Corvette, Camaro

Ferrari 599

Ford Mustang

Lexus IS 250, 350, GS450H

Nissan 370Z, Maxima

Pontiac Trans Am, GTO

Porsche 911
Tire Sizes
17″
235/55R17 99W BLK
205/50R17 93W XL BLK
225/50R17 98W XL BLK
215/45R17 91W XL BLK
225/45R17 94W XL BLK
235/45R17 97Y XL BLK
245/45R17 95Y BLK
245/40R17 91W BLK
275/40R17 98W BLK
18″
235/50R18 97W BLK
225/45R18 95W XL BLK
245/45R18 96Y BLK
225/40R18 92Y XL BLK
235/40R18 95Y XL BLK
245/40R18 97Y XL BLK
255/40R18 99Y XL BLK
275/40R18 99Y BLK
255/35R18 90Y BLK
275/35R18 99Y XL BLK
19″
255/40R19 100Y XL BLK
235/35R19 91Y XL BLK
245/35R19 93Y XL BLK
255/35R19 96Y XL BLK
265/35R19 98Y XL BLK
285/35R19 99Y BLK
325/30R19 105Y XL BLK
20″
245/45R20 103Y XL BLK
245/40R20 99Y XL BLK
275/40R20 106Y XL BLK
255/35R20 97W XL BLK
275/35R20 102W XL BLK
305/35R20 107Y XL BLK
Price Range
Prices on the RS3-S range from approximately $120 and up.
Click Here To Find The Lowest Prices On All Cooper Zeon RS3-S Sizes
Warranty
The RS3-S comes with a 20,000 mile tread wear warranty, which is rare for a summer high performance tire. There is also a first 2/32 inch of wear tire uniformity guarantee.
Materials and workmanship are warranted for life and include free replacement during the first 25% of wear. Cooper follows that up with a prorated amount down to the last 2/32 inch of useable tread left on the tire.
You'll also get Cooper's 45 day road test drive. If you are not completely satisfied with the tires you can exchange them for another Cooper model.
---