Cooper Zeon RS3-G1 Tire Review & Rating
The Cooper Zeon RS3-G1 all-season tire is designed specifically for high-performance vehicles and drivers who are seeking higher levels of cornering grip, stability and increased durability. Released in July 2016, the RS3-G1 is Cooper's newest premium quality tire in their lineup and one that is generating quite a buzz among enthusiasts.
Cooper uses a coupled silica tread compound, flatter tread arc and a unique asymmetric tread design that includes more rubber on the outer shoulders and intermediate rib of the tire. The result is increased road-holding grip and enhanced stability during harder cornering maneuvers. It's a combination that works extremely well for this tire, and Cooper claims up to 1g cornering grip.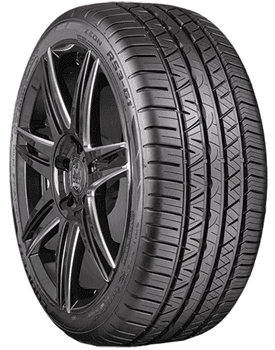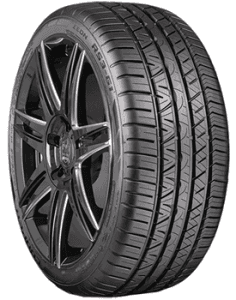 This newer tread pattern and design is also responsible for lowering road noise to levels that are normally only found on touring tires. We've heard numerous drivers mention how low the road noise is on the RS3-G1. In addition, expect to find what may be a surprisingly smoother ride as well.
Four wide circumferential grooves and 3D Micro-Gauge sipes around the tread aid in providing increased traction on wet or light snow covered pavement. The sipes are full-depth, which means you still get the full benefit of these biting edges even as the tire wears down below the halfway mark.
Cooper has added in features like their Wear Square technology that lets you see at a glance how much treadlife is left on the tire and how evenly it is wearing. Cooper offers a wide range of 16-20 inch sizes in the RS3-G1, and all sizes sport a W-speed rating. A 50K mile treadlife warranty is also included if the same size is used on both axles.
Pros
Dry and wet traction
Tires hook up well and deliver excellent handling
Little to no road noise
Smooth comfortable ride
Cons
Winter performance is yet to be determined (We will update)
Overall Thoughts
The Cooper RS3-G1 is a real game changer for all-season tires designed for high performance coupes and sedans. The levels of traction and handling are just short of what you find on many HP summer tires. (Many car enthusiasts have said this in reviews as well.) Cooper's engineers have done an impressive job here.
What was a surprise to us is in how quiet this tire is on the highway. You hardly hear any road noise. The ride is smooth and comfortable, which is appealing to those who do a lot of driving for hours at a time. The one area we can't speak of at this time is its performance in winter driving conditions, but we will update over time.
Overall, the RS3-G1 is a winner. It redefines what an all-season tire can do on high-performance vehicles. We expect it will quickly become one of the best sellers in the all-season class.
Click Here For Current Cooper Coupons
Click Here To Find Current Prices
What Vehicles Will The Cooper RS3-G1 Fit?
(This is not a complete list of ALL vehicles this tire will fit)
Acura TSX, TL, RL, 3.2CL
Audi A4, A6, TT
BMW Z4, 3 Series, 5 Series
Cadillac CTS
Chevy Camaro
Ford Fusion, Mustang
Honda Civic, Accord
Hyundai Azera, Genesis
Infiniti G35
Mazda 6 Speed, 3, RX-8
Mercedes-Benz E300
Nissan 370Z, Maxima
Scion xD
Subaru Impreza, Legacy 2.5 GT
Volvo V70
Tire Sizes
16″
205/55R16 91W BLK
215/55R16 93W BLK
225/55R16 95W BLK
225/50R16 92W BLK
245/50R16 97W BLK
17″
215/55R17 98W XL BLK
235/55R17 99W BLK
205/50R17 93W XL BLK
215/50R17 95W XL BLK
225/50R17 98W XL BLK
235/50R17 96W BLK
205/45R17 84W BLK
215/45R17 91W XL BLK
225/45R17 94W XL BLK
235/45R17 94W BLK
245/45R17 95W BLK
245/40R17 91W BLK
255/40R17 94W BLK
275/40R17 98W BLK
18″
245/55R18 103W BLK
225/50R18 95W BLK
235/50R18 97W BLK
215/45R18 93W XL BLK
225/45R18 95W XL BLK
245/45R18 96W BLK
255/45R18 103W XL BLK
225/40R18 92W XL BLK
235/40R18 95W XL BLK
245/40R18 97W XL BLK
255/35R18 90W BLK
275/35R18 95W BLK
19″
245/45R19 98W BLK
245/40R19 94W BLK
255/40R19 100W XL BLK
255/35R19 96W XL BLK
285/35R19 99W BLK
20″
245/45R20 103W XL BLK
255/45R20 101W BLK
245/40R20 99W XL BLK
275/40R20 106W XL BLK
255/35R20 97W XL BLK
275/35R20 102W XL BLK
Price Range
Cooper Zeon RS3-G1 prices range from approximately $88 and up. You may also find occasional rebates, discount prices, coupons and special offers on this tire.
Click Here To Find The Lowest Prices On All Cooper Zeon RS3-G1 Sizes
Warranty
Cooper provides a 50,000 mile treadlife warranty on the RS3-G1 when same size is used on both axles. A 25,000 mile warranty is given for those using staggered fitments. There is also a first 2/32 inch tire uniformity guarantee as well.
Materials and workmanship are covered for 5 years and include free tire replacement during the first 2/32 inch of wear. Cooper then prorates out the amount for the remaining time period or down to the final 2/32 inch of tread depth. A free 45-day road test is also included as part of the package.
---