Cooper Zeon RS3-A Tire Review & Rating
The Cooper Zeon RS3-A is the company's newest ultra-high performance all-season model that is designed for all types of sport coupes and sedans. With the newest Cooper tire technology, this UHP tire is engineered to compete with the likes of other top models such as Michelin Pilot Sport A/S3, BFGoodrich Comp-2 A/S and Continental DWS06 among others.
The RS3-A uses an advanced silica tread compound that is designed to stand up to all season road conditions, while the asymmetric tread pattern sports a larger footprint that increases the contact patch with the road. Add in a stiffer sidewall and the results are better overall dry handling and traction, as well as more even treadwear.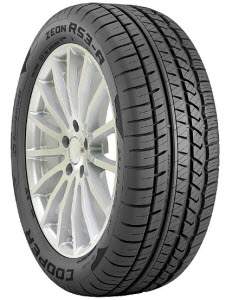 Unique 3-D Micro Gauge Siping all around the tire enhance stability and add more biting edges to improve traction on wet or snow covered roads. Two wide circumferential grooves and a solid continuous center rib combine to increase hydroplane resistance and provide increased steering response.
Something you will notice right away when driving on the Zeon RS3-A is how quiet and smooth the tire is. This is due in part to the offset shoulder to intermediate grooves and larger tread elements that are fused together. Cooper has done an admirable job in reducing the outside road noise.
Inside the tread are two steel belts that are spirally wrapped with nylon for added strength and stability at higher speeds. Sizes ranging from 16-20 inches are available, and you'll find V or W-speed ratings. Cooper backs the RS3-A with a 40,000 mile tread warranty.
Pros
Dry and wet traction and cornering grip are excellent

One of the smoothest driving UHP all-season tires

Outstanding wet braking performance

Solid value and performance at a lower cost
Cons
Would like to see a bit more treadlife
Overall Thoughts
Simply stated, we feel the Zeon RS3-A is one of the top ranked high performance all-season models on the market today. It compares favorably to several other top rated tires in this category. Grip on dry, wet and even light snow covered roads is excellent, and braking performance is outstanding for tires in this class. Ride comfort is good, and we found this tire to deliver a smooth and quiet ride.
Treadlife is pretty good on this model, although we would like to see just a bit more. It can be a bit shorter than expected if you are someone who likes to push your tires hard on a regular basis. Cooper does include a 40,000 mile warranty.
Overall, it's easy to see why others like Consumer Reports has given this tire such a positive recommendation. Cooper has an excellent UHP all-season tire in the RS3-A.
Click Here For Current Cooper Coupons
Click Here To Find Current Prices
What Vehicles Will The Cooper RS3-A Fit?
(This is not a complete list of ALL vehicles this tire will fit)
Acura TSX, TL, RL, 3.2CL

Audi A4, A6, TT

BMW Z4, 3 Series, 5 Series

Cadillac CTS

Chevy Camaro

Ford Fusion, Mustang

Honda Civic, Accord

Hyundai Azera, Genesis

Infiniti G35

Mazda 6 Speed, 3, RX-8

Mercedes-Benz E300

Mini Cooper

Nissan 370Z, Maxima, Sentra

Scion xD

Subaru Impreza, Legacy 2.5 GT

Volvo V70
Tire Sizes
16″
205/55R16 91W BLK
215/55R16 93W BLK
225/50R16 92W BLK
225/55R16 85W BLK
245/50R16 97W BLK
17″
205/40R17XL 84W BLK
205/45R17 84W BLK
205/50R17XL 93W BLK
215/45R17XL 91W BLK
215/50R17XL 95W BLK
215/55R17XL 98W BLK
225/45R17XL 94W BLK
225/50R17XL 98W BLK
235/45R17 94W BLK
235/50R17 96W BLK
235/55R17 99W BLK
245/45R17 95W BLK
255/40R17 94W BLK
275/40R17 98W BLK
18″
225/50R18 95W BLK
235/50R18 97W BLK
215/45R18 93W XL BLK
225/45R18 95W XL BLK
245/45R18 96W BLK
255/45R18 103W XL BLK
265/45R18 101W BLK
225/40R18 92W XL BLK
235/40R18 95W XL BLK
245/40R18 97W XL BLK
255/35R18 90W BLK
275/35R18 95W BLK
19″
245/50R19 105W XL BLK
245/45R19 98W BLK
245/40R19 94W BLK
255/40R19 100W XL BLK
275/40R19 105W XL BLK
255/35R19 96W XL BLK
275/35R19 100W XL BLK
20″
245/45R20 103W XL BLK
255/45R20 101W BLK
245/40R20 99W XL BLK
Price Range
Cooper Zeon RS3-A prices range from approximately $84 and up. You may also find occasional rebates, discounts, coupons and special offers on this tire.
Click Here To Find Current Prices On All Cooper RS3-A Tire Sizes
Warranty
Cooper provides a 5-year or 40,000 mile treadlife warranty on the Zeon RS3-A. The mileage is reduced to 20,000 miles if you have different tire sizes on the front than on the back. There is also a first 2/32 inch tire uniformity guarantee as well.
Materials and workmanship are covered for 5 years and include free tire replacement during the first year or first 25% of tread wear. The amount is then prorated down to the final 2/32 inch of tread on the tire.
You will also find a 45-day test drive guarantee on this particular model.
---