Cooper Trendsetter SE Tire Review & Rating
For drivers needing a basic all-season tire, the Trendsetter SE from Cooper is a budget-friendly option. Developed for drivers of older model coupes, sedans and minivans, the Trendsetter fills the need for those requiring a 70-75 series tire.
The all-season dual layer tread compound and asymmetric tread pattern provide enhanced traction and handling on dry road surfaces. The dual layer also increases durability and provides a lower rolling resistance, which results in increased fuel mileage.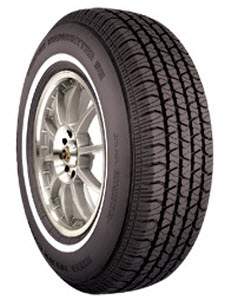 Squared tread elements add more grip and bite on wet or snow covered roads. It increases hydroplane resistance and enhances traction in the snow, slush or ice.
Cooper uses a computer designed variable pitch tread sequence to reduce road noise and create a better overall ride comfort that makes driving more enjoyable at highway speeds. Whitewalls are available in selected sizes, and Cooper includes a 40,000 mile treadlife guarantee on this model.
Pros
Dry traction and handling are good

 

 

Tire rides comfortably and without a lot of road noise

 

 

Treadlife is above average

 

 

Budget friendly price

 

 
Cons
Would like to see a little better wet traction

 

 
Overall Thoughts
The Trendsetter is a nice option in tires for older vehicles, or for that matter anyone looking for a cheap all-season tire. Traction and handling are predictable, and the tire rides comfortably for an all-season design. Wet surface traction could be improved, but it is nothing that would prevent us from buying this tire.
Overall, this is a solid low-cost option in a new tire from a trusted name brand.
Click Here For Current Cooper Coupons
Click Here To Find Current Prices
What Vehicles Will The Trendsetter Fit?
(This is not a complete list of ALL vehicles this tire will fit)
Buick Roadmaster

 

 

Chevrolet Cruze, Malibu, Colorado, Astro, C1500, Cavalier

 

 

Dodge Avenger

 

 

Ford Fusion

 

 

Honda Accord, Civic

 

 

Hyundai Sonata

 

 

Jeep Cherokee

 

 

Nissan Altima

 

 

Toyota Camry, Corolla, 4Runner

 

 

Volkswagen Jetta

 

 
Tire Sizes
13″
P155/80R13 79S BLK
P175/70R13 82S BLK
P185/70R13 85S BLK
14″
P185/75R14 89S BLK
P195/75R14 92S BLK
P205/75R14 95S BLK
P175/70R14 84S BLK
P185/70R14 87S BLK
P195/70R14 90S BLK
P205/70R14 93S BLK
P215/70R14 96S BLK
P175/65R14 81S BLK
P185/65R14 85S BLK
15″
P205/75R15 97S WSW
P215/75R15 100S WSW
P225/75R15 102S BLK
P235/75R15 105S WSW
P205/70R15 95S WSW
P205/70R15 95S BLK
P215/70R15 97S WSW
P225/70R15 100S BLK
P195/65R15 89S BLK
P205/65R15 92S BLK
P215/65R15 95S BLK
16″
P215/60R16 94S BLK
P225/60R16 97S BLK
P205/55R16 89S BLK
Price Range
Prices on the Trendsetter range from approximately $75 and up. You may also find occasional rebates, discounts, coupons and special offers on this tire.
Click Here To Find Current Prices On All Cooper Trendsetter SE Tire Sizes
Warranty
A 5-year or 40,000 mile treadlife warranty comes with this tire. Tire uniformity is guaranteed for the first 2/32 inch of wear.
Materials and workmanship are covered for 5 years. You will also find a 45-day road test guarantee on this model as well. Cooper will exchange the tire for another brand if you are not 100% satisfied with the tire.
---