Cooper Tire Launches New High Performance Cooper Zeon RS3-G1
(July 2016) With much fanfare, Cooper Tire has rolled out its latest all-season tire, the Cooper Zeon RS3-G1.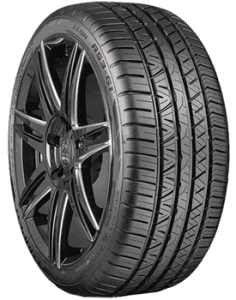 Built for drivers of high-performance coupes and sedans, the Zeon RS3-G1 features a host of cutting-edge tire technology.
According to Scott Jamieson, Director of Product Management for Cooper's North America division, "The RS3-G1 is a marvel of Cooper's greatest cutting-edge technologies. We say this new tire gives high performance a 'gut check' because it redefines what it means to participate in that category at a higher level. The RS3-G1 ushers in a new era for Cooper in terms of delivering breakthrough product that among other critical benefits, offers incredible grip, holding the road at up to 1g in tight corners with its wide, flat tread arc that creates a stable, square footprint on the road."
Yes, you read that right… up to 1g in cornering grip. That would certainly put it among the best all-season tires when it comes to road holding capabilities. It will also likely bring a smile to any driving enthusiast as well.
Cooper uses a silica tread compound, asymmetric pattern and added rubber to the outer shoulders for added stability during harder cornering. Another benefit to the extra tread is a reduction in tire noise.
You'll also find full-depth 3D sipes that help provide biting edges for increased traction on wet or snow covered pavement. Cooper's Wear Square technology, which it uses on models like the CS5 Ultra Touring, makes it easy to see how the tires are wearing or need replacing.
"Cooper understands that tires matter," Jamieson added. "Tires must deliver grip and stability, and be responsive to changing road conditions. The Cooper Zeon RS3-G1 was built for people who love to drive, whether that means a commute to work every day or exploring new roads on the weekends. Cooper knows that every mile counts and tires must keep up with drivers once the rubber meets the road. The new RS3-G1 features innovative technology to deliver on the highest expectations of today's most discerning drivers."
From the sounds of it, Cooper has hit a homerun with this newest model. We will have a full review on the RS3-G1 as soon as it is released. Please bookmark our site and check back later. You can see all reviews for Cooper tires by going to our Cooper Tire Reviews page.