Cooper Discoverer XT/4 Tire Review & Rating
Designed specifically for Canadian drivers, the Cooper Discoverer XT/4 all-terrain tire is built to tackle severe winter weather and harsh snowy conditions, while also being capable of getting you around on all types of rugged terrain. This tire boasts both on and off road handling and performance capabilities that fills a big need for truck, SUV, jeep and 4×4 owners living in Canada. (This tire is also available to anyone living in the U.S.)
The Discoverer XT/4 features a tread compound with added silica for increased traction on wet, snow, ice and slush covered road surfaces. Its five-rib all-terrain tread pattern further increases its wet grip and winter traction. This combination provides well-balanced grip and tighter handling even on dry pavement.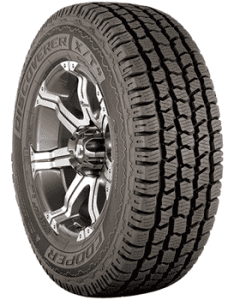 Proven to exceed performance in extreme wintry and snowy conditions, the Cooper XT/4 sports the 3-peak mountain snowflake emblem, which signifies that this model meets the same requirements for as dedicated winter tire.
The addition of full-length, full-depth micro-gauge corrugated sipes combine with Cooper's exclusive Snowgroove 2.0 technology that give the tire multiple biting edges for enhanced snow-on-snow traction and dependable ice traction. This is a real strength on this tire that has been praised by numerous drivers in online reviews.
When it comes to driving off-road, Cooper has added stone ejector ribs that help resist stone drilling, as well as twin tie-bars which provide added stability for more effective handling and reduced irregular tread wear.
Cooper offers a range of 16-20 inch LT sizes on the Discoverer XT/4. A 50K mile limited tread warranty is also part of the package.
Pros
Similar performance as the best-selling A/T3
Full length, full depth sipes add to rough weather/terrain traction
Winter traction is a strength on this tire
Cons
Aggressive tread pattern may produce a little extra noise at highway speeds
Overall Thoughts
For Canadian drivers looking for something that will perform equally well when towing the camper off-road in June to driving in harsh winter road conditions in January, this hybrid of an all-terrain and winter tire hits the mark.
Naturally, living in a colder northern climate such as Canada means you have to have a reliable winter tire. With its Severe Service Emblem on the tire, emphasizing that it is suitable for use in severe winter weather conditions, the XT4 lives up to its reputation with strong reviews from Canadian drivers.
The micro-gauge sipes and Snowgroove 2.0 technology provides multiple biting edges that not only delivers positive winter traction, but also adds to grip in mud, sand, dirt and gravel. Our main concern on this model is a little extra road noise on the highway. At this stage, treadlife appears to be about average, and Cooper backs it for 50K miles.
Overall, while arguably not at the top of the class with models like the BFG T/A KO2, Michelin LTX AT2 and other AT models, the XT/4 is certainly a worthwhile tire that we rate in the mid-to-upper half of this category, especially when you factor in the lower price point. For drivers looking for a reliable everyday tire to put on their truck or SUV that will also deliver more than capable off-road performance, the XT/4 is a good option.
Click Here For Current Cooper Coupons
Click Here To Find Current Prices
What Vehicles Will The Cooper Discoverer XT/4 Fit?
(This is not a complete list of ALL vehicles this tire will fit)
Chevy Silverado, Tahoe
Ford Expedition, F-Series
Nissan Titan
Ram 1500
Toyota Tacoma, Tundra
Tire Sizes
15″
LT235/75R15 104\101R C BLK
16″
LT215/85R16 115\112R E BLK
LT235/85R16 120\116R E BLK
LT225/75R16 115\112R E BLK
LT245/75R16 108\104R C BLK
LT245/75R16 120\116R E BLK
LT265/75R16 123\120R E BLK
LT265/75R16 112\109R C BLK
LT285/75R16 126\123R E BLK
17″
LT235/80R17 120\117R E BLK
LT225/75R17 116\113R E BLK
LT245/75R17 121\118S E BLK
LT245/70R17 119\116R E BLK
LT265/70R17 121\118S E BLK
LT285/70R17 121\118S E BLK
18″
LT265/70R18 124\121R E BLK
LT275/70R18 125\122S E BLK
LT275/65R18 123\120S E BLK
LT285/65R18 125\122S E BLK
20″
LT275/65R20 126\123S E BLK
LT265/60R20 121\118R E BLK
Price Range
Cooper Discoverer XT/4 prices range from approximately $120 and up. You may also find occasional rebates, discount prices, coupons and special offers on this tire.
Click Here To Find The Lowest Prices On All Cooper Discoverer XT/4 Sizes
Warranty
Cooper provides a 50,000 mile treadlife warranty on the Discoverer XT/4. There is also a first 2/32 inch tire uniformity guarantee as well.
Materials and workmanship are covered for 5 years and include free tire replacement during the first 2/32 inch of wear. Cooper then prorates out the amount for the remaining time period or down to the final 2/32 inch of tread depth.
---