Cooper Discoverer STT Pro Tire Review & Rating
The Cooper Discoverer STT Pro is the company's newest addition to its off-road performance lineup. Built as a replacement to the original STT, Cooper has designed this new tire to tackle the toughest of off-road terrain, yet remain well-mannered enough for regular on-road driving needs.
An advanced silica and carbon black tread compound combines with 3-Ply Armor-Tek3 protection that helps prevent damage from rocks, trees and other debris. It results in 50% more protection over a standard 2-ply tire. Unique shoulder cleats, or sidebiters as they are also called, along the outer sidewalls provide additional grip and traction on all types of terrain.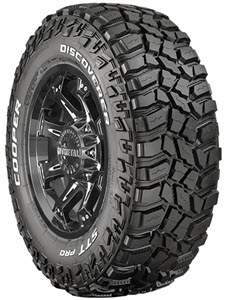 While this tire is built to handle rock, sand, dirt, grass, fallen trees and other debris with relative ease, one area where Cooper's engineers spent considerable time in development is mud performance, and it shows. They have added mud release dimples to the outer lugs which help the tire rid itself of mud buildup, while unique scoops on the outer lug face increase traction in the deeper muck.
Naturally, taking a look at this aggressive mud-terrain tire will have you thinking it has to be loud on pavement. The truth is, the STT Pro is not all that loud considering its profile. A 3-2 rib pattern is designed to cancel out excessive road noise through its alternating sizes, angles and number of ribs around the tread. Flex Grooves also help in reducing the jarring effects of potholes and bumps in the pavement while delivering a smoother and more stable ride quality.
Sizes run from 15-22 inches and are available with C, D or E load ranges.
Pros
Aggressive and tough as nail tread design

Off-road performance, especially on rock

Handles well on wet/snow covered road surfaces

Treadlife
Cons
High quality off-road tires are not cheap
Overall Thoughts
If you liked the performance from the original STT from Cooper, you're going to really enjoy driving on the new STT Pro. It's hard to find fault with any single area on this tire. Sure, you could say it's not a hard-core mud tire, but it doesn't pretend to be. That said, it compares favorably with the likes of the BFGoodrich KM2, Goodyear MTR Kevlar or any other top model.
One thing to keep in mind is that this is a heavy tire amongst others in this class due in part to how it is constructed. That said, we've heard a number of drivers mention how easy it is to get this tire balanced.
Overall, if you're looking for a tough MT tire that is up to the task for anything off-road, yet you still need to be able to drive it down the highway without having to blast the radio or visit the chiropractor later, the Cooper STT Pro is one of the best tires in this category.
Click Here For Current Cooper Coupons
Click Here To Find Current Prices
What Vehicles Will The Cooper STT Pro Fit?
(This is not a complete list of ALL vehicles this tire will fit)
Chevrolet Silverado, Avalanche, Suburban, Tahoe, TrailBlazer

Dodge Ram, Dakota

Ford F-150, Escape, Explorer, Expedition, Ranger

GMC Canyon, Sierra, Yukon

Honda Pilot, Ridgeline

Jeep Grand Cherokee, Wrangler

Land Rover Range Rover

Mercury Mountaineer

Mitsubishi Montero

Nissan Titan, Frontier, Armada, Pathfinder

Toyota FJ Cruiser, Highlander, 4Runner, Sequoia, Tundra, Tacoma, Land Cruiser
Tire Sizes
15″
30X9.50R15LT 104Q C RWL
31X10.50R15LT 109Q C RWL
32X11.50R15LT 113Q C RWL
33X12.50R15LT 108Q C RWL
35X12.50R15LT 113Q C RWL
16″
LT215/85R16 115112Q E BLK
LT235/85R16 120116Q E BLK
LT225/75R16 115112Q E BLK
LT245/75R16 120116Q E BLK
LT265/75R16 123120Q E RWL
LT285/75R16 126123Q E RWL
LT315/75R16 127124Q E RWL
LT305/70R16 124121Q E RWL
17″
LT255/75R17 111108Q C RWL
LT265/70R17 121118Q E RWL
LT285/70R17 121118Q E RWL
LT295/70R17 121118Q E RWL
LT315/70R17 121118Q E RWL
LT305/65R17 121118Q E BLK
37X12.50R17LT 124Q D BLK
37X13.50R17LT 121Q E BLK
18″
LT275/70R18 125122Q E RWL
LT295/70R18 129126Q E RWL
LT305/70R18 126123Q E RWL
LT275/65R18 123120Q E RWL
LT285/65R18 125122Q E RWL
LT325/65R18 127124Q E RWL
LT305/60R18 121118Q E RWL
37X13.50R18LT 124Q D BLK
20″
LT275/65R20 126123Q E BLK
LT295/65R20 129126Q E BLK
LT295/60R20 126123Q E BLK
LT295/55R20 123120Q E BLK
LT305/55R20 121118Q E BLK
35X12.50R20LT 121Q E BLK
37X12.50R20LT 126Q E BLK
35X13.50R20LT 122Q E BLK
37X13.50R20LT 127Q E BLK
22″
LT325/50R22 122Q E BLK
35X12.50R22LT 117Q E BLK
37X13.50R22LT 123Q E BLK
Price Range
Cooper Discoverer STT Pro prices range from approximately $159 and up. You may also find occasional rebates, discount prices, coupons and special offers on this tire.
Click Here To Find The Lowest Prices On All Cooper Discoverer STT Pro Sizes
Warranty
Cooper provides a limited tread warranty on the STT Pro. There is a first 2/32 inch tire uniformity guarantee, while materials and workmanship are covered for 5 years and include free tire replacement during the first 2/32 inch of wear. Cooper then prorates out the amount for the remaining time period or down to the final 2/32 inch of tread depth.
---