Cooper Discoverer SRX Tire Review & Rating
The Cooper Discoverer SRX is the newest addition to the company's SUV and crossover highway all-season class. Built as the replacement for the older CTS, this new model utilizes Cooper's latest tire technology to provide dependable year-round traction with a comfortable ride and longer treadlife.
Cooper uses a next generation tread compound that contains higher amounts of silica for added traction on dry and wet pavement. With the addition of 3-D micro-gauge sipes, grip is further increased on wet roads and in light snow. It also helps give this tire excellent brake performance in both dry and wet conditions.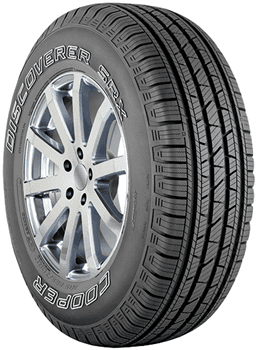 StabilEdge technology delivers more precise steering response by stabilizing the tread surface during cornering and on uneven pavement. Handling is also enhanced through an optimized tread pattern that makes this tire more responsive.
The addition of Cooper's Wear Square technology on the SRX, which is the same as what you'll find on the popular CS5 Touring models, allows you to visually see at a glance how the tire is wearing. It also lets you see any possible alignment issues that can negatively affect treadwear.
Cooper backs the Discoverer SRX with a 65,000 mile tread warranty and has sizes available ranging from 16-22 inches.
Pros
Excellent dry and wet traction/braking performance

Responsive handling

Comfortable ride quality

Treadlife
Cons
Traction/braking on deep snow and ice
Overall Thoughts
Cooper has placed a lot of their recent tire technology taken from the CS5 and put it into the new SRX for SUV and crossover drivers, and it's a formula that works well. This is a solid offering that has many strengths, including one of the more comfortable rides we've found. As much as we like the ride comfort on other models such as the Michelin Premier LTX and Bridgestone Alenza Plus, the new SRX is not far behind on most road surfaces.

Traction and handling on dry and wet pavement is very good, and braking performance is among the best in class. About the only area where you might argue that this tire does not excel in would be deep snow and ice braking, but even then it will not be a major problem unless you live in an area that constantly receives heavy snow and ice. If you need a tire to handle severe winter weather then you already know you need a dedicated winter tire.
The Wear Square technology makes it easy for any driver to judge tread wear, and when it comes to the tread life on the SRX, it's looking to be excellent as well. Based on initial tests from other tire owners and organizations like Consumer Reports, we are not alone in our assessment.
Overall, for a crossover/SUV highway all-season touring tire, this new Cooper SRX is among the better models available today. We highly recommend it.
Click Here For Current Cooper Coupons
Click Here To Find Current Prices
What Vehicles Will The Cooper SRX Fit?
(This is not a complete list of ALL vehicles this tire will fit)
Buick Enclave

Chevrolet Silverado, Suburban, Trailblazer, Tahoe

Dodge Ram, Durango, Nitro, Dakota

Ford F-150, Explorer, Expedition, Excursion

GMC Acadia, Sierra, Yukon, Envoy

Kia Sorento

Mercedes-Benz GL450, G500

Nissan Murano, Titan

Saturn Outlook

Toyota Tundra, Highlander, Sequoia, 4-Runner

Volkswagen Touareg
Tire Sizes
16″
265/75R16 116T OWL
215/70R16 100H BLK
225/70R16 103T BLK
235/70R16 106T OWL
265/70R16 112T OWL
255/65R16 109T BLK
17″
235/75R17 109S BLK
255/75R17 115S BLK
245/70R17 110T BLK
265/70R17 115T OWL
225/65R17 102H BLK
235/65R17 104T BLK
245/65R17 107T BLK
255/65R17 110T OWL
265/65R17 112T OWL
18″
255/70R18 113T BLK
265/70R18 116T OWL
235/65R18 106T BLK
255/65R18 111T BLK
265/65R18 114T BLK
275/65R18 116T BLK
245/60R18 105H BLK
265/60R18 110T BLK
19″
255/60R19 109H BLK
225/55R19 99H BLK
20″
245/60R20 107H BLK
275/60R20 115T BLK
255/55R20 110H XL BLK
275/55R20 117H XL BLK
255/50R20 109H XL BLK
265/50R20 107T BLK
22″
285/45R22 114H XL BLK
Price Range
Cooper SRX prices range from approximately $108 and up. You may also find occasional rebates, discount prices, coupons and special offers on this tire.
Click Here To Find The Lowest Prices On All Cooper Discoverer SRX Sizes
Warranty
Cooper provides a 65,000 mile treadlife warranty on the Discoverer SRX. There is also a first 2/32 inch tire uniformity guarantee.
Materials and workmanship are covered for 5 years and include free tire replacement during the first 2/32 inch of wear. Cooper then prorates out the amount for the remaining time period or down to the final 2/32 inch of tread depth.
You'll also find Cooper's exclusive 45-day road test guarantee on this tire as well.
---