Cooper Discoverer A/T3 Tire Review & Rating
Finding an all-terrain tire for your truck or SUV that performs as well on-road as it does off-road can often be difficult, but the new Cooper Discoverer A/T3 has attempted to do just that. The tread design is well balanced to provide excellent dry and wet traction on the highway, yet give solid performance in varied terrains when you feel like taking things off the beaten path.
Featuring not only an attractive tread pattern, it has also incorporated a five ribbed design to enhance stability and on-road handing. The divided center rib increases off-road traction and performance while at the same time producing quality on-road performance.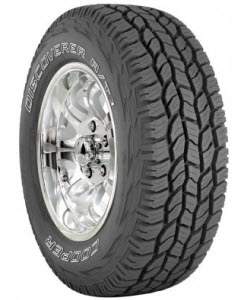 Aggressive shoulders provide added traction on softer surfaces, while also making the tire look even better. The thick grooves around the circumference of the tire go a long way in providing added performance as well.
The Discoverer AT Three has a unique siping structure that is in a zigzag pattern. The sipes work to greatly reduce road noise and also give the tire more even tread wear. The sipes also helps in getting rid of stones and pebbles and makes the tread blocks more stable.
The lateral protection that the grooves provide further assist in reducing stone retention on the surface of the tire. This ability to clean itself is most impressive, since it also means that the tire shows a fresh face to the road each time it cleans itself.
Cooper has also given this model a neat and sophisticated appearance due to special venting technology that does away with micro-vents in the tread area. The result is a great-looking tire compared to other tires in its category.
Wet performance on this model is particularly impressive. The sophisticated silica based tread compound ensures very good wet weather performance that is free of slips and gives drivers more confidence behind the wheel. In fact, the tire shows great stability on wet turns and corners and holds the vehicle steady during fast lane changing maneuvers.
Cooper offers a wide array of 15-20 inch sizes in non-LT and LT ranges. There is also a 55,000 mile tread guarantee provided.
Click Here For Current Cooper Coupons
Click Here To Find Current Prices
Excellent grip on both dry and wet surfaces as well as in the snow

Traction is very good on off-road terrain

Tires are surprisingly quiet on the highway

Self-cleaning mechanism keeps gravel out of tread channels
Cons
May be a bit more expensive than standard tires but offers good value for money
Overall Thoughts
Although it seems that Cooper tires ride somewhat under the radar at times, this new Discoverer A/T3 has a lot going for it. The grip on dry or wet roads is particularly impressive among any all-terrain tire. It rates right up there with the BFGoodrich All Terrain T/A KO2 in this category.
The tire delivers particular good performance in off-road terrain. Whether its mud, gravel, sand, grass or rock, it gets you through it confidently. Naturally, this is not designed as a serious rock climbing tire, or mud bogger for that matter, but it holds its own in everything else.
While we like its manners on the highway, very deep snow may be an issue for some. We've heard this mentioned in a few other driver reviews, but we feel it does pretty well in this area. It has very solid road manners for an all-terrain tire.
Overall, the AT3 is a very well balanced tire for use in all types of weather, terrain and road conditions. We rank it among the top models in its class. Highly recommended.
What Vehicles Will The Cooper AT3 Fit?
(This is not a complete list of ALL vehicles this tire will fit)
Chevrolet Tahoe, Blazer, Silverado, Trailblazer, Suburban

Dodge Durango, Dakota, Ram

Ford F-Series, Expedition, Ranger, Bronco

GMC Sierra, Envoy, S-15

Infiniti QX4 SUV

Jeep Wrangler, Grand Cherokee, Commander, Liberty

Nissan Titan, Frontier

Toyota 4-Runner, Tundra, Tacoma
Tire Sizes
15″
225/70R15 100T SL OWL
235/75R15 109T XL OWL
235/75R15 105T SL OWL
LT235/75R15 104\101R C OWL
255/70R15 108T SL OWL
265/70R15 112T SL OWL
265/75R15 112T SL OWL
30X9.50R15LT 104R C OWL
31X10.50R15LT 109R C OWL
32X11.50R15LT 113R C OWL
33X12.50R15LT 108R C OWL
16″
215/70R16 100T SL OWL
LT215/85R16 115\112R E BLK
225/70R16 103T SL OWL
225/75R16 104T SL OWL
LT225/75R16 115\112R E BLK
235/70R16 106T SL OWL
235/75R16 108T SL OWL
LT235/85R16 120\116R E BLK
245/70R16 111T XL OWL
245/70R16 107T SL OWL
245/75R16 111T SL OWL
LT245/75R16 120\116R E OWL
LT245/75R16 108\104R C OWL
LT245/75R16 120\116R E BLK
255/70R16 111T SL OWL
265/70R16 112T SL OWL
265/75R16 116T SL OWL
LT265/75R16 123\120R E OWL
LT265/75R16 112\109R C OWL
LT285/75R16 126\123R E OWL
LT295/75R16 128\125R E OWL
LT315/75R16 127\124R E OWL
LT245/70R16 118\115R E OWL
LT255/70R16 108\104R C OWL
LT265/70R16 121\118R E OWL
LT305/70R16 124\121R E OWL
17″
LT225/75R17 116\113R E BLK
235/60R17 102T SL OWL
235/65R17 104T SL OWL
235/70R17 111T XL BSW
LT235/80R17 120\117R E OWL
245/65R17 107T SL OWL
245/70R17 110T SL OWL
LT245/75R17 121\118S E OWL
255/65R17 110T SL OWL
255/70R17 112T SL OWL
255/75R17 115T SL OWL
265/65R17 112T SL OWL
265/70R17 115T SL OWL
LT285/75R17 121\118S E BLK
LT245/70R17 119\116S E OWL
LT265/70R17 121\118S E OWL
LT265/70R17 112\109S C OWL
LT275/70R17 114\110S C OWL
LT275/70R17 121\118R E OWL
P285/70R17 117T SL OWL
LT285/70R17 121\118S E OWL
LT295/70R17 121\118R E OWL
LT305/70R17 121\118R E BLK
LT315/70R17 121\118S E OWL
LT265/65R17 120\117R E OWL
18″
255/70R18 113T SL BSW
265/60R18 110T SL OWL
265/65R18 114T SL OWL
265/70R18 116T SL OWL
LT265/70R18 124\121S E OWL
275/65R18 116T SL OWL
LT275/70R18 125\122S E OWL
LT275/65R18 113\110S C OWL
LT275/65R18 123\120S E OWL
LT285/65R18 125\122S E OWL
LT285/75R18 129\126S E BLK
LT295/70R18 129\126S E BLK
LT305/65R18 124\121S E BLK
LT325/65R18 127\124R E OWL
LT325/60R18 124\121R E BLK
20″
LT265/60R20 121\118R E BLK
275/55R20 117T XL OWL
275/60R20 115T SL OWL
LT275/65R20 126\123S E OWL
LT325/60R20 126\123R E OWL
LT285/55R20 122\119R E BLK
LT305/55R20 121\118S E BLK
35X12.50R20LT 121R E BLK
Price Range
Prices for the Cooper Discoverer AT3 Tires range from approximately $114 and up. You may also find occasional rebates, discounts, coupons and special offers on this tire.
Click Here To Find Current Prices On All Cooper Discoverer A/T3 Tire Sizes
Warranty
Cooper provides a 55,000 mile treadlife warranty on the Discoverer A/T3. There is also a first 2/32 inch tire uniformity guarantee as well.
Materials and workmanship are covered for 5 years and include free tire replacement during the first 2/32 inch of wear. Cooper then prorates out the amount for the remaining time period or down to the final 2/32 inch of tread depth.
---