Cooper CS5 Ultra Touring Tire Review & Rating
The new Cooper CS5 Ultra Touring is the latest model in the company's lineup, and arguably one of their best. Built for drivers of coupes, sedans, crossovers and SUV's, the CS5 Ultra Touring features a host of new technology that add to performance and longevity.
A new generation silica tread compound includes up to 4 times more silica than many other competitor tires. The added silica is designed to increase grip on dry road surfaces, as well as on wet or snow covered streets. This is further enhanced through 3D micro gauge grooves which provide added stability and traction, especially in the area of cornering and handling. This is a real strength for this model.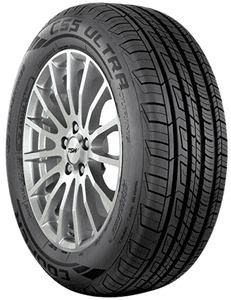 StabilEdge technology ensures that steering is responsive and consistent, while also delivering added control throughout the speed range.
Finally the CS5 Ultra Touring tires has Wear Square technology, which is a visual indicator of tread wear that allows you to see how many miles of tread are left on the tire. An asymmetric tread design gives you the ability to easily rotate tires side to side.
You can find this tire in a variety of 15 to 19 inch sizes, speed ratings of H, V and W. Cooper backs the tire with either a 60,000 mile or 50,000 mile tread warranty.
Pros
Impressive dry and wet traction on a range of road surfaces

Smooth and very comfortable ride quality

Very good value and performance for the money

Excellent tread warranty
Cons
Deeper snow and ice traction



Overall Thoughts
For the price, the Cooper CS5 Ultra Touring are an excellent value. They deliver solid dry and wet performance on all types of road surfaces, while providing responsive steering and control. Cornering grip and stability is among the best in class. We'd say it compares favorably with the Pirelli P7 All Season Plus in this area.

The ride is comfortable, and this is a remarkably smooth and stable tire. Road noise is minimal and perhaps just a bit more than the CS5 Grand Touring. Cooper also includes a nice 50K or 60K mile warranty as well.
Overall, this is simply one of the best performing touring all-season tires available today, especially if you're looking for a little more sporty handling. Highly recommended.

Click Here For Current Cooper Coupons
Click Here To Find Current Prices
Buy Used for 40 – 50% Less than Retail
What Vehicles Will The Cooper CS5 Ultra Touring Fit?
(This is not a complete list of ALL vehicles this tire will fit)
Acura TL, CL

BMW 135i, 330i, 530i

Chevrolet Cobalt, Malibu, Cruze, Impala, Sonic LTZ

Dodge Neon, Grand Caravan, Nitro

Ford Focus, Mustang GT, Taurus, Fusion

Honda Civic, CR-V, Insight, Accord, Odyssey

Hyundai Genesis, Sonata

Infiniti G35x

Kia Optima, Rondo

Lincoln MKZ

Mazda6, 929, Mazda3

Mercedes-Benz E320

Nissan Altima, Maxima, Versa, Leaf, Cube

Pontiac Vibe, Grand Am, Grand Prix, G5

Subaru Legacy, Impreza Outback

Toyota Camry, Prius, RAV4, Avalon, Solara, Sienna

Volkswagen Jetta, Passat, Touareg
Tire Sizes
15″
185/65R15 88H BSW
195/55R15 85V BSW
195/60R15 88H BSW
195/65R15 91H BSW
205/60R15 91H BSW
205/65R15XL 99H BSW
205/65R15 94V BSW
215/60R15 94H BSW
225/60R15 96H BSW
16″
195/55R16 87V BSW
205/50R16 87H BSW
205/55R16 91H BSW
205/55R16 91V BSW
205/60R16 92V BSW
205/60R16 92H BSW
215/55R16 93H BSW
215/60R16 95H BSW
215/60R16 95V BSW
225/50R16 92V BSW
225/55R16 95H BSW
225/55R16 95V BSW
225/60R16 98V BSW
225/60R16 98H BSW
235/60R16 100V BSW
17″
205/50R17XL 93V BSW
215/50R17XL 95V BSW
215/55R17 94V BSW
225/45R17XL 94W BSW
225/45R17 91H BSW
225/50R17 94V BSW
225/55R17 97V BSW
225/55R17 97H BSW
235/45R17 94W BSW
235/45R17 94H BSW
235/50R17 96V BSW
235/55R17 99W BSW
235/55R17 99V BSW
235/65R17 104H BSW
18″
225/45R18XL 95W BSW
225/55R18 98H BSW
225/60R18 100V BSW
225/60R18 100H BSW
235/50R18 97W BSW
235/55R18XL 104V BSW
245/45R18XL 100V BSW
255/65R18 111H BSW
19″
235/55R19XL 105H BSW
255/60R19 109H BSW
Price Range
Cooper CS5 Ultra Touring prices range from approximately $85 and up. You may also find occasional rebates, discount prices, coupons and special offers on this tire.
Click Here To Find Current Prices On All Cooper CS5 Ultra Touring Tire Sizes
Warranty
Cooper provides a 60,000 mile treadlife warranty on H and V-speed rated models, and a 50,000 mile warranty on W-speed rated tires. Tire uniformity is guaranteed for the first 2/32 inch of wear.
Materials and workmanship are covered for 5 years. You will also find a 45-day road test guarantee on this model as well. Cooper will exchange the tire for another model if you are not 100% satisfied with the tire.
---