Cooper CS3 Touring Tire Review & Rating
Cooper's latest addition to their tire lineup, the CS3 Touring, is a replacement to the older GLS model and designed to provide quiet ride comfort, a longer treadlife and increased fuel efficiency due to its lower rolling resistance. Built for today's coupes, sedans and minivans, the CS3 Touring features some of Cooper's newest tire technology.
A new touring tread compound combines with a wider footprint to give the CS3 enhanced dry traction and handling. Cooper has incorporated its exclusive StabilEdge technology into the tire's center and intermediate ribs. The result is quicker and more responsive steering, increased handling and cornering grip, as well as better overall stability at all speeds. These features are noticeable and a major improvement in performance over the older GLS.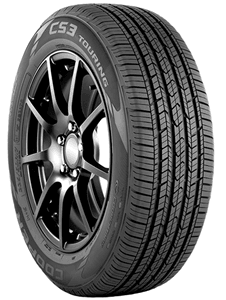 Four circumferential grooves and 3D Micro Gauge Siping helps the CS3 deliver excellent traction on wet road surfaces, while also reducing the risk of hydroplaning. An added benefit to the 3D sipes is enhanced winter traction on snow or icy pavement, which is an area this tire excels in.
Cooper has created the CS3 to be more comfortable and quiet by using a newly-designed pitch sequence in the tread that virtually eliminates annoying outside road noise, something that has been mentioned in many driver reviews of this model as a real plus. While increased fuel economy was not a main focus with this tire, it features a 6% decrease in rolling resistance over the older GLS. That should translate into a little extra fuel efficiency.
Inside the tire you'll find twin steel belts that are spirally wrapped with nylon for added durability and ride comfort. Cooper offers sizes ranging from 14 to 18 inches, and includes a 65,000 mile tread warranty. The CS3 is also available with either a T, H or V-speed rating.
Pros
Excellent all-season traction

Tire stability

Quiet ride

Long lasting treadlife
Cons
Cornering grip for more spirited drivers
Overall Thoughts
The new Cooper CS3 Touring has several good things going for it. Traction and grip on dry, wet and even snow covered surfaces is very good. You feel confident when driving in all types of road and weather conditions. The steering is responsive and delivers excellent feel, while tire stability is a plus throughout the speed range. Our only complaint, if you really even want to call it that, is the softer sidewall which affects more spirited cornering performance, although to be fair, this isn't billed as a sports car like high performance tire.
The CS3 is arguably one of Cooper's most quiet and comfortable models in their lineup next to the CS5 Grand Touring. It's among some of the best in this class when it comes to comfort. Tread life is also very good, and Cooper backs it with a 65,000 mile warranty.
Overall, this is an excellent basic touring all-season tire that ranks among the top models in this class. Highly recommended.
Click Here For Current Cooper Coupons
Click Here To Find Current Prices
What Vehicles Will The Cooper CS3 Touring Fit?
(This is not a complete list of ALL vehicles this tire will fit)
Buick Enclave, Roadmaster

Chevrolet Cruze, Malibu, Astro, Cavalier

Dodge Avenger, Caravan

Ford Fusion, Taurus

GMC Acadia

Honda Accord, Civic, Odyssey

Hyundai Sonata

Nissan Altima, Sentra

Saturn Vue, Outlook

Toyota Camry, Corolla, Sienna

Volkswagen Jetta
Tire Sizes
14″
175/65R14 82T BLK
185/65R14 86H BLK
185/65R14 86T BLK
185/60R14 86H BLK
195/60R14 86H BLK
15″
185/65R15 88H BLK
185/65R15 88T BLK
195/65R15 91H BLK
195/65R15 91T BLK
205/65R15 94H BLK
205/65R15 94T BLK
215/65R15 96T BLK
185/60R15 84T BLK
195/60R15 88H BLK
195/60R15 88T BLK
205/60R15 91H BLK
205/60R15 91T BLK
16″
205/65R16 95H BLK
215/65R16 98T BLK
225/65R16 100T BLK
235/65R16 103T BLK
205/60R16 92V BLK
205/60R16 92H BLK
205/60R16 92T BLK
215/60R16 95V BLK
215/60R16 95H BLK
215/60R16 95T BLK
225/60R16 98V BLK
225/60R16 98H BLK
225/60R16 98T BLK
195/55R16 87V BLK
205/55R16 91V BLK
205/55R16 91H BLK
205/55R16 91T BLK
215/55R16/XL 97H BLK
225/55R16 95V BLK
225/55R16 95H BLK
225/50R16 92V BLK
17″
215/65R17 99T BLK
225/65R17 102T BLK
235/65R17 104T BLK
215/60R17 96T BLK
225/60R17 99T BLK
215/55R17 94V BLK
225/55R17 97H BLK
215/50R17/XL 95V BLK
225/50R17 94V BLK
18″
225/60R18 100H BLK
225/55R18 98H BLK
235/55R18 100V BLK
225/50R18 95T BLK
Price Range
CS3 Touring prices range from approximately $81 and up. You may also find occasional rebates, discount prices, coupons and special offers on this tire.
Click Here To Find The Lowest Prices On All Cooper CS3 Touring Sizes
Warranty
Cooper provides a 65,000 mile tread warranty on T-speed rated models, and a 50,000 mile warranty on H or V-speed rated tires. Tire uniformity is guaranteed for the first 2/32 inch of wear.
Materials and workmanship are covered for 5 years. You will also find a 45-day road test guarantee on this model as well. Cooper will exchange the tire for another model if you are not 100% satisfied with the tire.
---