Cooper Adventurer H/T Tire Review & Rating
Designed with the latest in tire technology, the Cooper Adventurer H/T is created to provide dependable year-round traction and handling with an added emphasis on ride comfort and a longer treadlife. Built for all types of light trucks and SUV's, the Adventurer HT is priced low for budget-minded drivers.
Cooper uses an advanced silica-infused rubber tread compound and non-directional tread pattern that enhances dry traction and handling, while improving durability and tread wear. Cooper's unique R-Tech sidewall construction and the tires' continuous center rib increase steering response and cornering stability around town or on the open highway.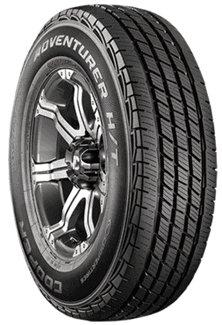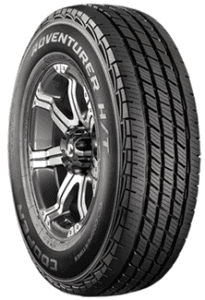 Variable depth 3-D micro-gauge sipes around the tread combine with four large circumferential grooves for added traction on wet pavement. In addition, the added silica in the tread compound further improve wet grip, which is a plus for this model.
The added siping is also designed to aid in winter traction on snow, slush and ice, which is pretty good on this tire for the most part. It's worth noting that Cooper has included its Anti-Stone Retention technology on the Adventurer H/T which helps reduce stone retention and prevent stone drilling. That's an added plus for drivers living in rural areas who drive on gravel roads.
Cooper offers a wide range of 16-20 inch sizes in both LT and non-LT models. The Adventurer H/T comes backed with a 60K mile tread warranty.
Pros
Solid dry and wet performance
Smooth comfortable ride
Treadlife
Good value for the money
Cons
A little extra noise on rougher pavement
Deep snow and ice may be problematic
Overall Thoughts
While nothing stands out in particular on this tire, we can say it provides solid all-around performance. Dry and wet traction is very good and the ride is smooth and comfortable. Road noise is minimal, but a little more than you might find on other top models like the Michelin Defender LTX M/S.
Grip on light to moderate snow is good, however, in deep snow and on ice you may encounter some traction issues when braking or accelerating.
Overall, the Cooper Adventurer HT delivers very good value for the money. We give it a rank in the upper half of the truck/SUV all-season class.
Click Here For Current Cooper Coupons
What Vehicles Will The Cooper Adventurer HT Fit?
(This is not a complete list of ALL vehicles this tire will fit)
Chevrolet Silverado, C2500, Blazer, Traverse, Tahoe, Avalanche, Colorado
Dodge Ram, Dakota, Nitro, Durango
Ford F-150, Excursion, F-250, F-350, Explorer, Ranger, Expedition, Escape
GMC Sierra, Yukon, Jimmy, Canyon
Honda Element, CR-V, Ridgeline
Hummer H3
Isuzu Rodeo, Trooper
Jeep Liberty, Grand Cherokee, Wrangler
Kia Borrego
Land Rover Defender
Mazda B-Series
Mitsubishi Montero
Nissan Titan, Xterra, Pathfinder, Frontier
Suzuki Equator
Toyota Tacoma, Tundra, FJ Cruiser, Sequoia, 4Runner, Land Cruiser, Highlander
Tire Sizes
16″
225/75R16 104T OWL
235/75R16 108T OWL
245/75R16 111T OWL
265/75R16 116T OWL
235/70R16 106T OWL
245/70R16 107T OWL
255/70R16 111T OWL
265/70R16 112T OWL
255/65R16 109T BLK
LT215/85R16 115\112R E BLK
LT235/85R16 120\116R E BLK
LT225/75R16 115\112R E BLK
LT245/75R16 120\116R E BLK
LT265/75R16 123\120R E BLK
17″
245/70R17 110T OWL
265/70R17 115T OWL
245/65R17 107T OWL
255/65R17 110T OWL
265/65R17 112T OWL
LT235/80R17 120\117R E BLK
LT245/75R17 121\118S E BLK
LT265/70R17 121\118S E BLK
18″
255/70R18 113T BLK
265/70R18 116T OWL
255/65R18 111T BLK
265/65R18 114T OWL
275/65R18 116T OWL
265/60R18 110T OWL
255/55R18 109H XL BLK
19″
255/60R19 109H BLK
245/55R19 103H BLK
20″
275/60R20 115T BLK
255/55R20 107H BLK
275/55R20 117H XL BLK
245/50R20 102H BLK
265/50R20 107T BLK
Price Range
Cooper Adventurer H/T prices range from approximately $92 and up. You may also find occasional rebates, discount prices, coupons and special offers on this tire.
Warranty
Cooper provides a 60,000 mile treadlife warranty on the Adventurer H/T. There is also a first 2/32 inch tire uniformity guarantee as well.
Materials and workmanship are covered for 5-years and include free tire replacement during the first 2/32 inch of wear. Cooper then prorates out the amount for the remaining time period or down to the final 2/32 inch of tread depth.
---