Continental VikingContact 7
Overview
A leading automotive parts and tire manufacturing company founded in 1871, Continental initially started as a rubber manufacturer – they were the first to introduce grooved, patterned tires and tubeless tires.
Continental is renowned for its comprehensive tire tests, and ensures utmost safety and comfort with the help of premium build and design. The VikingContact 7 is another high-quality offering from the manufacturer based on top-notch technology; as such, it promises to provide ultimate performance with its high-quality compound and construction.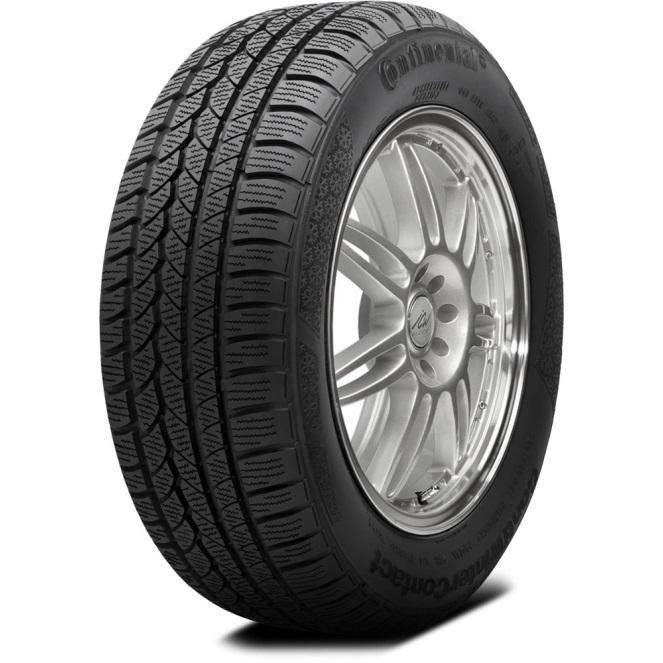 The VikingContact 7 is a studless winter tire built to endure icy and snowy conditions. In other words, it provides enhanced grip to passenger vehicles for confident driving on demanding wintery conditions.
Built with the latest technology, this variant ensures ultimate traction in snow, slush and ice during winter times, and is optimized to provide reliable wet grip along with stable dry handing – combined, these features make it an excellent tire for varied winter conditions.
Furthermore, it's designed with a uniquely formulated tread compound that utilizes canola oil; it provides flexibility and adaptability on snow or ice. The tread pattern consists of a specially moulded rubber compound consisting of groove networks to intelligently remove slush and water from under the contact patch.
Also, the silica-rich rubber enhances the tire's wet grip and braking while the improved void ratio ensures that there is always higher rubber to road contact for increased traction and control on high-speeds.
Additionally, the interlocked block bridges and solid linkages provide stability to the tread along with water and slush evacuation through the grooves.
Lastly, the sipe edges vary in width; the thicker sipes hold snow in the tread pattern for added grip, thereby delivering enhanced performance. The outward side of the tread block consists of grip edges that stick to the snow and increase the footprint of the tire.
This tire is rated T (190 km/h) for speed and is manufactured in sizes ranging from 15" to 20".
VikingContact 7 is branded with 3PMSF (three-peak mountain snowflake) symbol which means that it meets the industry's standard for harsh winter conditions.
The Pros
Excellent grip on ice, snow and slush

Enhanced traction on wet and other wintery surfaces

Tread pattern based on latest technology for improved stability and control

High-quality performance on worst winter conditions
The Cons
They make a little rolling noise

Not as good compared to studded tires on ice
Overall Thoughts
The Continental VikingContact 7 with its superior construction and top-notch design is an excellent winter tire capable of providing high performance on snow and ice.
This studless tire features a specialized tread compound with a unique tread pattern for enhanced grip on ice, snow and slush. Also, the silica-rich rubber compound provides excellent wet grip along with a higher void ratio that ensures regular contact patch.
The 3D sipes, both thick and thin, improve traction on slippery surfaces while the outer grip edges grab onto the surface for added grip.
All in all, the VikingContact 7 is a highly reliable tire designed to get you to your destination, regardless of any winter condition.
Its top-notch design is based on the latest technology and provides you sublime grip and control under adverse conditions. While some reviews suggest that it makes some rolling noise on asphalt, this variant is still a great option if you want a viable winter tire.
What Vehicles Would Continental VikingContact 7 Tires Fit?
This variant by Continental is a studless winter tire designed for passenger vehicles that need ultimate grip on snow and ice.
The list below shows some vehicles that this tire can fit – however, this is not a comprehensive list.
Acura CL

Acura CL Premium

Acura CSX Premium

Acura CSX Touring

Acura ILX

Acura ILX Hybrid

Acura RSX

Acura RSX Type-S

Audi A3 Sportback e-Tron PremiumG

BMW 128i

BMW 320i

BMW 323Ci

Chevrolet Beretta

Chevrolet Beretta GTZ

Chevrolet Beretta Z26

Chevrolet Cavalier

Chevrolet Cavalier LS Sport

Chevrolet Cavalier RS

Dodge Avenger

Honda Civic EX-L

Honda Civic LX

Honda Civic LX-S

Honda Civic Si

Hyundai Elantra Coupe GLS

Hyundai Elantra Coupe GS

Kia Forte Koup EX

Kia Forte LX

Kia Forte LXS

Kia Forte S

Kia Forte5 EX

Lamborghini Jalpa

Lexus CT200h

Lexus IS250

Lexus IS300

Lexus IS300 Sport cross
Tire Sizes Available
Continental VikingContact 7 is available in an array of wheel sizes that range 15" to 20".
15″
145/65R15 72T

175/55R15 77T

175/65R15 88T

185/55R15 86T

185/65R15 92T

195/55R15 89T

195/60R15 92T

195/65R15 95T

205/65R15 99T
16″
195/50R16 88T

195/55R16 91T

195/60R16 93T

205/55R16 94T

205/60R16 96T

205/65R16 99H

215/55R16 97T

215/60R16 99T

215/65R16 102T

215/70R16 100T

225/55R16 99T

225/60R16 102T

225/65R16 104T

225/70R16 107T

235/70R16 109T

245/70R161 11T
17″
205/45R17 88T

205/50R17 93T

205/55R17 95T

215/45R17 91T

215/50R17 95T

215/55R17 98T

215/60R17 100T

215/65R17 103T

225/45R17 94T

225/50R17 98T

225/55R17 101T

225/60R17 103T

225/65R17 106T

235/45R17 97T

235/50R17 100T

235/55R17 103T

235/60R17 106T

235/65R17 108T

235/70R17 111T

245/45R17 99T

245/65R17 111T

245/70R17 114T

265/70R17 116T
18″
215/50R18 96T

225/40R18 92T

225/45R18 95T

225/50R18 99T

225/55R18 102T

225/60R18 104T

235/40R18 95T

235/45R18 98T

235/50R18 101T

235/55R18 104T

235/65R18 110T

245/40R18 97T

245/45R18 100T

245/60R18 109H

255/45R18 103T

255/60R18 112T

275/65R18 116T
19″
225/45R19 96T

235/35R19 91T

235/40R19 96T

235/55R19 105T

245/40R19 98T

245/45R19 102T

255/35R19 96T

255/40 R19 100T

255/45R19 104T

255/50R19 107T

265/55R19 113T
20″
245/45R20 103T

245/50R20 105H

255/35R20 97T

255/45R20 105T

265/45R20 108T

275/55R20 117T
Price Range
The price starts from $139 and goes up to $233, depending on the wheel size. You can also get occasional discounts on some online stores.
Warranty Offered
All Continental passenger car tires are covered with a limited warranty for 72 months from the purchase date. They also provide a free replacement in the first year from the purchase date or until the first 1.6 mm of wear.