Continental PureContact Tire Review & Rating
Continental Tire's premium all-season model, the PureContact, was released in September 2012. Designed for drivers of coupes, sedans, minivans and crossovers, the Pure Contact is engineered to provide high-performance year round traction and handling to go with a comfortable ride and increased fuel efficiency.
An all-season tread compound combines with Continental's Eco Plus technology that utilizes other polymers in the tread to give the tire enhanced treadwear and improved fuel efficiency, which can save you money over time.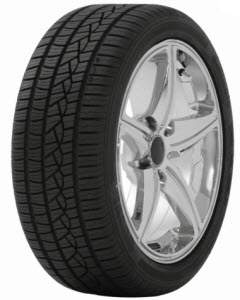 Similar to the DWS model, this new PureContact tire uses Tuned Performance Indicators. What this does is it provides D (Dry), W (Wet) and S (Snow) letters on the outer tread of the tire which lets you know how the tread is currently wearing.
For example, once the S (snow) letter has worn off the tread you will know that the tire has lost its maximum snow performance. After the W has worn off, you know that maxium wet surface traction is lost. This helps all drivers get a better idea of how worn their tires are at any time.
Inside the tire you find Continental's exclusive ComfortRide technology that provides extra cushioning to the tire by adding another layer of rubber that helps absorb pavement bumps and vibrations that we all drive over on a daily basis. Comfort is a strong point on this particular tire.
The tire's construction includes two steel belts with jointless polyamide to add durability and more stability to the tire. They also further enhance overall ride comfort and quality.
Continental offers sizes from 15-18 inches, and speed ratings of H or V. There is also a 70,000 mile tread guarantee included on this tire.
Click Here For Current Continental Coupons
Click Here To Find Current Prices
Buy Used for 40 – 50% Less than Retail
Pros
Outstanding dry, wet and snow performance

Exceptional braking abilities

Crisp steering response and feel

Ride comfort is among best in this class

70,000 mile warranty
Cons
Overall Thoughts
The PureContact has quickly grown into one of the more popular touring all-season tire choices among any brand. You can expect outstanding traction on any type of road surface, including light to deep snow. The steering is crisp and it gives you good feel and control throughout the speed range.
Braking is quick and sure, and the ride is comfortable and quiet as well. Tread life has shown to be excellent, and Continental backs it with a 70,000 mile tread guarantee.
Overall, this is definitely a solid all-season tire that Continental has released, and we give it a big thumbs up for being one of the better tires in its class.
What Vehicles Will The Continental PureContact Fit?
(This is not a complete list of ALL vehicles this tire will fit)
Acura TL, CL

BMW 135i, 330i

Chevrolet Cobalt, Malibu, Cruze, Impala, Sonic LTZ

Dodge Neon, Grand Caravan, Nitro

Ford Focus, Mustang, Taurus, Fusion

Honda Civic, CR-V, Insight, Accord

Kia Optima, Rondo

Mazda6, 929, Mazda3

Nissan Altima, Maxima, Versa, Leaf, Cube

Pontiac Vibe, Grand Am, Grand Prix, G5

Subaru Legacy, Impreza WRX, Outback

Suzuki SX4

Toyota Camry, Prius, RAV4, Avalon, Solara, Sienna

Volkswagen Jetta, Passat, Touareg
Tire Sizes
15″
195/65R15 91H BW
16″
205/55R16 91V BW
205/55R16 91H BW
205/60R16 92H BW
205/60R16 92V BW
205/65R16 95H BW
215/55R16 97H BW
215/60R16 95V BW
215/60R16 95H BW
17″
205/50R17 93V BW
215/50R17 95V BW
215/55R17 94V BW
225/45R17 91H BW
225/45R17 91V BW
225/50R17 98V BW
225/55R17 97V BW
235/45R17 94H BW
235/50R17 96V BW
235/55R17 99H BW
245/45R17 99V BW
245/50R17 99V BW
18″
225/45R18 91V BW
225/60R18 100H BW
235/45R18 94V BW
235/50R18 97V BW
235/55R18 100V BW
245/40R18 97V BW
245/45R18 100V BW
245/50R18 100V BW
19″
245/40R19 98V BW
255/45R19 100V BW
20″
245/45R20 99V BW
Price Range
Prices on the Pure Contact tire range from approximately $109 and up. You may also find occasional rebates, discounts, coupons and special offers on this tire.
Click Here To Find Lowest Prices On All Continental PureContact Sizes
Warranty
A 6-year or 70,000 mile tread warranty comes with the PureContact. If the rear is sized differently than the front, Continental cuts the mileage guarantee by 50%. The tire's uniformity is backed for one-year or the first 2/32 inch of wear.
Materials and workmanship are warranted for 6-years and include free replacement during the first year or first 2/32 inch of wear. A prorated amount is given for the remaining time period or down to the final 2/32 inch of tread depth.
Continental also provides a one-year or first 2/32 inch of wear road hazard warranty, as well as their exclusive 60-day customer satisfaction trial.
---