Continental ProContact TX Tire Review & Rating
A grand touring, all-season tire from Continental, the ProContact TX's have been designed to provide traction, grip, and performance in all weather conditions.
The tires feature a balanced sipe-to-block ratio that offers superior traction regardless of the time of year or road condition. To reduce the effect of vibrations and absorb shocks there is an undertread compound and a blocking rib which helps to eliminate road noise and the overall design adds comfort as well.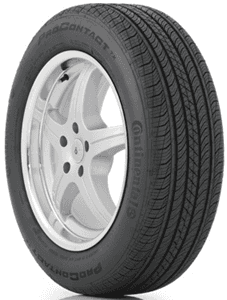 The ProContact TX tires from Continental are usually used as original equipment on a range of vehicles including the 2014 Jeep Cherokee Limited, as well as coupes and deluxe performance sedans, however they are also great as a stand alone purchase and come M+S rated for all weather, all-season driving.
You can find the tires in sizes ranging from 18 to 20 inches and come with a 65k tread wear warranty on S and T speed rated vehicles, 60k on H rated, 55k on V speed and finally 50k on W speed rated models.
Pros
Solid tire that comes with the quality of Continental

Good all weather and all-season design

Great warranty for all speed ratings

Comfortable with low noise
Cons
Overall Thoughts
The ProContact TX's might be used as original equipment in most cases, however they are more than capable of handling most road conditions throughout the year.
With a smartly designed tread and coming as M+S rated they are able to grip and hold in rain, shine, and even in light snow. Perhaps not recommended for particularly heavy snow, and they do have a limited size range, but these are minor faults with an all-round well designed set of tires.
If you want tires that do not break the bank but still offer a high level of performance then the ProContact TX's are a good option. Comfortable, low road noise, affordable, and consistent performance is great value and they represent another quality product from Continental.
Click Here For Current Continental Coupons
Buy Used for 40 – 50% Less than Retail
Tire Sizes
15″
165/65R15 81T BSW
185/60R15 84T BSW
195/65R15 91H BSW
16″
185/50R16 81H BSW
205/45R16 83H BSW
205/55R16 91H BSW
205/55R16 91H BSW
215/60R16 95T BSW
215/60R16 95H BSW
17″
205/55R17 91H BSW
215/55R17 94V BSW
215/55R17 94H BSW
225/45R17 91H BSW
18″
225/40R18 92H BSW
225/45R18 91V BSW
225/55R18 98H BSW
225/60R18 100H BSW
235/45R18 94H BSW
235/60R18 103V BSW
245/45R18 96V BSW
255/55R18 105V BSW
19″
235/55R19 101V BSW
245/40R19 94W BSW
255/50R19 103V BSW
275/35R19 96W BSW
20″
265/35R20 99H BSW
Price Range
Continental ProContact TX prices range from approximately $139 and up. You may also find occasional rebates, discount prices, coupons and special offers on this tire.
Warranty
Continental provides up to a 6-year or 65,000 mile tread warranty on the Pro Contact TX. Tire uniformity is guaranteed for one-year or the first 2/32 inch of wear.
Materials and workmanship are warranted for 6-years and include free replacement during the first year or first 2/32 inch of wear. A one-year or first 2/32 inch of wear road hazard warranty is also given on this tire.
A 30-day customer satisfaction trial period is provided as well. If you are not completely satisfied you can exchange the tires for another Continental tire.
---