Continental ExtremeContact DWS06 Tire Review & Rating
Setting out to improve on the performance levels of an already proven winning tire is no easy task, but that is exactly what the new Continental ExtremeContact DWS06 aims to do. Three years in the making, this ultra-high performance all-season tire sports new technology that Continental hopes will make it the class leader in UHP all-season tires.
New SportPlus Technology and a tread compound that features added amounts of silica and +Silane additives, are designed to enhance traction on wet road surfaces, provide more precise handling and deliver a longer lasting tread life. The asymmetric tread pattern remains familiar, although it is slightly different than the original.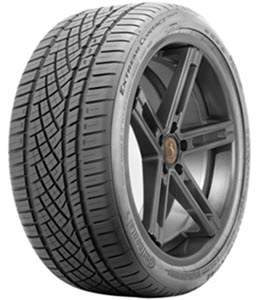 The DWS 06 addresses some of the issues with its predecessor in terms of dry and wet traction by adding Traction Grooves and utilizing X-Sipe technology around the tread. The combination of the two give this tire noticeable improvement when it comes to grip in the rain or snow, as well as much improved braking and cornering performance, which is very good on this tire.
Whether you drive under normal conditions or push this tire to the limits, you'll find the steering to be crisp and very responsive. It adds a level of confidence that was somewhat lacking with the older model. Continental has added a unique sport sidewall insert to further assist in quickening steering response regardless of road conditions. A two-ply sidewall provides 35 percent more stiffness over the original DWS, which gives it more strength and cornering stability, again a real plus on this model.
Of course Continental has maintained other features from the original such as its Alignment Verification System and Tuned Performance Indicators which help in showing you how well the tire is wearing and whether your vehicle is properly aligned.
The new ExtremeContact DWS 06 is available in 87 sizes ranging from 16- to 22 inches, and with speed ratings of W and Y. There is a 50K mile tread warranty included as well.
Pros
Outstanding traction on dry/wet and snow covered roads

Responsive and precise steering

Much improved cornering stability

Treadlife
Cons
We're still looking for any
Overall Thoughts
It's not often that you find a UHP all-season tire that does just about everything you can ask of it, but that's what you get with the Continental DWS06. Pair it up against any other tire in this class, be it the Michelin A/S3, Cooper RS3-A, Goodyear F1 Asymmetric All Season or any other model and the DWS06 holds its own in every category.
Continental has taken its original class leading UHP tire and managed to further improve its dry, wet and snow traction, enhance the steering response and cornering stability, as well as increase the ride comfort and lower the noise.
Overall, we feel the DWS06 ranks among the best tires in this category and we say that without any hype. It simply does not disappoint.
What Vehicles Will The Continental DWS 06 Fit?
(This is not a complete list of ALL vehicles this tire will fit)
Acura ZDX, TSX, ILX, RSX

Audi A3, A4, TT Quattro, A6

BMW 128i, 135i, 328i, 335i, M3, Z4, X5, X6, 535i, X1

Buick Verano

Cadillac ATS, CTS

Chevrolet Cruze, Malibu, Cobalt, Sonic, Camaro, Impala

Chrysler PT Cruiser

Dodge Dart, Challenger, Charger

Ford Focus, Fusion, Mustang, Fiesta

Honda Accord, Civic

Hyundai Sonata, Elantra, Tiburon, Genesis

Infiniti G35, I35, Q45, G37

Kia Rondo, Forte, Optima, Soul

Lexus IS250, IS350, GS350, IS300

Lincoln MKZ

Mazda3, Mazda5

Mitsubishi Eclipse

Nissan Sentra, 350Z, Maxima, Leaf

Saab 9-5, 9-3

Scion xB, tC

Subaru Impreza, Legacy

Toyota Corolla, Matrix, Camry, Avalon, Prius

Volkswagen Beetle, Golf, GTI, Jetta, Rabbit, Touareg, Passat

Volvo C70, S80, V70, S60
Tire Sizes
16″
205/55ZR16 91W BSW
215/55ZR16 93W BSW
225/50ZR16 92W BSW
225/55ZR16 95W BSW
17″
205/45ZR17 88W BSW
205/50ZR17 93W BSW
215/50ZR17 95W BSW
215/55ZR17 94W BSW
225/45ZR17 91W BSW
225/50ZR17 94W BSW
225/55ZR17 97W BSW
235/45ZR17 94W BSW
235/55ZR17 99W BSW
245/40ZR17 91W BSW
245/45ZR17 99Y BSW
245/50ZR17 99W BSW
255/40ZR17 94W BSW
18″
215/45ZR18 93Y BSW
225/40ZR18 92Y BSW
225/45ZR18 91Y BSW
235/40ZR18 95Y BSW
235/45ZR18 98Y BSW
235/50ZR18 97W BSW
235/55ZR18 100W BSW
245/35ZR18 92Y BSW
245/40ZR18 97Y BSW
245/45ZR18 100Y BSW
255/35ZR18 94Y BSW
255/40ZR18 99Y BSW
255/45ZR18 103Y BSW
255/55ZR18 109W BSW
19″
225/40ZR19 93Y BSW
225/45ZR19 92W BSW
235/35ZR19 91Y BSW
245/40ZR19 98Y BSW
245/50ZR19 105Y BSW
255/35ZR19 96Y BSW
255/40ZR19 100Y BSW
255/50ZR19 107W BSW
275/40ZR19 101Y BSW
275/45ZR19 108W BSW
285/35ZR19 99Y BSW
20″
245/45ZR20 103Y BSW
255/45ZR20 105Y BSW
265/35ZR20 99Y BSW
275/40ZR20 106Y BSW
295/40ZR20 110W BSW
315/35ZR20 110Y BSW
22″
265/30ZR22 97Y BSW
265/40ZR22 106W BSW
285/30ZR22 101Y BSW
295/25ZR22 97Y BSW
Price Range
Continental ExtremeContact DWS06 prices range from approximately $105 and up. You may also find occasional rebates, discount prices, coupons and special offers on this tire.
Warranty
Continental provides a 6-year or 50,000 mile tread life warranty on the DWS06. Mileage is reduced by half if different size is used on rear than in front. There is also a one-year or first 2/32 inch of wear on tire uniformity.
Materials and workmanship are covered for 6-years and call for first year or first 2/32 inch of wear free replacement. Continental then prorates out the amount for the remainder of the warranty period.
You also get a one-year or first 2/32 inch of wear road hazard warranty. Finally, there is a 3-year flat changing warranty and a 60-day customer satisfaction guarantee whereby you can exchange the tires for another Continental model if you are not 100% satisfied.
---