Continental ExtremeContact DWS Tire Review & Rating
If you are searching for high performance all-season tires, then the Continental ExtremeContact DWS is likely a name you will constantly come across. Designed for performance coupes, sedans, sport trucks and other sports cars, the DWS is built to deliver year round all-season road performance that you can depend on.
DWS stands for Dry, Wet and Snow, and Continental has given each one of these areas special attention with the latest in tire technology. It's worth mentioning that Continental has made it easier to know how much tread is left on the tire and how well it will perform by adding unique Tuned Performance Indicators in the tread.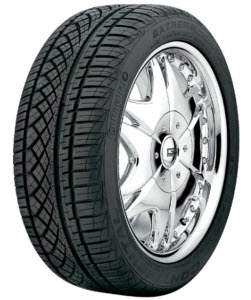 When new, the tire has "DWS" molded into the second rib on the outboard shoulder that you can visibly see. As the tire wears down you will no longer see the "S", which means the tire has lost sufficient performance driving in the snow. Once the "W" wears away it means the tire has lost its superior wet road performance. It is a quick way for drivers to know what to expect from the tires as the tread begins wearing down.
The tire sports an asymmetrical tread pattern to go with a continuous center rib that is notched, which increases the tire's steering response and cornering abilities on dry road surfaces.
Wet road traction is a strong area of performance for this model and that is due in part to the independent shoulder blocks and the higher angled grooves that give the tire more bite on rain or snow covered road surfaces, as well as increased hydroplane resistance. Tire owners have repeatedly mentioned how well this tire handles moderate to heavy snow covered roads.
Another thing worth noting about this model is the reduced rolling resistance and improved fuel economy that comes from it. With higher fuel prices this is something that most drivers will appreciate. Dynamic temperature distribution lowers tread distortion and increases tire life.
Inside the tread on the Extreme Contact DWS you will find two steel belts with a nylon cap ply that work to give the tire a more comfortable ride and better overall strength during high speed driving.
Click Here To Find Current Prices
Pros
Tire is among best in class for ride comfort

Extremely quiet riding tire with little to no road noise

Solid and dependable all-season traction on both wet and dry roads, as well as in snow

Tread life is above average and the tire warranty is excellent
Cons
Softer sidewalls may be an issue for those looking for high performance handling in the corners
Overall Thoughts
As a high performance all-season tire the Continental DWS holds a place close to the front of the line. Few other tires in this class compare to this model. The ride is silky smooth and very quiet, yet when the weather and road conditions turn ugly, the tire doesn't let you down. Traction in snow and ice is arguably the best for any all-season tire sold today. This is evidenced by all the praises from other owners of this tire.
Treadlife is very good among all tires in this category, and Continental backs it up with a 50,000 mile tread warranty. The only knock on this model that we have is that we'd like to see some added cornering power.
Overall, this is a fine UHP tire and we highly recommend it.
Click Here For Current Continental Coupons
What Vehicles Will The Continental DWS Fit?
(This is not a complete list of ALL vehicles this tire will fit)
Acura TSX, TL

BMW 328i, X5, XI, 528i, Z4, M3, 750i

Chevrolet Camaro, HHR, Cobalt, Impala SS, Corvette

Dodge Challenger

Ford Mustang, Fusion, Fiesta

Honda Civic, Accord, Civic

Hyundai Sonata, Genesis

Infiniti G37, G35X

Lexus ES350, IS 350C, GS300

Mercedes C Class, E320, S63 AMG, CLK500

Nissan 370Z, 350Z

Pontiac G8, GTO

Porsche 911, Cayenne

Scion tC

Subaru Legacy, Impreza WRX

Toyota Camry, Prius, Avalon, Corolla S

Volkswagen Jetta, GTi, CC, Tiguan SEL

Volvo S80, V50, S60, V70
Tire Sizes
16″
195/50ZR16 84W BSW
205/45ZR16 83W BSW
205/50ZR16 87W BSW
205/55ZR16 91W BSW
215/55ZR16 93W BSW
225/50ZR16 92W BSW
225/55ZR16 95W BSW
17″
205/45ZR17 88W XL BSW
205/50ZR17 93W XL BSW
215/45ZR17 91W XL BSW
215/50ZR17 95W XL BSW
215/55ZR17 94W BSW
225/45ZR17 91W BSW
225/50ZR17 94W BSW
225/55ZR17 97W BSW
235/45ZR17 94W BSW
235/50ZR17 96W BSW
235/55ZR17 99W BSW
245/40ZR17 91W BSW
245/45ZR17 95Y BSW
245/50ZR17 99W BSW
255/40ZR17 94W BSW
255/45ZR17 98W BSW
275/40ZR17 98W BSW
18″
215/35ZR18 84Y XL BSW
215/40ZR18 89Y BSW
215/45ZR18 93Y XL BSW
225/40ZR18 92Y XL BSW
225/45ZR18 91Y BSW
225/50ZR18 95W BSW
235/40ZR18 95Y BSW
235/45ZR18 98Y XL BSW
235/50ZR18 97W BSW
235/55ZR18 100W BSW
245/40ZR18 97Y BSW
245/45ZR18 100Y BSW
255/35ZR18 90Y BSW
255/35ZR18 94Y BSW
255/40ZR18 99Y BSW
255/45ZR18 103Y XL BSW
255/55ZR18 109W XL BSW
265/35ZR18 97Y XL BSW
265/40ZR18 101Y BSW
275/35ZR18 95Y BSW
275/40ZR18 99Y BSW
285/30ZR18 93Y BSW
285/35ZR18 101Y XL BSW
295/35ZR18 99Y BSW
19″
215/35ZR19 85Y BSW
225/35ZR19 88Y XL BSW
225/40ZR19 93Y XL BSW
235/35ZR19 91Y XL BSW
245/35ZR19 93Y XL BSW
245/40ZR19 98Y BSW
245/45ZR19 98Y BSW
255/35ZR19 96Y XL BSW
255/50ZR19 107W XL BSW
265/30ZR19 93Y XL BSW
275/30ZR19 96Y XL BSW
275/35ZR19 100Y XL BSW
275/40ZR19 101Y BSW
275/45ZR19 108W XL BSW
285/30ZR19 98Y XL BSW
285/35ZR19 99Y BSW
295/30ZR19 100Y XL BSW
20″
225/35ZR20 90Y BSW
245/30ZR20 90Y BSW
245/35ZR20 95Y BSW
245/40ZR20 99Y BSW
245/45ZR20 103W BSW
255/35ZR20 97W BSW
255/45ZR20 105W XL BSW
265/35ZR20 99Y BSW
275/30ZR20 97Y BSW
275/35ZR20 102Y BSW
275/40ZR20 106W BSW
275/45ZR20 110W BSW
285/30ZR20 99W BSW
295/40ZR20 110W BSW
315/35ZR20 110W BSW
22″
245/30ZR22 92Y BSW
265/30ZR22 97Y BSW
285/30ZR22 101Y BSW
295/25ZR22 97Y BSW
Price Range
Prices on the Continental DWS range from $110 and up. You may also find occasional rebates, discounts, coupons and special offers on this tire.
Click Here To Find The Lowest Prices On All Continental ExtremeContact DWS Sizes
Warranty
Continental provides a 6-year or 50,000 mile tread life warranty as well as a one-year or first 2/32 inch of wear on tire uniformity for the DWS.
Materials and workmanship are covered for 6-years and call for first year or first 2/32 inch of wear free replacement. Continental then prorates out the amount for the remainder of the warranty period.
You also get a one-year or first 2/32 inch of wear road hazard warranty. Finally, there is a 60-day customer satisfaction guarantee where by you can exchange the tires for another Continental model if you are not 100% satisfied.
---