Continental ExtremeContact DW Tire Review & Rating
The Continental ExtremeContact DW (Dry and Wet) is developed to combine a high level of performance with added comfort for drivers of all types of sport coupes and sedans.
Using new technology that is exclusive to Continental Tire, the DW sports an asymmetric tread design, continuous center rib and unique chamfered tread blocks that are engineered to deliver enhanced cornering performance and increased steering response, which this tire does an excellent job at.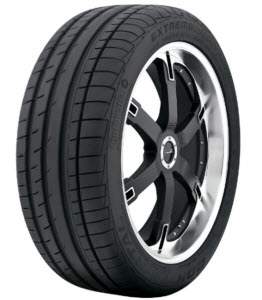 Wet pavement traction is solid on this particular tire due in part to the higher void to tread pattern. The deeper circumferential grooves and outboard lateral grooves, along with the notched shoulder blocks come together to provide better handling and evacuate more water from under the tread, which reduces the risk of hydroplaning and increases confidence behind the wheel. Many reviews from other drivers speak to how well this tire handles itself on wet pavement.

A unique feature on this model is the visual indicator that lets you know how worn out your tires are at any particular time. The Tuned Performance Indicators on the second rib from the outside have the letters "DW" on the tread surface. As the tire begins to wear, the "W"will wear off as well, indicating the tire has lost most of its wet pavement performance. As the "D" wears away itindicates the tire needs replacing. It's handy for drivers to quickly see how worn the tires have become.
High performance is not the only strong suit going for this tire. Riding comfort is very good and outside road noise is nearly non-existent.
Inside the tread are two steel belts that are spirally wound with nylon cap plies for improved stability and durability at higher speeds, as well as added comfort and a better overall ride. It also reduces distortion and lengthens treadlife. Sizes on the DW range from 16-21 inches, and come with either a W or Y-speed rating. A limited tread warranty is also part of the package.

Click Here For Current Continental Coupons
Click Here To Find Current Prices
Pros
Cornering grip and stability is excellent for daily driving

Dry and wet surface traction is among best in its class

Ride is very smooth and quiet

Tread life is good for a high-performance summer tire
Cons
Would like to see just a bit quicker steering response
Overall Thoughts
To say that we like these Continental DW tires is an under statement. The grip they provide on dry and wet pavement is among the best of any tire on the market in this class. It's no wonder why they can be found on many of today's hottest performance coupes and sedans.
Ride comfort is very good for a high performance summer tire, and road noise is minimal. Tread life has proven to be above average for the most part, although more spirited drivers may find a shorter lifespan. However, numerous other driver reviews and ratings have pointed out how well the tread wears. The only area we would like to see improvement in would be steering response. Don't get us wrong, it's very good, but it could be just a bit quicker.
Overall, while we feel this tire is just a step under the performance level of the Michelin Pilot Super Sport and Bridgestone Potenza S-04 Pole Position, it is a solid choice for spirited drivers who enjoy driving around town or on the highway. Definitely one of the better high performance summer tires you'll find and highly recommended.

What Vehicles Will The Continental DW Fit?
(This is not a complete list of ALL vehicles this tire will fit)
Audi A3, A4, A6, TT

BMW 328i, 525i, Z4, 323Ci, X1, 650i, M3

Chevrolet Corvette, Cobalt, Malibu

Ford Mustang, Fusion

Honda Civic Si, Fit Sport, Accord, S2000

Hyundai Sonata, Genesis

Infinity G35

Lexus SC400, SC430, IS F

Mazda6, MX-5, Miata, 3

Mercedes-Benz C230, S65, CLS550

Mini Cooper

Nissan 350Z, Altima, 370Z

Porsche Boxter, 944 S2, Cayman

Subaru Impreza WRX, Legacy, Outback

Toyota Corolla, Celica GT

Volkswagen GTI, R32

Volvo 850, V70 R
Tire Sizes
16″
205/50ZR16 87W BSW
205/55ZR16 91W BSW
215/55ZR16 93W BSW
225/50ZR16 92W BSW
225/55ZR16 95W BSW
17″
205/45ZR17 88W BSW
205/50ZR17 93W BSW
215/45ZR17 91W BSW
215/50ZR17 95W BSW
225/45ZR17 91W BSW
225/50ZR17 94W BSW
235/45ZR17 94W BSW
235/50ZR17 96W BSW
245/40ZR17 91W BSW
245/45ZR17 95Y BSW
245/45ZR17 95W BSW
255/40ZR17 94W BSW
255/45ZR17 98W BSW
275/40ZR17 98W BSW
285/40ZR17 100W BSW
18″
215/40ZR18 89Y BSW
225/40ZR18 XL 92Y BSW
225/45ZR18 91Y BSW
235/40ZR18 95Y BSW
235/50ZR18 97Y BSW
245/35ZR18 88Y BSW
245/40ZR18 97Y BSW
245/45ZR18 96Y BSW
255/35ZR18 94Y BSW
255/40ZR18 99Y BSW
255/45ZR18 103Y BSW
265/35ZR18 97Y BSW
265/40ZR18 101Y BSW
275/35ZR18 95Y BSW
285/30ZR18 93Y BSW
285/35ZR18 101Y BSW
285/40ZR18 101Y BSW
295/35ZR18 99Y BSW
19″
225/40ZR19 93Y BSW
235/35ZR19 91Y BSW
245/35ZR19 93Y BSW
245/40ZR19 98Y BSW
245/40ZR19 94Y BSW
245/45ZR19 98Y BSW
255/35ZR19 96Y BSW
255/40ZR19 100Y BSW
265/30ZR19 93Y BSW
265/35ZR19 94Y BSW
275/30ZR19 XL 96Y BSW
275/35ZR19 100Y BSW
275/40ZR19 101Y BSW
285/35ZR19 99Y BSW
20″
245/35ZR20 95Y BSW
245/40ZR20 99Y BSW
255/35ZR20 97Y BSW
265/35ZR20 99Y BSW
275/35ZR20 102Y BSW
295/25ZR20 95Y BSW
21″
245/35R21 XL 96Y BSW
Price Range
Prices on the Continental Extreme Contact DW range from $99 and up. You may also find occasional rebates, discounts, coupons and special offers on this tire.
Click Here To Find The Lowest Prices On All Continental ExtremeContact DW Sizes
Warranty
Continental does not have a mileage warranty on tread life with the ExtremeContact DW. There is a one-year or first 2/32 inch of wear on the tire's uniformity.
Materials and workmanship are warranted for 6-years and include free replacement during the first year or first 2/32 inch of wear. Continental prorates the amount for the remaining time period or down to the final 2/32 inch of tread depth.
You will also find a one-year or first 2/32 inch of wear road hazard warranty on this model. Finally, there is Continental's 60-day customer satisfaction guarantee that allows you to exchange the tires with another Continental model if you are not completely satisfied.
---