Continental CrossContact UHP Tire Review & Rating
The Continental CrossContact UHP is engineered to provide high performance traction and handling on dry or wet roads, as well as a smooth and quiet ride on the open highway. Designed for drivers of luxury SUV's and sport trucks, the UHP utilizes the latest in cutting edge tire technology.
An advanced formula silica tread compound reduces rolling resistance and provides enhanced grip on dry or wet pavement. The asymmetric tread pattern sports solid outer tread blocks and a continuous center rib that add stability at higher speeds, while also increasing cornering grip and better overall steering response, which is an area this tire excels in.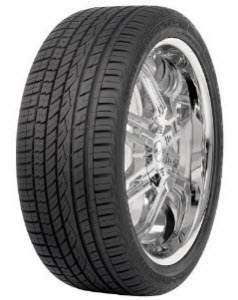 Four wide circumferential grooves and lateral grooves around the tread provide wet surface handling and reduce the risk of hydroplaning. They also enhance braking performance, which adds more driving confidence in rough weather.
Inside the tire you will find two steel belts with spirally wrapped nylon for added strength and durability. They also increase treadlife by providing more even treadwear. A rim flange protector helps protect your expensive rims from being damaged from curbs and other obstacles. Continental offers sizes ranging from 19-21 inches, and you'll find them in V, W and Y-speed ratings.
Click Here To Find Current Prices
Pros
Excellent dry traction and cornering grip

Steering is crisp and precise

Ride quality is among the best in this class
Cons
Would like to see a little added tread life
Overall Thoughts
If an attractive tread design and silky smooth ride comfort is what you are craving, the Continental Cross Contact UHP is the tire for you. We really like the ride quality on this tire. Not only is the ride smooth, but it is very quiet as well. Traction and handling on dry road surfaces is outstanding. In addition, the steering is quick and precise throughout the speed range.
Although we would like to see a little added wet traction, it is not a big issue for this tire. The only area where we've heard a few drivers complain about is treadwear. A big part of that is going to come down to driving habits and how hard you push the tires, but we agree that it's an area that could be improved to a small degree.
Overall this is a solid high performance summer tire that makes for a good choice. Perhaps not the best in this class, it still ranks right up there.
Click Here For Current Continental Coupons
What Vehicles Will The CrossContact UHP Fit?
(This is not a complete list of ALL vehicles this tire will fit)
Audi Q7

BMW X3, X5

Cadillac SRX

Chevrolet TrailBlazer, SSR, Avalanche, Suburban, Silverado

Chrysler Aspen

Dodge Durango, Ram SRT-10, Grand Caravan

Ford Expedition, F-150 Lightning, Escape

Jaguar XJR

Jeep Cherokee

Land Rover Range Rover, LR2

Lexus RX350

Mercedes-Benz R500, ML500, ML63, GL550, ML320

Mercury Marauder

Mitsubishi Outlander

Nissan Titan

Porsche Cayenne

Toyota Tacoma, Tundra, Sienna

Volkswagen Touareg

Volvo XC90
Tire Sizes
17″
235/65R17 104V BSW
235/65R17 104V BSW
235/65R17 104V BSW
18″
225/55R18 98V BSW
235/50R18 97V BSW
235/60ZR18 107W BSW
235/60R18 103V BSW
235/60R18 107V BSW
255/55ZR18 109Y BSW
255/55R18 109V BSW
255/55ZR18 105W BSW
19″
235/50R19 99V BSW
235/55R19 105V BSW
235/55R19 105V BSW
255/45R19 100V BSW
255/50ZR19 103W BSW
255/50ZR19 107Y BSW
265/50ZR19 110Y BSW
285/45ZR19 107W BSW
295/45ZR19 109Y BSW
20″
245/45R20 103V BSW
255/45R20 105W BSW
255/50ZR20 109Y BSW
265/50R20 111V BSW
275/50ZR20 109W BSW
295/40ZR20 106Y BSW
295/40R20 110Y BSW
21″
295/35ZR21 107Y BSW
295/35ZR21 107Y BSW
295/40ZR21 111W BSW
Price Range
Prices on the ContiCrossContact UHP range from approximately $181 and up. You may also find occasional rebates, discounts, coupons and special offers on this tire.
Click Here To Find The Lowest Prices On All Continental CrossContact UHP Sizes
Warranty
Continental does not have a mileage warranty, however you will find a one-year or first 2/32 inch of wear guarantee on the tire's uniformity.
Materials and workmanship are guaranteed for 6-years and include free first year tire replacement. A prorated amount is given for the remaining time period or until the last 2/32 inch of tread depth.
A one-year or first 2/32 inch of wear road hazard warranty also comes with the CrossContact UHP. Finally, you get a 30-day customer satisfaction guarantee.
---