Continental ControlContact Sport AS Tire Review & Rating
An all-season ultra high performance tire, the Continental ControlContact Sport AS is designed to handle rain, shine, and snow without any problems. Built for drivers of sport coupes, sedans and crossovers, it features a superior tread design that is well equipped to deliver consistent and dependable driving.
The all-season tread compound and siping design system in place means that the tire can grip in wet and snowy conditions and this is enhanced via the extra biting edges. Aggressive tread and traction grooves maintain stability in all road conditions while the chamfered edges increase dry handling.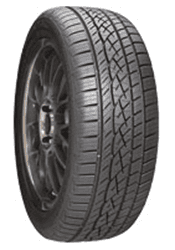 Wide shoulder blocks provide great handling and cornering stability while tread wear is even with computer optimization and stiffer tread blocks that work to decrease treadwear. Inside the tire you'll find twin steel belts with a polyester cord body that add strength and durability.
The Continental ControlContact Sport AS tires can be found in 16 to 20 inch sizes and is available exclusively at Discount Tire. It comes with a 50,000 mile tread warranty.
Pros
All-season tire that handles a variety of conditions very well

Consistent and dependable driving performance

Even tread wear

Excellent warranty for a UHP tire
Cons
Overall Thoughts
There are not really any major draw backs with the ControlContact Sport AS tires from Continental. If we go looking for a problem then having slightly more protection to increase durability would be welcomed, especially considering that they are an all-season tire, however there have been no notable issues.
A great design matched by modern technology to ensure even tread wear and an impressive 50,000 mile warranty are all major benefits of driving on this tire. They do offer solid traction and grip in the winter months, which is perhaps more than can be said for most UHP all-season models.
Overall the ControlContact Sport AS is a good choice in high performance all-season tires. We rank them in the upper half of this class.
Click Here For Current Continental Coupons
Click Here To Find Current Prices
What Vehicles Will The ControlContact Sport AS Fit?
(This is not a complete list of ALL vehicles this tire will fit)
Audi A3, A4, A6, TT

BMW 3 Series, 5 series

Cadillac CTS, ATS

Infinity G35, G37

Jaguar F-Type, X-Type, XF

Lexus IS250, IS350

Subura Impreza

Nissan Maxima, Altima
Tire Sizes
16″
205/50ZR16 87W BSW
205/55ZR16 91W BSW
215/55ZR16 93W BSW
225/50ZR16 92W BSW
225/55ZR16 95W BSW
17″
205/45ZR17 88W BSW
205/50ZR17 93W BSW
215/45ZR17 91W BSW
215/50ZR17 95W BSW
215/55ZR17 94W BSW
225/45ZR17 91W BSW
225/50ZR17 94W BSW
235/45ZR17 94W BSW
235/55ZR17 99W BSW
245/40ZR17 91W BSW
245/45ZR17 95Y BSW
245/50ZR17 99W BSW
18″
215/45ZR18 93Y BSW
225/40ZR18XL 92Y BSW
225/45ZR18 91Y BSW
235/40ZR18 95Y BSW
235/45ZR18 98Y BSW
235/50ZR18 97W BSW
235/55ZR18 100W BSW
245/40ZR18 97Y BSW
245/45ZR18 100Y BSW
255/35ZR18 94Y BSW
255/40ZR18 99Y BSW
19″
245/40ZR19 98Y BSW
255/35ZR19 96Y BSW
Price Range
Continental ControlContact Sport AS prices range from approximately $123 and up. You may also find occasional rebates, discount prices, coupons and special offers on this tire.
Click Here To Find Current Prices On All Continental ControlContact Sport AS Sizes
Warranty
Continental provides a 6-year or 50,000 mile tread warranty on this model. Tire uniformity is guaranteed for one-year or the first 2/32 inch of wear.
Materials and workmanship are warranted for 6-years and include free replacement during the first year or first 2/32 inch of wear. A one-year or first 2/32 inch of wear road hazard warranty is also given on this tire.
A 30-day customer satisfaction trial period is provided as well. If you are not completely satisfied you can exchange the tires for another Continental tire.
---