Continental ContiSportContact 5P Tire Review & Rating
The Continental ContiSportContact 5P is the company's latest high performance summer tire that is created to provide maximum grip on dry or wet pavement. Built for drivers of higher end sports cars, coupes and sedans, the Continental 5P has also been used as original equipment on vehicles like the Audi S3 and several others.
A high-performance tread compound that utilizes Continental's Black Chilli Technology, which is their own race-grade carbon black formula, combines with other resins to enhance wet and dry traction. The benefit of this unique compound is that it heats up quicker and increases the tire's flex and rigidity for added cornering and handling capabilities. It does this very well.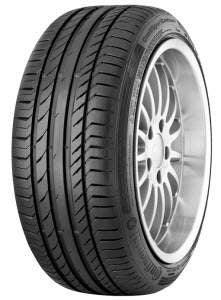 Interlocking tread blocks and circumferential grooves help increase traction in the rain. Transverse block edges further increase wet handling by moving water from under the blocks, which also reduces the risk of hydroplaning.
Steering response is very quick on the 5P, which is an area noted in various driver reviews as well. The tread on this tire is also designed for enhanced stopping and acceleration performance.
Inside the tire you will find two steel belts with a polyamide reinforcement that provide added strength and increased handling. Continental offers sizes from 18-21 inches, and W and Y speed ratings.
Pros
Excellent dry and wet traction

Cornering grip is outstanding

Quick steering response

Softer tread provides a comfortable ride
Cons
Treadlife could be better

Road noise may increase as the tread wears
Overall Thoughts
Driving on the Continental 5P can be exhilarating at times, especially when it comes to high speed cornering. The tires hold like glue and are difficult to break loose. With the quick steering response, you get a more confident behind the wheel at any speed.
Ride comfort is better than average on a tire in this class due in part to the softer tread design. You may find a bit more noise as the treads wears, but this is a common issue with tires in this category.
The other potential problem area for this model is its treadlife. We've heard drivers speaking of a shorter treadlife. Depending on how hard you push these tires it can be a little less than expected.
Overall, we like the performance with this model and give it a good recommendation. We would say it ranks just below other tires like the Michelin PS2 in total performance.
Click Here For Current Continental Coupons
What Vehicles Will The Continental 5P Fit?
(This is not a complete list of ALL vehicles this tire will fit)
Acura NSX, RSX

Alfa Romeo 159

Aston Martin DB9

Audi S4, A5, TT, A6, RS4, S3

BMW M3, 335i, Z4, 330i, M5, 550i, Z8

Cadillac CTS

Chevrolet Corvette, Camaro

Dodge Neon SRT4

Ford Focus SVT, Mustang GT

Honda Civic, Accord, S2000

Mazda Miata, Mazda6

Mercedes-Benz SL55 AMG, SLK500, C Class, E Class

Nissan 350Z, Altima, Maxima

Pontiac GTO, G8, Firebird

Porsche Boxster, 911

Saab 9-3, 9-5

Subaru Forester, Impreza WRX

Volkswagen Passat, Golf R32, GTi, Jetta, Beetle

Volvo V70, S60
Tire Sizes
18″
235/40ZR18 95Y BSW
255/35ZR18 94Y BSW
19″
225/35ZR19 88Y BSW
235/35ZR19 91Y BSW
235/35R19 91Y BSW
235/45ZR19 99Y BSW
255/30ZR19 91Y BSW
255/35ZR19 96Y BSW
255/40ZR19 100Y BSW
265/35ZR19 98Y BSW
275/35ZR19 100Y BSW
285/30R19 98Y BSW
285/30ZR19 98Y BSW
295/30ZR19 100Y BSW
305/30ZR19 XL 102Y BSW
20″
235/40ZR20 96Y BSW
245/40ZR20 99Y BSW
255/30R20 92Y BSW
255/40ZR20 101Y BSW
265/35ZR20 99Y BSW
285/30ZR20 99Y BSW
285/35ZR20 104Y BSW
295/30ZR20 101Y BSW
295/35ZR20 105Y BSW
21″
245/35ZR21 96Y BSW
265/35R21 101Y BSW
265/35ZR21 101Y BSW
265/40R21 101Y BSW
275/30ZR21 98Y BSW
275/35R21 103Y BSW
285/30ZR21 100Y BSW
285/45ZR21 109Y BSW
295/35R21 103Y BSW
325/40ZR21 113Y BSW
22″
285/40ZR22 106Y BSW
325/35ZR22 110Y BSW
Price Range
Continental ContiSportContact 5P prices range from approximately $189 and up. You may also find occasional rebates, discount prices, coupons and special offers on this tire.
Warranty
Continental provides a limited tread warranty on the 5P. Tire uniformity is guaranteed for one-year or the first 2/32 inch of wear. Materials and workmanship are warranted for 6-years and include free replacement during the first year or first 2/32 inch of wear. A prorated amount is given for the remaining time or down to the final 2/32 inch of tread depth.
Also included is a one-year or first 2/32 inch road hazard warranty, as well as Continental's 30-day customer satisfaction trial that allows you to exchange the tire if you are not completely satisfied.
---