Continental Conti Hybrid HD3 Tire Review & Rating
Continental's Conti Hybrid HD3 is a high-mileage tire designed for use on the drive wheels of medium- and heavy-duty vehicles like the Ford F-250, F-350, and F-550 trucks including variants with dual rear drive tires, aka dually. There are variants to fit 19.5" and 22.5" wheels in width and profiles from 245/70 R 19.5 to 315/80 R 22.5.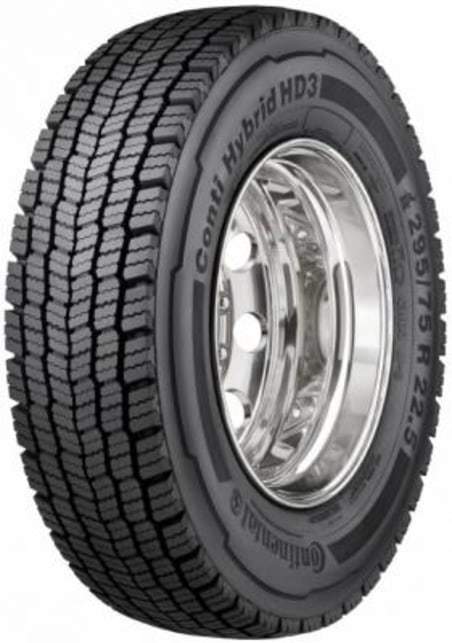 This tire is designed for low rolling resistance and longevity, specifically aimed at drivers who spend long hours on the highway. It offers better fuel economy and tread life than many of its competitors. The Conti Hybrid HD3 is also original equipment on a number of medium-duty trucks including the Ford F-450. Every tire in the range is winter rated and bears the 3PMSF logo, making it legal wherever winter tires are mandatory.
The Conti Hybrid HD3 gives commercial drivers an impressive balance between longevity, fuel economy, and wet-weather grip, thanks in part to the three-dimensional tread pattern. Credit also goes to the chamfered edge, which helps reduce the amount of sidewall flex and bead stress under load, and lowers rolling resistance even further. Drivers report impressive tread life, but note that the tires are noisier than others on the market and have a knack for picking up stones in the tread cavities.
The tread is built in two layers with a durable cap compound and a rigid base layer. This construction also offers a heavy load rating. The rubber compound is what Continental calls "application-optimized" meaning this company focused on this for a specific use case. In this instance, that means this is a great tire for drivers in search of a long-lasting, easy rolling tire that still performs in poor weather. It is also a great value proposition for owners of more than one truck or fleet operators. 
Pros:
Great balance of tread life, fuel economy, and steering response
Decent value
Direct OE-replacement for many vehicles
Cons:
Noisier than competitors
Prone to stone and pebble pick-up
Overall Thoughts
This is an excellent choice for medium- and heavy-duty truck drivers and fleet operators who keep an eye on their bottom line. With a blend of all-weather safety, performance, and a focus on long life and fuel economy, this tire keeps saving money even beyond the low sticker price.
The tread is self-replenishing and continues to offer the same performance deep into the wear range. Drivers are often surprised by the tread life this tire offers. There are tires in this class that offer better fuel economy, tires that are quieter, and rubber that offers better steering and braking performance in different conditions, but very few tires do as many things as well this one does right out of the box.
The Continental Conti Hybrid HD3 is excellent value for the money and occupies a very large space of middle ground in its class. It's no surprise vehicle manufacturers opt for this as the original supplied equipment on a range of vehicles, and many drivers choose to replace their OE rubber with the same again when it's time for new tires.
Tire Sizes

19.5" Rim
245/70 R 19.5
265/70 R 19.5
285/70 R 19.5
305/70 R 19.5
22.5" Rim
275/70 R 22.5
295/55 R 22.5
295/60 R 22.5
295/80 R 22.5
315/60 R 22.5
315/70 R 22.5
315/80 R 22.5
Competitors & Alternatives
If you want a tire with better wet-weather grip and better braking performance in all conditions consider Toyo Tires' M608Z range with its oversize and braced treadblocks. Or, if you're after a slightly less noisy option check out the Ameri*steel Lmt450 from General Tire. Drivers on a budget should check out Kumho's KRD16 for a more affordable tire.
Price Range
Prices on the Continental Conti Hybrid HD3 range from around $460 and up. You may also find occasional rebates, discounts, coupons, and special offers on this tire.
Warranty
Continental does not offer a tread life warranty on the Conti Hybrid HD3 tire, however uniformity is guaranteed for the first year or first 10 percent of wear. Materials and workmanship are warrantied for 6 years and include free replacement during the first year or first 10 percent of wear. A prorated amount is given for the remaining period down to the final 10 percent of tread depth.