Check Out the Best Deals on Tires for Black Friday 2019
The time to be grateful is upon us–grateful for so many good deals and bargains! While Thanksgiving can be just about turkey, family quality time, and feeling thankful for some, for others this holiday holds a special place in their heart because it marks the biggest sales event of the season. In the past years, Black Friday has been the event that has people waiting in lines for hours, fighting the crowds for the chance to grab the stuff they want for a fraction of the price.
Live Black Friday Tire and Accessory Deals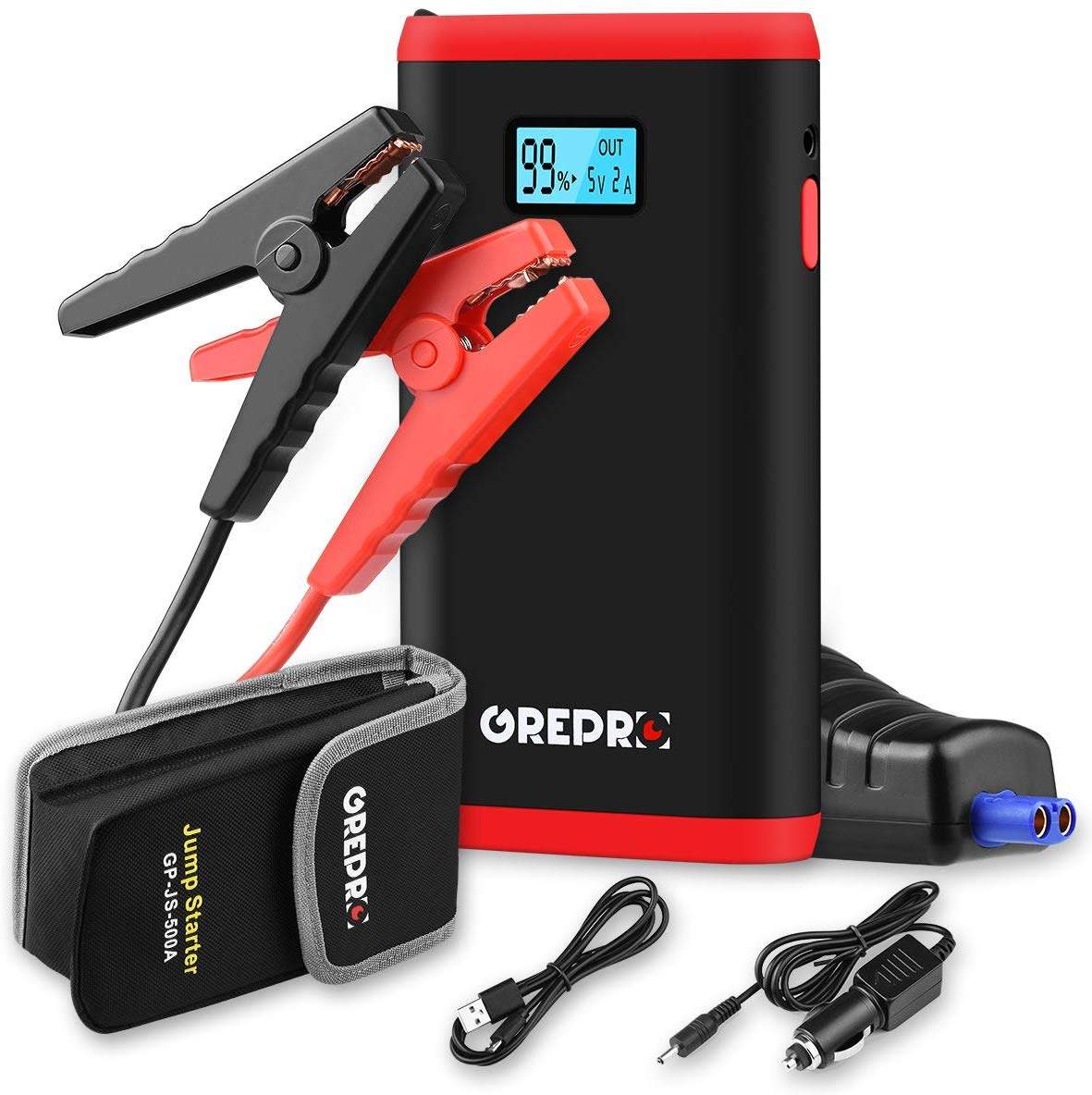 With just one charge, the GREPRO jump starter is able to jump start all kinds of 12V vehicles for up to 20 times before needing to be plugged in for a charge again. And it's not just useful to have in your car for those unfortunate situations when your battery is exhausted, as GREPPRO can be used with motorcycles, lawn mowers, RVs, tractors, ATVs, snowmobiles, and many others. Oh, and the built-in USB ports allow this jump starter to double as a power bank that allows you to recharge your devices such as your phone or iPad. It's an essential accessory for the road in more ways than one!
If you want to do a DIY diagnosis on your car anytime and anywhere, this handheld gadget will make it possible. It can read and clear codes, as well as read freeze frame data, and data streams. It also does quick state emissions readiness check and verification and displays DTC definitions in different languages. Autel AutoLink AL319 will get rid of those pesky warning lights and error messages for you in seconds- all you have to do is plug it in and let it do its magic. This scanner and code reader works with various post-1996 OBD II protocol vehicles.
This cup, lid, and liner kit is designed to be used with 3M Paint Preparation System or 3M PPS for short. It includes 50 Standard size lids with micron filters, 50 liners, and 20 sealing plugs- in short, everything you might need to do a paint job, from measuring and mixing to the spraying itself. This money-saving kit reduces paint waste as you don't have to mix and pour the colors separately and allows you to spray consistently 90° to the part for a perfect finish every time. And since they're disposable, there's no need to worry about the clean up afterward!
Designed for multi-purpose charging, this compact power inverter boasts 750 Watts continuous DC to AC power and 1500 Watts surge capacity and can turn any car's battery into a convenient power bank for camping, road trips, and emergencies. With 3 built-in pieces of replaceable fuses, Ampeak Power Inverter has an added layer of safety as it prevents overload, overheat, short circuit, over or low voltage. It's easy to use due to the simple on and off switch that prevents the inverter from draining the battery when not needed. And with half of its price off, it's excellent value for money to boot!
With a whopping 90 percent discount, TOPVISION battery starter is all but given away for free- but don't let the low price fool you, because this battery starter is worth much more. With 2200A peak current, it can jumpstart a 12v vehicle in mere seconds, and it can do so an impressive 50 more times before the battery is drained. To make it even more useful for every car driver, this 4-in-1 battery started also has a built-in LED flashlight, SOS lighting signal for help in emergencies, and USB outputs that allow you to charge all your devices on this handy little gadget.
Just because you have a ding or a dent on your car doesn't mean you have to spend hundreds of bucks at an auto shop to make your ride look presentable again. By using different accessories form the set, you can pull and lift dings and dents without damaging your paint job. The surface of your car will look good as new after one afternoon of tinkering! This set includes 60 pieces to make sure any type or shape of dents can be corrected with the same ease- a perfect gift for any DIY auto enthusiast.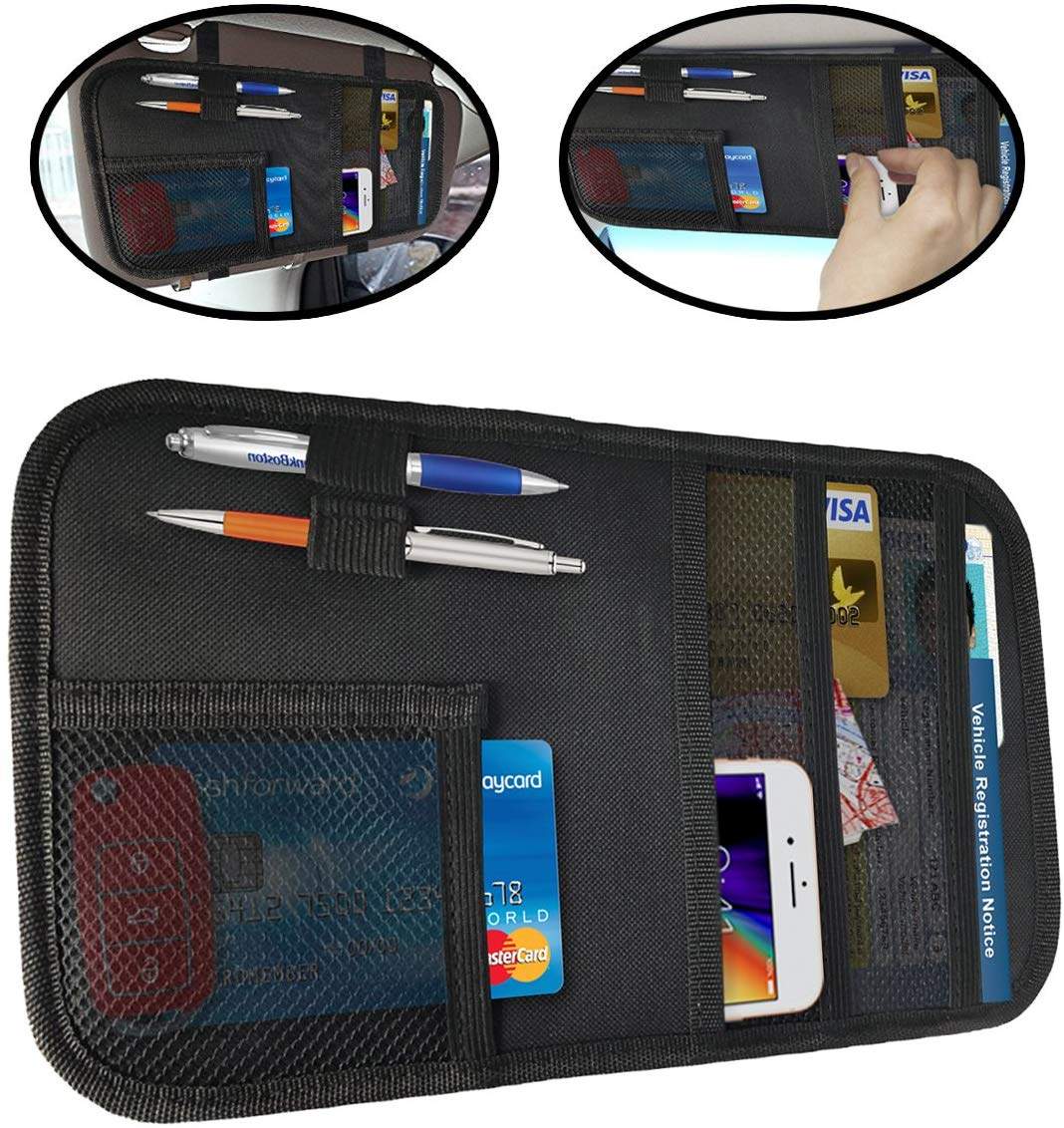 If you're tired of the mess in your car, this handy sun visor organizer can help you have all your important stuff in one easy-to-access place. With 4 spacious mesh pockets and 2 elastic pen holder, you can pack your phone, credit and loyalty cards, driver's license and registration documents inside. And if you need more space for important stuff, just get two- and mount one of them on the driver's side and the other on the passenger side. This visor organizer is a match for most cars, SUVs, and trucks and it is attached easily with two elastic straps.
With these LED lights, you'll have no problem seeing the road ahead clearly- even when it's pitch dark outside. There are 2 pieces included in this budget-friendly set, each of them fitted with 24pcs LED chips that emit 3000k bright amber light. Not only that this means that they'll illuminate your surroundings in the dark, but the amber hue of the LEDs makes them particularly efficient in bad weather conditions, such as fog. These lights come with their own mounting brackets which allows you to adjust the angle and also makes sure that they fit most cars and vehicles.
If you want to bling out your ride, look no more! For the fraction of the original price, this "diamond" studded steering wheel color will make your car unique and elegant. Made out of high-quality PU leather with faux rhinestones that go all around the steering wheel, it is both comfy to use and highly decorative. To boot, you get to choose between an impressive selection of colors and rhinestone color combinations- there are 14 different options available.
This convenient kit contains everything you might possibly need to repair tubeless tires on your own. It is suitable for use on cars, RVs, lawn mowers, off-road vehicles, motorcycles, trucks, and many more. The 75 piece set includes essentials such as pliers and plugging tools, but also other practical items that could help you repair your tire with ease, such as no-slip gloves for a better grip or a handy case for convenient storage.
A day of big bargains but a big bother at the same time! Luckily, with the online marketplaces becoming the dominant shopping places, Black Friday doesn't have to mean long waits and big crowds anymore- and it's not just one day of sales anymore, either. Nowadays, Black Friday sales are the most anticipated sale event of the year, and with good reason. The sales, which can often reduce items to less than half of their original price, last for a few days around the original date and offer as good deals online as they do in brick and mortar store. So, in a nutshell- none of the negative, all of the positive.
As you already know, shopping for tires, wheels, chains, hubcaps, and other automotive accessories online is not unusual anymore. The convenience of online shopping has won over drivers long ago, proving that there's no limit to what you can buy, hassle-free, online and be perfectly satisfied. Prices on tires and accessories are usually much lower than what you would usually expect to pay at your local store. Not to mention that buying tires online eliminates the factor of aggressive salespeople trying to rack up your bill from the equation- just you and a few clicks to get you a great deal on tires. So, if on your average day, buying tires online pays off (a lot), just imagine what a bargain it is buying tires online for Black Friday sales. You could be set for all seasons with one purchase- and never feel a dent in your budget.
Black Friday deals on tires and automotive accessories for 2019 promise to be one of the best yet. Brands such as Goodyear, Milestar, Hankook, and others are up for grabs with serious discounts attached to their price tags. Whether you're looking to stock up on all-season tires, all-terrain tires, performance or touring tires, or get new tires for your SUV, you'll find something for yourself during Black Friday sales. Tire accessories, such as hub caps, lug nuts, chains and more will also be discounted. To help you wade through all the deals and offers big retailers will throw at you, we've prepared a list of best Black Friday deals on tires and automotive accessories you can score online. Just lay back and click away!