Check Out the Best Deals on Tires for Black Friday 2020
To be honest, even 2020 reminded us of the things we should be thankful for. Friends, family, and maybe even Zoom calls. So, what better way to show are favorite people that we care than to ensure our vehicles are safe and running right before we take them out on the road. That's why having top quality equipment – including all season radials that can really grip those icy roads – is the best investment you'll ever make.
Now, we understand that choosing top quality over standard run-of-the-mill comes at a price. And this may be why you feel you have to shop the less-expensive, generic brands when it comes to replacing tread-bare tires, right? That's all about to change, my friend. Yes, Black Friday rolls in to town November 27 and brings with it, unheard of deals on top brand names. And if you know Amazon like I know Amazon, we both know to expect these rock-bottom prices to change hourly and to kick in on the days leading up to the main event. Ready to gear up?
Start with this: Amazon doesn't send out big flyers to flag sale items – that would be too boring. Instead, they surprise you with offers such as their Deal of the Day on select items that are discounted to crazy-low prices for just that day. Then there's those frenzied Lightning Deals that rotate discounted items in every 5 to 15 minutes. Act fast, because they revert back to their original pricing when times up. Feeling the rev yet?
Let's talk selection. Expect to find all your favorite brands like Goodyear, Michelin, Bridgestone, and even Pirelli delivering deeply discounted pricing on tires to suit everything from your car, to your truck, your trailer, and even your ATV. In fact, with thousands of retailers slashing prices, rest assured you'll have an impressive line-up of top-quality products to choose from. Now, if you're wondering what you're going to do when four tires arrive on your doorstep, never fear because Amazon has you covered. You can have them shipped to one of their many partner locations (such as Sears Auto Centers and Pep Boys Auto Centers) for installation and balancing. In fact, for a modest price, you can even have them installed in your own driveway.
And if you'd like to get a little more mileage out of all these savings, you'll appreciate the free delivery that comes with Amazon Prime membership. You'll also have access to loads of benefits including Prime Video with unlimited streaming of movies and TV, as well as Prime Music for ad-free listening to hundreds of Prime Playlists. And if you don't think membership is your thing, Amazon lets you take it for a test run for 30 days free – just click here.
Whether you've got an actual list or perhaps just made a mental note of each time something quit, sagged, or all-out groaned on your vehicle, there' no time like Black Friday to finally set it straight. And this year's deals may even have you able to stock up your "just-in-case" tool box for down the road hiccups. Ready to take a look at some of our favorite deals?
Live Black Friday Tire and Accessory Deals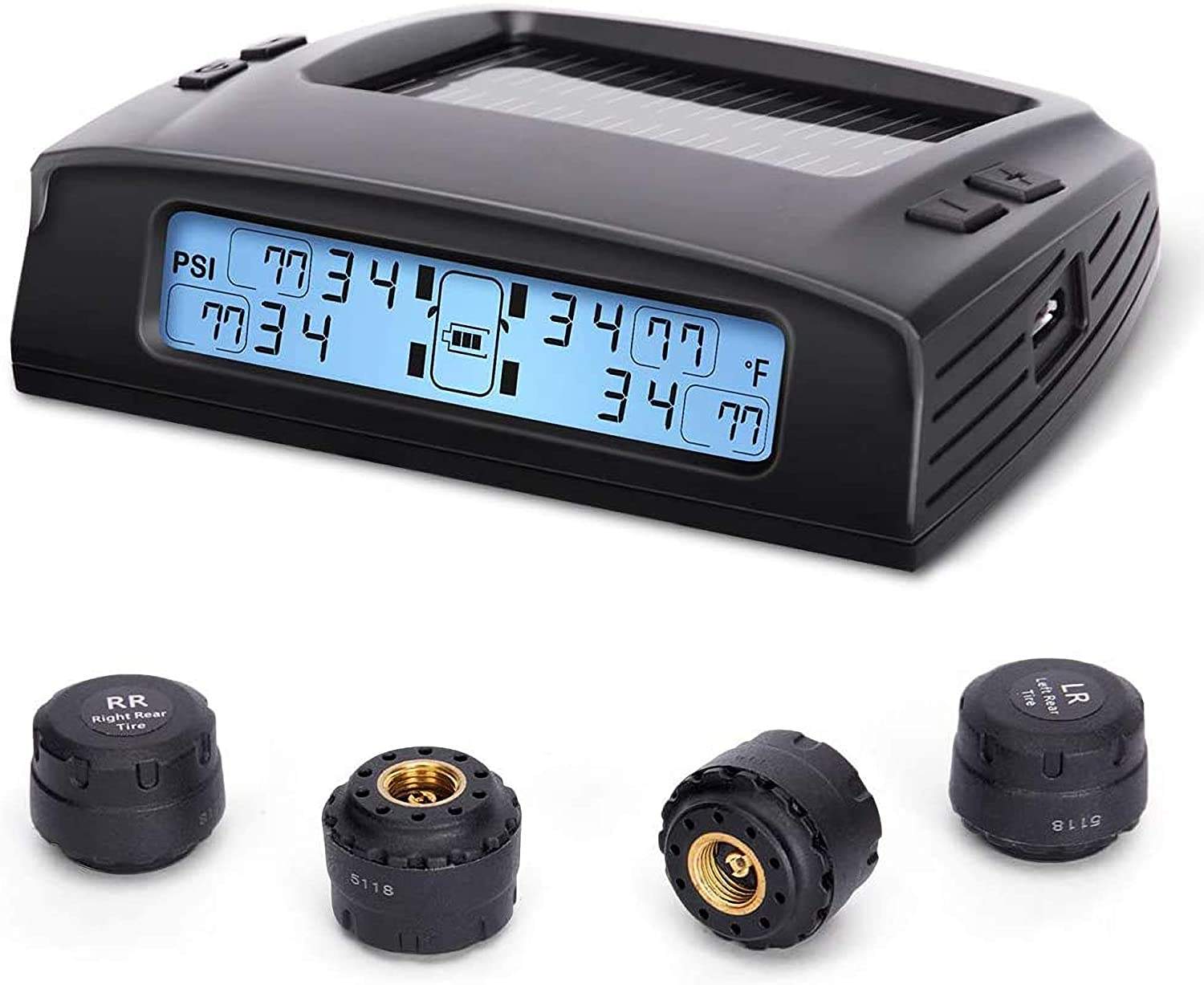 Easy to set up and very precise, this tire pressure monitor system boasts 4 sensors and 3 different charging methods. For constant access in all conditions, you can rely on this handy gadget to give you the data you need as it can be charged through the cigarette lighter port, via a micro USB connection, or simply by solar energy: just place it on your dashboard and it will get the power it needs to work. The monitoring range of this device is 0-6.0 Bar / 0-87 PSI and it can monitor up to seven wheels.
It has 5 different alarms- fast leakage warning, high or low-pressure warning, a high temperature warning, and a low power alarm that lets you know that the sensor is soon to be out of power. To boot, you can further customize the alarms by setting the pressure and temperature alarm values on your own. A must-have if you want to make sure that you get your money's worth out of your tires.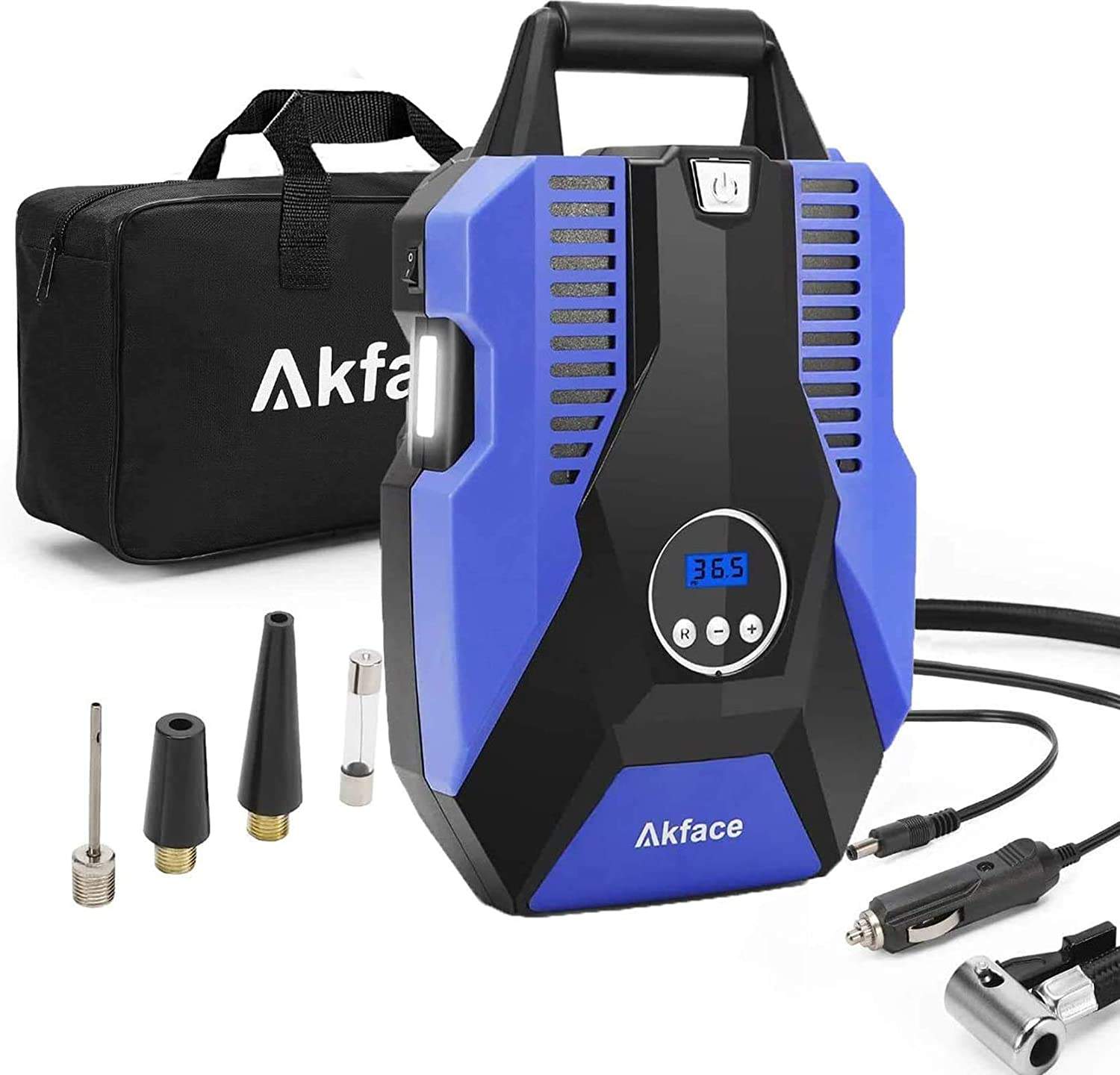 One of the worst things that can happen on the road is realizing your tire is flat- and it almost always happens when you least need it to. However, when you are prepared for the worst scenario at all times, you won't get stranded- and this nifty tire inflator will make sure of it. Simple to operate and fast to inflate, this gadget uses a 12V power outlet to inflate your tires in seconds. Just set the desired pressure, flip the switch and the car air compressor will fully inflate your tires without any effort needed from you- it even has an auto-shutoff feature so you don't have to worry about overinflating, either.
The power cable is around 2.8 meters (9.18 feet) long so you will be able to reach both front and back tires without any issue, and without needing to plug it out if you have to inflate multiple tires in one go. As an additional perk, this tire inflator comes with 3 nozzles so you can use it around the house, as well, to inflate air mattresses, balls, inflatable balls, bicycle tires, and so on.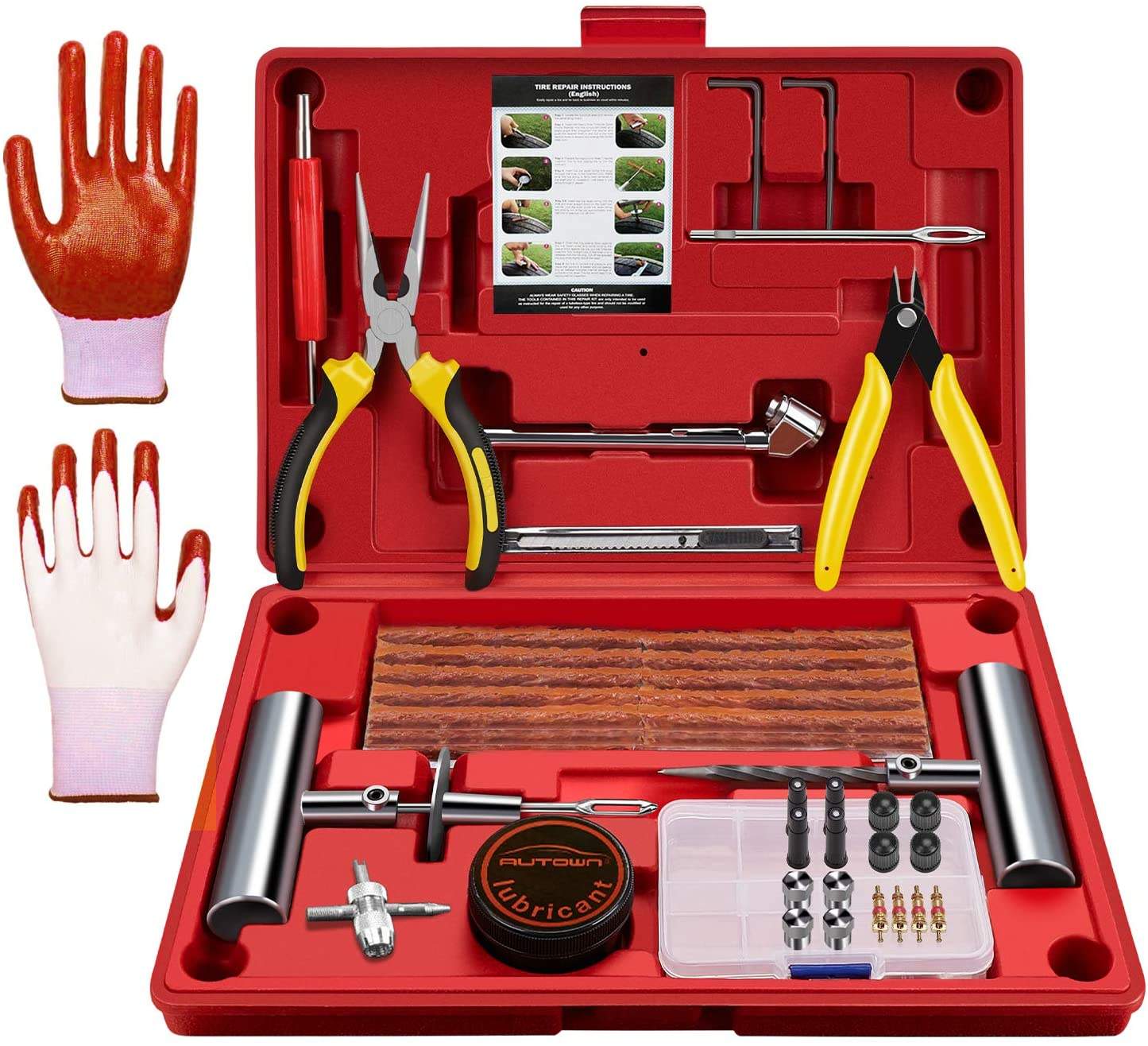 If you could pack just one thing in your trunk, it should be a tire repair kit. With a range of handy tools and accessories for patching up tires, this tire repair kit includes 62 pieces and can be used on most types of tires- car tires, bicycle tires, truck tires, motorcycle tires, etc. Packed in a practical plastic carry case, this set is easy to store and won't take up much space in the trunk. The kit contains everything you need in a flat tire emergency, starting from tools such as pliers, utility knife, and probe tool all the way to valve caps, lubricant, and self-vulcanizing tire strings.
Suitable for beginners, this tire plug repair kit is easy to use and comes with an instructional full color booklet that can help clear up any confusion about the process and ensure you're back on the road in no time.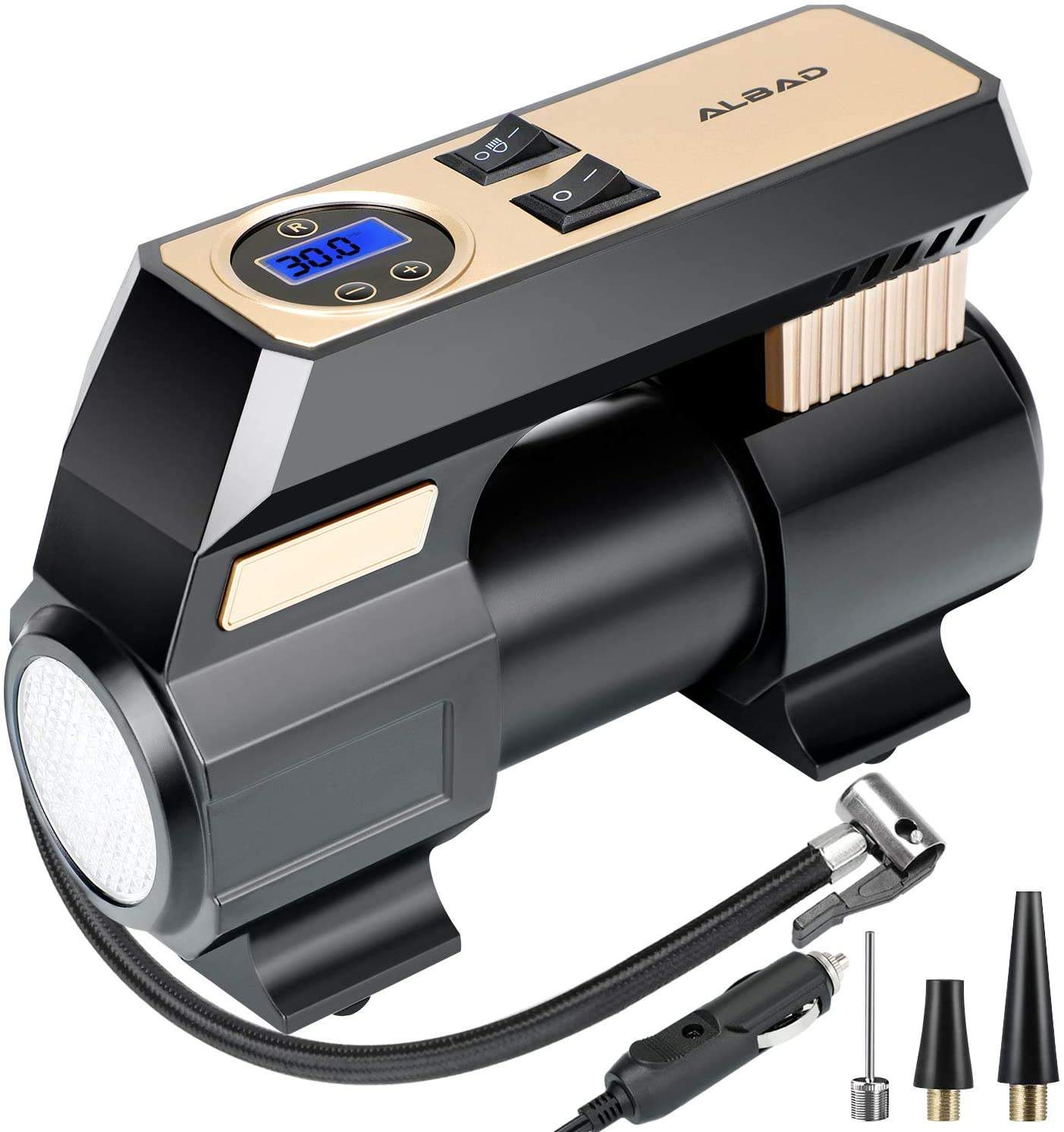 This heavy-duty, premium quality tire inflator can be used on all types of tires and to pump air into inflatables such as mattresses, toys, balls, boats, etc. Versatile and powerful, it will inflate a tire from 28 to 35 PSI in 40 seconds- which is even more impressive considering how simple it is to use. You should just pre-set the value and let the pump do everything else- it has an automatic shutdown function which turns the device off as soon as the tires reach the desired level of inflation.
But the best part about this convenient portable tire inflator is that it is cordless and can be used literally anywhere, anytime. Charge through the 12V power outlet in your car or use it when attached for maximum performance.
Tire maintenance doesn't have to be complicated- or cost much. This inexpensive but very practical gadget will help you prolong the service life of your tires and maintain optimal tire pressure without any whistles and bells- it does one thing, but it does it splendidly. Even though small and budget-friendly, this tire pressure gauge will give you mechanic-quality readings up to 150 PSI and data that goes to the tenth of a pound (0.10 PSI resolution).
It has 4 ranges- PSI, BAR, KGF/CM2, and KPA. It is simple to use, with a built-in light to help you find your way around the valves in poor light conditions and a backlit display that makes the readings clear to see even during the night.
Sometimes, that little 'extra' touch is what really makes a huge difference, and a quality tire shine spray can breathe in some life in your old tires- and protect them from further wear and tear, as well. The unique nano-polymer formula of this tire shine spray will give your tires that sleek, showroom-floor look and penetrate and bond to the tire to prevent cracking and fading.
Made in the USA and water-based, this tire shine spray is fully non-toxic. It is also very easy to apply as it comes with an applicator pad: just spritz the desired amount and wipe it around with the applicator. You can fully adjust the amount of shine from a natural, toned down appearance all the way to a fully sleek, wet look.
After wear and tear that comes with use, weather elements are the next biggest enemy of tires: exposure to harsh UV rays, snow, ice, water, and strong winds can all damage your tires, causing cracks, fading, and dirt accumulation. When your vehicle is parked- especially if it's parked for a longer period of time- you should protect the tires from the elements to prolong their service life. These tire covers are an excellent way to keep the elements at bay, as they are windproof, rainproof, snowproof, and UV-resistant.
Made from heavy-duty, durable vinyl material bonded with non-scratch backing, these tire covers feature an elastic cord design that makes them windproof and snug-fitting. Double-stitched for improved durability, these tire covers will last you a long time despite the wear and tear they will be exposed to.
Keeping your vehicle spick and span requires an array of products, but you can minimize the effort (and the costs) by getting an all-inclusive car care kit that will have everything you need to clean, shine and protect your car, truck, motorbike, or any other vehicle. This set includes 8 pieces- for the exterior of your car, you get Ultra Shine Wash & Wax, Glass Cleaner, and a Wash Pad, for sprucing up the interior there are the Original Protectant and Multi-Purpose Cleaner and for making your wheels and tires look like you've just come from a showroom floor, the set includes Extreme Wheel & Tire Cleaner and Extreme Tire Shine. And just as an added perk to really "sweeten the pot", there is an On-the-Go Car Air Freshener Pump Spray as well, to make sure that your ride smells as good as it will look.
Whether you want to prevent being stranded after getting a flat or strive to maintain optimal tire pressure to prolong their usability, a reliable tire inflator is a must-have in your arsenal. Compact, durable, and easy to operate, it has a continuous maximum working time of 8 mins and can achieve up to 150PSI. The extra-long cord that is 3 meters (9.84 feet) long and built-in flashlight make inflating tires an effortless task in any situation- even in the middle of the night- and the auto shut-off option ensures you don't unintentionally overdo it.
This inflator comes with multiple attachments for different uses (e.g. inflating pools or mattresses), so you can use it around the house as well as on the road.
Connectable to a 12C DC car lighter outlet or a 12V jump starter, this portable and practical tire inflator boasts impressive performance: takes only 2 minutes to Inflate a 195/55/R15 car tire from 20 to 30 PSI. The built-in pressure gauge is quite precise, as well, with readings ±2%, International Accuracy Standards, and once you set the desired value, the compressor will stop inflating automatically once it reaches it.
The power is circa 3 meters long (around 10 feet) which is plenty enough to reach back and front tires alike with the inflator plugged in the lighter socket. It also comes with a converter attachment that allows you to use this device to inflate a range of other objects such as balloons or pool floats, making it an all-around useful gadget to have in your kit.
A day of big bargains but a big bother at the same time! Luckily, with the online marketplaces becoming the dominant shopping places, Black Friday doesn't have to mean long waits and big crowds anymore- and it's not just one day of sales anymore, either. Nowadays, Black Friday sales are the most anticipated sale event of the year, and with good reason. The sales, which can often reduce items to less than half of their original price, last for a few days around the original date and offer as good deals online as they do in brick and mortar store. So, in a nutshell- none of the negative, all of the positive.
As you already know, shopping for tires, wheels, chains, hubcaps, and other automotive accessories online is not unusual anymore. The convenience of online shopping has won over drivers long ago, proving that there's no limit to what you can buy, hassle-free, online and be perfectly satisfied. Prices on tires and accessories are usually much lower than what you would usually expect to pay at your local store. Not to mention that buying tires online eliminates the factor of aggressive salespeople trying to rack up your bill from the equation- just you and a few clicks to get you a great deal on tires. So, if on your average day, buying tires online pays off (a lot), just imagine what a bargain it is buying tires online for Black Friday sales. You could be set for all seasons with one purchase- and never feel a dent in your budget.
Black Friday deals on tires and automotive accessories for 2019 promise to be one of the best yet. Brands such as Goodyear, Milestar, Hankook, and others are up for grabs with serious discounts attached to their price tags. Whether you're looking to stock up on all-season tires, all-terrain tires, performance or touring tires, or get new tires for your SUV, you'll find something for yourself during Black Friday sales. Tire accessories, such as hub caps, lug nuts, chains and more will also be discounted. To help you wade through all the deals and offers big retailers will throw at you, we've prepared a list of best Black Friday deals on tires and automotive accessories you can score online. Just lay back and click away!