Carlisle Radial Trail HD Trailer Tire Review & Rating
The Carlisle Radial Trail HD Trailer tire is designed to fit perfectly on a wide range of toy trailers, boat trailers, horse/livestock trailers, utility trailers and other specialty trailers. Suitable for short or long distance travels and for different work and play purposes, this tire is built to be longer lasting, as well as more durable and safer than most of its competitors.
Carlisle uses a unique heat and wear-resistant rubber tread compound with high-tensile steel belts that are designed to provide a reduced rolling resistance and increased impact resistance, which is a plus for this particular tire.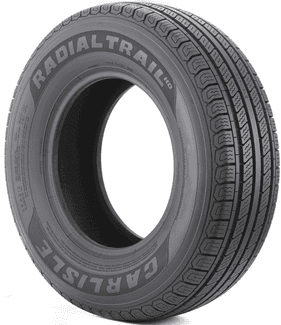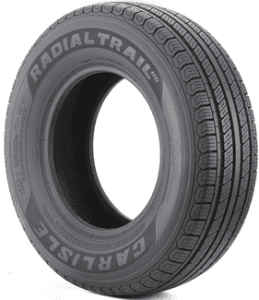 Interconnected tread blocks help promote even treadwear and longer treadlife, while multiple plies add to load carrying capacity. Carlisle Radial Trail HD Trailer tires are designed to lose less pressure, which allows them to perform better and reduce unnecessary wear and tear.
Heat and hot weather conditions are a major concern for many trailer owners and Carlisle has added ozone and weathering protection to better withstand the damaging effects of heat when traveling in hot conditions, at higher speeds or over longer distances.
Carlisle offers C/6 ply rating to F/12 ply ratings and states that this tire is the 'best, toughest, and safest radial trailer tire available'. (We speak more on this in our overall thoughts.) All models feature either an L or M speed rating for driving at higher, and safer, speeds on the highway.
Pros
Rides smooth and delivers better than average durability
Load range F availability
L or M speed ratings for higher speeds on the highway
Cons
Lower load range tires have had failure issues reported by some owners
Overall Thoughts
We'll get right to it since treadwear is arguably the biggest issue with trailer tires. Realistically, you should expect these tires to provide between 3 to 4 years of service, depending on the amount of time they are used and how they are used of course. It is estimated that these Carlisle tires will last 10% longer than Radial Trail RH tires, but that's from Carlisle.
What we like about this model is the higher load range availability and the higher speed ratings for driving on the highway.
Our biggest issue with this tire is the reports from some owners of load range C models having tire failures on the highway. It's a common problem with most any trailer tire, but we want to point it out.
Overall, while not a perfect trailer tire, we feel it is one that fits in the top half of the trailer tire class. It performs well over long distances and delivers good value for the money.
Click Here For Current Carlisle Coupons
Click Here To Find Current Prices
Tire Sizes
13″
ST175/80R13 91M C BSB
14″
ST205/75R14 105M D BSB
ST205/75R14 100M C BSB
ST215/75R14 102M C BSB
15″
ST205/75R15 107M D BSB
ST225/75R15 113M D BSB
ST225/75R15 117M E BSB
16″
ST235/80R16 124L E BSB
ST235/85R16 128L F BSB
ST235/85R16 125L E BSB
Price Range
Carlisle Radial Trail HD Trailer prices range from approximately $76 and up. You may also find occasional rebates, discount prices, coupons and special offers on this tire.
Click Here To Find The Lowest Prices On All Carlisle Radial Trail HD Trailer Sizes
---