Capitol Sport Tire Review & Rating
The Capitol Sport performance all-season tire is designed as an entry-level tire for drivers of sport coupes, sedans and other vehicles. Capitol, which is built by Nexen Tires, created the Sport tire to provide confident traction and handling in all-season conditions for a price that will appeal to budget-minded drivers.
An all-season tread compound and symmetric tread pattern deliver dependable dry traction, while the larger outside shoulder blocks and continuous center rib provide more responsive steering and reduced braking distances. It's a combination that works pretty well on this tire and one that is often mentioned in other driver reviews.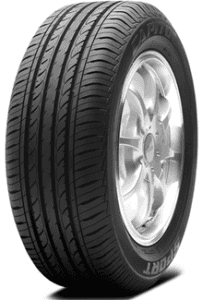 Four wide circumferential grooves and numerous lateral slots help channel water from under the footprint and reduce the risk of hydroplaning on wet road surfaces.
Two steel belts inside the tire add to the tire's durability and help provide even treadwear. The Capitol Sport is available in a range of 13-16 inches, which is ideal for those looking for smaller fitments on older vehicles. A limited tread warranty and one-year road hazard protection is also included in the package.
Pros
Solid performance on dry pavement
Ride comfort
Treadlife should deliver around 50k miles
Value for the lower cost
Cons
Overall Thoughts
The Capitol Sport is a tire that has been around for a few years now and has proven to be quite capable in providing dependable everyday driving performance. The cost, starting at around $36, is as low of a price on new tires that you'll find anywhere. When you factor in the overall drivability of this tire it offers excellent value.
While you'll definitely not mistake it for a Michelin or Continental tire, for those on a tight budget who are simply needing a back and forth to work tire it provides a good option. Handling and cornering are average for a performance all-season tire, and the ride is pretty comfortable for such a lower costing tire.
Our biggest concern with this Capitol tire is its poor winter traction. If you live in an area that sees its fair share of rough winter road conditions you will want to use extra caution or drive on a set of dedicated winter tires. Expect issues with braking/acceleration in deeper snow, ice and hard-pack.
Overall, if budget is your major driver in making a decision on new tires, the Capitol Sport may be a good option.
What Vehicles Will The Capitol Sport Fit?
(This is not a complete list of ALL vehicles this tire will fit)
Chevy Aveo, Spark, Prizm, Cruze, Malibu, Cavalier
Dodge Neon, Avenger, Stealth
Ford Escort, Fiesta, Contour, Probe, Mustang
Honda Civic, Fit, Accord, Inspire
Hyundai Accent, Elantra, Excel, Verna, Sonata
Kia Rio, Sephia
Mazda MX-5, 626, Mazda3, RX-7
Mitsubishi Lancer, Mirage, Eclipse, 3000 GT
Nissan Sentra, 200SX
Scion xB
Toyota Corolla, Echo, Prius
Volkswagen Jetta, Golf, Passat
Tire Sizes
13″
175/70R13 82T BW
14″
175/65R14 82H BW
185/60R14 82H BW
185/70R14 88T BW
195/60R14 86H BW
195/70R14 91T BW
15″
195/55R15 85V BW
195/60R15 88H BW
205/60R15 95H BW
205/70R15 96T BW
215/60R15 94H BW
215/65R15 96H BW
215/70R15 98T BW
16″
195/55R16 87V BW
205/55R16 94V BW
205/65R16 95H BW
215/55R16 97V BW
215/60R16 99H BW
225/55R16 99V BW
Price Range
Capitol Sport prices range from approximately $36 and up. You may also find occasional rebates, discount prices, coupons and special offers on this tire.
Warranty
Capitol includes a limited tread warranty on the Sport tire. Tire uniformity is guaranteed for the first 1/32 inch. Materials and workmanship are warranted for life and include free replacement during the first 50% of tread wear. A prorated amount is given for the remaining time period or down to the final 2/32 inch tread depth.
A one-year road hazard warranty is also included with this model.
---