Bridgestone Turanza Serenity Tire Review & Rating
The Turanza Serenity from Bridgestone combines all-season traction and handling with the comfort and quietness expected out of a touring tire. Engineered for drivers of sporty coupes and sedans, the Serenity offers a number of unique technology elements that have given it high marks from even the most critical drivers.
The tread features a silica enhanced compound with L.L. Carbon Black that combine to provide longer tread wear and improved wet or snow surface traction. The added circumferential and lateral grooves further enhance handling on wet roads and greatly reduce the risk of hydroplaning.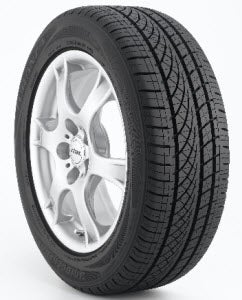 Dry pavement traction and cornering grip is strengthened through a continuous center rib and outer shoulder ribs. The result is increased stability and a better contact patch during cornering. Hard rubber sidewall inserts further enhance steering response and provide added stability in hard cornering.
Serenity Technology also gives this tire a more comfortable and quiet ride while driving either in-town or out on the open highway. Drivers everywhere have mentioned how quiet this tire is, and likewise, we agree their assessment.
Inside the tire you will find two high tensile steel belts with spirally wrapped nylon that provide added strength and stability at higher speeds, while also improving handling and ride comfort. Bridgestone has a 70,000 mile warranty on the Turanza with Serenity Technology as well.
Pros
All-season traction is outstanding

Excellent cornering stability

One of the most comfortable riding tires in its class

Long lasting tread life
Cons
As tire wears down, wet surface handling has been an issue for some drivers
Overall Thoughts
Note: Since this review was written, Bridgestone has discontinued this model and replaced it with the updated Serenity Plus. You can read our review here.
The Turanza Serenity is an oldie but goodie in the way of touring all-season tires. It continues to maintain its place close to the top of its class due to its outstanding all-season performance, smooth quiet ride and long treadlife. The only thing we would like to see improvement in would be wet surface traction. Even so, it's easy to see why this tire has been such a popular choice for several years.
Click Here For Current Bridgestone Coupons
Click Here To Find Current Prices
What Vehicles Will The Serenity Fit?
(This is not a complete list of ALL vehicles this tire will fit)
Acura TSX, Acura TL, 3.5RL

Audi A6

BMW 530xi, 750iL

Cadillac DTS, STS

Chevrolet Impala LTZ

Chrysler 300C

Ford Fusion, Freestar, Mustang

Honda Accord, Odyssey

Hyundai Azera, Genesis

Lexus GS350, ES350, GS300, LS460

Lincoln LS, MKZ

Mercedes-Benz E320, 420SEL, CL500

Nissan Maxima, Sentra

Saturn Aura XE

Subaru Legacy, Outback Wagon

Toyota Avalon, Camry, Solara

Volkswagen Jetta

Volvo V70, S60
Tire Sizes
15″
195/65R15 91H B
205/65R15 94HB
16″
205/55R16 91H B
205/60R16 92H B
215/55R16 93H B
225/55R16 95V B
225/55R16 95H B
225/60R16 98H B
235/60R16 100H B
P205/60R16 91V B
P215/60R16 94V B
17″
215/50R17 95V XL B
215/55R17 94V B
225/45R17 91W B
225/50R17 94W B
225/55R17 97V B
235/45R17 94W B
235/50R17 96V B
235/55R17 99H B
245/45R17 99V XL B
245/50R17 99V B
P215/65R17 98H B
P255/45R17 98V B
18″
235/40R18 95W XL B
235/50R18 97W B
245/40R18 93W B
245/45R18 96W B
245/50R18 100V B
255/45R18 103W XL B
265/40R18 97W B
P225/60R18 99H B
19″
245/45R19 98W B
255/40R19 100W XL B
275/40R19 105W XL B
Price Range
Prices on the Serenity range from around $103 and up. You may also find occasional rebates, discounts, coupons and special offers on this tire.
Click Here To Find The Lowest Prices On All Bridgestone Turanza Serenity Sizes
Warranty
The Serenity is warranted for 5-years or 70,000 miles on H-speed rated tires, and 5-years or 50,000 miles on V-speed rated models. Tire uniformity is backed for the first 1/32 inch of wear.
Materials and workmanship are guaranteed for 5-years and include free replacement during the first 3 years. Bridgestone prorates out the amount for the remaining time period or until 2/32 inch of tread is left on the tire.
Bridgestone also provides their 30-Day buy and try guarantee. If you are not completely satisfied you can exchange the tires for a different model or receive a full refund.
---