Bridgestone Potenza S007A: Review & Rating
Anyone who drives, knows the name Bridgestone. Bridgestone's mission statement is "Serving Society with Superior Quality." And the quality has spoken for itself throughout the decades. Bridgestone has the honor to have been selected to develop tires for some of the most powerful road cars, manufactures like Ferrari have ever produced. And that is not the only feather in the cap. Bridgestone tires are fitted as original equipment by BMW, Mercedes, GM, Toyota, Ford, Volkswagen, Renault, and Fiat. And not just the cars, but also trucks made by Mercedes, Volvo, Renault, MAN, and many others.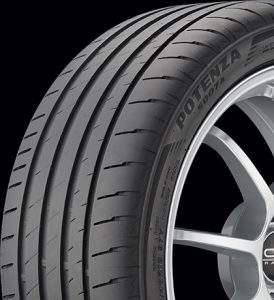 The Potenza range is designed keeping in mind sports cars, and its purpose is to ensure sports cars are equipped with tires, that ensure maximum performance, i.e. speed, cornering, and braking. The first in this series was the S001 and then we had the Potenza S007. The S007 was designed to be the original equipment for the Ferrari F12 Berlinetta Grand Tourer in 2013. The Potenza S007A was developed exclusively for the Aston Martin DB11. The new tire builds on the popular S001, and offers greater stability, improved braking performance, cornering, and increased wear life.
The Potenza S007A is designed for dry and wet conditions. However, this is a summer tire, and like all summer tires it is not intended to be driven in near-freezing temperatures; you cannot use it on ice or snow. That being said, it is important to mention that the tire was designed on the construction and materials technologies that emerged during Bridgestone's 14 seasons as the official FIA Formula One tire supplier. This means that the tire is made to reduce rolling resistance and fuel consumption, thereby giving high-performance and fuel efficiency.
Pros
Excellent grip on dry surfaces, and steering response

Resistance to hydroplaning

Provides maximum cornering grip, even under severe load

Improved braking performance

Increased fuel efficiency

A huge jump in performance compared to the S001
Cons
Strictly a summer tire. Not suitable for snow and ice
Performance
The Potenza S007A has been manufactured with carbon, silica, and rubber. It features an asymmetric tread design, with wide outside shoulders, and includes the 03 dimensional "M" shaped sipes, which further reinforce the tread blocks. All this ensures that the tire maintains optimum road contact and pressure, and maximizes tire lifespan. Certain sizes are also equipped with a Kevlar flipper in the sidewall which prevents excessive movement, thus providing excellent grip on high-speed.
The wide circumferential grooves give you excellent traction on wet roads, as they channel the water, and thereby preserve the traction.
The internal structure is designed to ensure that you receive excellent grip while cornering, even under severe load conditions. They achieve this via an internal structure that includes twin steel belts, reinforced with two layers, of spirally wrapped nylon.
Also if you have driven using the S001, you will see that the S007A allows you to feel more confident taking corners, and obstacles at good speed, especially on wet roads. There is significant improvement in handling on wet roads, between the S001, and S007A.
Sizes and Specifications for the Potenza S007A
The sizing and specifications of the varieties available are as follows:
Size
Diameter
Width
Rim

Range

Measured

Rim

Tread

Depth

Load

Range

Max

Load

Max

psi

Weight
Revs/Mile
205/55R16
24.9″
8.4″
5.5-7.5″
6.5″
9.2/32″
XL
1477 lbs
50 psi
21 lbs
837
225/50R16
24.9″
9.2″
6-8″
7″
9.2/32″
SL
1389 lbs
51 psi
24 lbs
837
205/45R17
24.3″
8.1″
6.5-7.5″
7″
9.2/32″
XL
1235 lbs
50 psi
20 lbs
859
215/45R17
24.6″
8.4″
7-8″
7″
9.2/32″
XL
1356 lbs
50 psi
21 lbs
845
245/40R17
24.7″
9.8″
8-9.5″
8.5″
9.2/32″
SL
1356 lbs
51 psi
24 lbs
843
245/45R17
25.7″
9.6″
7.5-9″
8″
9.2/32″
XL
1709 lbs
50 psi
24 lbs
812
Warranty
The warranty terms often change, over time. However the terms that are present when you buy the tire, apply to you regardless of changes after your purchase date. The current warranty terms applicable are as follows:
There is No Treadlife Warranty. This is not a major loss, as tires with tread life warranty usually have a mark-up built into their price to cover the eventual exchange, with also has a very long list of conditions attached to it. It also important to mention that treadlife warranty is in most cases not given on tires which were installed as original equipment.
There is a uniformity warranty available. The terms are first 1/32 of wear. It is important to mention, that if you notice any disturbance, after installation of new tires, avail this warranty, if applicable, immediately. Also, tires are given a very thorough quality inspection, so disturbance caused by tires is rare, but other potential causes should be checked for.
The Workmanship & Materials Warranty is for 5 years/free replacement for the first three years, then prorated until 2/32″ remaining depth.
There is also the special 30-day buy and try guarantee offered by the manufacturer.
Customer Reviews
A large majority of the customer reviews show that the Potenza S007A was a worthy addition to their cars. People who had already used Bridgestone, mentioned that the S007Aa was much better than the S001, especially the wear life. Overall, people were satisfied with the traction and performance it offered.
Additionally, the tire has received good reviews for performing well on both, normal commute and the occasional weekend track. It has achieved the perfect balance between excellent grip, required for street driving, and the inner construction which allows greater steering sensitivity and high speed handling that is required for the track. Also, unlike other extreme performance tires, it delivers performance with little minimal increase in noise levels.
However it is important to mention that these tires ride a bit stiffer, have a shorter tread life (combined with no tread life warranty), therefore may not be the most appropriate tires for a daily driver, who does not see much track time.
However if you are an existing user of the S001, or the Potenza RE-11, and are satisfied, customer reviews show that the S007A, is a true upgrade from its predecessors.