Bridgestone Potenza S-02 Tire Review & Rating
Created with sports cars, coupes, sedans and high performance summer driving in mind, the Bridgestone Potenza S-02 has also been used as original equipment on arange of cars including models from Aston Martin, BMW, Ferrari, Honda, Mercedes-Benz and Porsche vehicles.
For driving on wet roads the tires have a directional tread design with high-angle, lateral tread grooves so that water is evacuated quickly. The tread design also provides good traction in dry summer conditions.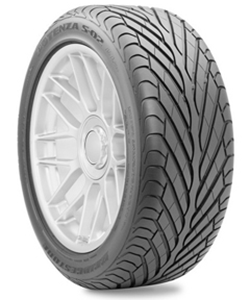 Handling and steering response is increased through the tire's long tread blocks and continuous center ribs weight is reduced while durability is enhanced due in part to the twin steel belts that have been reinforced by a spirally wrapped cap ply and spirally wrapped belt edge strips.
A hard rubber sidewall adds an extra layer of protection to the tires and this also helps with their cornering stability as well. The S-02 is available in 16 to18 inch sizes and features a W or Y-speed rating.
Pros
Dry traction

Strong tire with several layers of protection

Cornering stability
Cons
Treadlife

Wet traction could be better
Overall Thoughts
The Bridgestone Potenza S-02 deliver a mixed bag of results for the driving enthusiast. Dry traction and grip in the corners is more than adequate for the most part. Just be sure to get them heated up before doing any high speed cornering maneuvers. Steering response is quick and the tire provides good stability.
The biggest issue in our opinion, other than the relatively short treadlife, is the poor traction on wet streets. It's easy to slide the rear out if you're not careful. This is especially true as the tire wears down.
Overall, while perhaps an average performing original equipment tire, we feel there are many other max performance tires that would make for a better choice ahead of the S02.
Click Here For Current Bridgestone Coupons
What Vehicles Will The Bridgestone PotenzaS-02 Fit?
(This is not a complete list of ALL vehicles this tire will fit)
Acura TL

Audi A4

Ford Mustang

Honda S2000, Civic

Mazda RX-7

Nissan 240SX

Pontiac Trans Am

Porsche Boxster, 911

Subaru Impreza WRX
Tire Sizes
16″
205/55R16 W BL
225/50R16 W BL
225/50ZR16 BL
17″
205/50ZR17 BL
255/40ZR17 BL
18″
215/45ZR18 (Y) BL
225/40ZR18 BL
245/40ZR18 (Y) BL
255/40ZR18 Z BL
275/40ZR18 (Y) BL
265/35ZR18 (Y) BL
295/35ZR18 Z BL
285/30ZR18 BL
295/30ZR18 BL
Price Range
Bridgestone Potenza S-02 prices range from approximately $175 and up. You may also find occasional rebates, discount prices, coupons and special offers on this tire.
Click Here To Find The Lowest Prices On All Bridgestone Potenza S-02 Sizes
Warranty
Bridgestone provides a limited tread warranty on the Potenza S-02. Tire uniformity is guaranteed for the first 1/32 inch of wear. Materials and workmanship are warranted for 5-years and include free replacement during the first 3-years. A prorated amount is given for the remaining time period or down to the final 2/32 inch of tread depth.
There is also a 30-day buy and try guarantee that allows you to refund or exchange the tires in the event you are not completely satisfied.
---