Bridgestone Ecopia EP422 Tire Review & Rating
For drivers looking for a more fuel efficient and environment-friendly tire, the Ecopia EP422 from Bridgestone may be what you're looking for. Built for owners of all types of coupes, sedans and smaller crossovers, the EP422 features some of Bridgestone's latest tire technology.
The strength of this tire is its lower rolling resistance and increased fuel efficiency due to its Nano-Tech silica tread compound. This new technology is designed to not only improve fuel economy, but also provide all-season traction and handling. Another benefit to this newest technology is that it lowers CO2 emissions, which in turn makes for a more cleaner environment.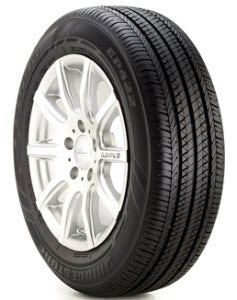 Dry traction performance is enhanced through the independent center blocks and intermediate ribs around the tire. Wet performance is increased through circumferential grooves that evacuate water away from the tire and reduce the risk of hydroplaning.
Inside the tire you will find two steel belts with spirally wrapped nylon reinforcement for added strength and better overall ride comfort. They also promote more even tire wear, resulting in a longer treadlife. Bridgestone warrants the Ecopia EP422 for 65,000 miles.
Pros
Very comfortable and quiet riding tire

Should see an mpg boost

65,000 mile treadlife warranty
Cons
Not for those looking for more sporty grip and handling

Treadwear
Overall Thoughts
The Ecopia EP422 has shown to be a nice all-season touring tire for drivers who are looking for a quiet and comfortable ride, as well as those who want an environmentally friendly tire that may give an added boost in fuel economy. This model is not for those who enjoy more spirited driving as its cornering power is weak.
The biggest area of concern appears to be its treadlife. We've heard many driver reviews speaking of lower than expected life out of this tire to ignore.
Overall, we rank this model in the lower half of this class. We'd suggest looking at the newer Ecopia EP422 Plus as a better option.
Click Here For Current Bridgestone Coupons
Click Here To Find Current Prices
What Vehicles Will The Bridgestone EP422 Fit?
(This is not a complete list of ALL vehicles this tire will fit)
Buick Lesabre

Chevrolet Cobalt, Malibu

Dodge Neon, Grand Caravan

Ford Focus

Honda Civic, CR-Z, CRV, Insight, Accord, Fit

Kia Optima

Mazda 6

Mini Cooper

Nissan Altima, Maxima, Versa, Leaf, Cube

Pontiac Vibe, Grand Am

Saturn Aura

Toyota Camry, Prius, RAV4, Avalon

Volkswagen Jetta, Passat
Tire Sizes
15″
175/65R15 84H BW
P185/60R15 84T BW
P185/65R-15 86H BW
P195/60R15 87H BW
P195/65R-15 89H BW
16″
P195/55R-16 86V BW
205/50R16 87H BW
P205/55R16 89H NIS B
205/55R16 91H BW
P205/60R16 91H BW
215/55R16 93H BW
P215/60R-16 94H BW
P215/60R-16 94V BW
215/65R16 98T BW
P225/60R16 97H BW
235/65R16 103T BW
17″
205/50R17 XL 93V BW
P215/45R17 87W BW
215/50R17 91V BW
P215/55R17 93V BW
P215/60R17 95T BW
P215/65R17 98T BW
P225/50R17 93T BW
P225/50R17 93V BW
P225/55R17 95V BW
P225/60R17 98H BW
P225/65R17 100T BW
235/65R17 104H BW
18″
P215/55R18 94H BW
P225/50R18 94T BW
P225/55R18 97H BW
225/60R18 100H BW
Price Range
Ecopia EP422 prices range from approximately $81 and up. You may also find occasional rebates, discounts, coupons and special offers on this tire.
Click Here To Find The Lowest Prices On All Bridgestone Ecopia EP422 Sizes
Warranty
The EP422 comes with a 5-year or 65,000 mile treadlife warranty. A first 1/32 inch of wear guarantee on tire uniformity is also included.
Materials and workmanship are warranted for 5-years and include free tire replacement during the first 3 years. A prorated amount is given down to the final 2/32 inch of tread depth.
Bridgestone currently offers a 30-day buy it and try it guarantee that allows you to either refund the tires or exchange them if you are not satisfied.
---