Bridgestone Ecopia EP422 Plus Tire Review & Rating
Building on the solid performance of its predecessor, the second-generation Bridgestone Ecopia EP422 Plus provides drivers with a tire that is environmentally-friendly, fuel economy oriented and a solid all-season performer. With its lower rolling resistance and smaller carbon footprint, the EP422 Plus is built for all types of coupes, sedans, minivans and smaller crossovers.
Bridgestone uses an advanced all-season tread compound that utilizes their exclusive NanoPro-Tech to give the tread increased rolling resistance that results in better overall fuel economy in all types of road conditions. In fact the company claims that the new EP422 Plus delivers 23 percent better rolling resistance than the original EP422, while giving drivers an extra 20 miles per tank.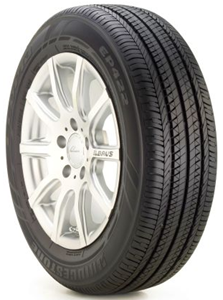 Dry traction and handling is improved through the tire's symmetric tread pattern, notched shoulder design and independent center blocks. This combination works well and gives this tire added steering response and good on-center feel.
Four circumferential grooves help channel away water on wet pavement and reduce hydroplane risks, while the addition of multiple sipes around the tread provide biting edges for enhanced grip on snow, slush and ice covered road surfaces.
Inside the tire you'll find two steel belts that are spirally wrapped with nylon, along with a polyester casing that adds more strength and durability to the tire. It also helps in adding more comfort and providing a longer treadlife.
Bridgestone offers sizes ranging from 15-18 inches and speed ratings of T, H and V. It carries a 600-A-A UTQG rating and comes with a 70,000 mile tread warranty.
Pros
Lower rolling resistance adds to fuel efficiency

Good dry and wet traction

Cornering stability

Treadlife
Cons
Would like to see much improved winter performance
Overall Thoughts
While the original EP422 has been a good seller for Bridgestone over the years, the new EP422 Plus ups the level of performance… to a degree. Traction and handling is very good regardless of whether roads are dry or wet. The ride is quiet and comfortable as you would expect from looking at the tread design.
Treadlife was the biggest issue for the previous version of this tire, and this newer model has addressed that it appears. Thus far, treadlife looks to be greatly improved. The fuel efficient design further enhances gas mileage for drivers looking to save money at the gas pump. Even if the gains are nominal, the savings can add up over time.
By far, the single biggest concern with this model is its very poor winter traction. Whether it's deep snow or on the ice, this tire struggles with braking and acceleration. This is backed by many driver reviews on the tire. Our advice would be to install a dedicated winter tire on your vehicle if you see much or any snow and ice during winter months.
Overall, if winter traction is not a major factor for choosing a new set of tires, the EP422 Plus is a nice option for anyone looking for a more fuel efficient touring all-season tire that also offers good value for its lower cost.
Click Here For Current Bridgestone Coupons
Buy Used for 40 – 50% Less than Retail
What Vehicles Will The Bridgestone EP422 Plus Fit?
(This is not a complete list of ALL vehicles this tire will fit)
Buick Lesabre

Chevrolet Cobalt, Malibu

Chrysler Sebring

Dodge Neon, Grand Caravan, Stratus

Ford Focus, Fusion

Honda Civic, CR-Z, CRV, Insight, Accord, Fit

Hyundai Sonata

Kia Optima, Rondo

Mazda 3, Mazda 6

Mini Cooper

Mitsubishi Lancer

Nissan Altima, Maxima, Versa, Leaf, Cube

Pontiac Vibe, Grand Am

Saturn Aura

Suzuki SX4, Verona

Toyota Camry, Avalon, Prius, RAV4, Solara

Volkswagen Jetta, Passat
Tire Sizes
15″
175/65R15 84H BSW
185/55R15 82V BSW
185/60R15 84T BSW
185/65R15 88H BSW
195/60R15 88H BSW
195/65R15 91H BSW
195/65R15 91H BSW
205/60R15 91H BSW
205/65R15/XL 99H BSW
205/70R15 96T BSW
215/70R15 98T BSW
16″
195/55R16 87V BSW
205/50R16 87H BSW
205/55R16 91H BSW
205/55R16 91H BSW
P205/60R16 91H BSW
205/60R16 92H BSW
205/65R16 95H BSW
215/55R16 93H BSW
215/60R16 95V BSW
215/65R16 98T BSW
215/65R16 98T BSW
225/60R16 98H BSW
225/65R16 100H BSW
235/60R16 100H BSW
235/65R16 103T BSW
17″
205/50R17/XL 93V BSW
215/45R17 87V BSW
215/50R17/XL 95V BSW
215/55R17 94V BSW
215/60R17 96T BSW
215/65R17 99T BSW
225/50R17 94V BSW
225/55R17 97V BSW
225/60R17 99H BSW
225/65R17 102T BSW
235/55R17 99H BSW
235/60R17 102T BSW
18″
215/55R18 95T BSW
225/45R18 91V BSW
225/50R18 95T BSW
225/60R18 100H BSW
235/55R18 100T BSW
Price Range
Bridgestone Ecopia EP422 Plus prices range from approximately $85 and up. You may also find occasional rebates, discount prices, coupons and special offers on this tire.
Click Here To Find The Lowest Prices On All Bridgestone Ecopia EP422 Plus Sizes
Warranty
Bridgestone provides a 5-year or 70,000 mile treadlife warranty on the Ecopia EP422 Plus. A first 1/32 inch of wear guarantee on tire uniformity is also included.
Materials and workmanship are warranted for 5-years and include free tire replacement during the first 3 years. A prorated amount is given down to the final 2/32 inch of tread depth.
Bridgestone currently offers a 30-day buy it and try it guarantee that allows you to either refund the tires or exchange them if you are not satisfied.
---