Bridgestone Dueler H/T D684 II Tire Review & Rating
The Bridgestone Dueler H/T D684 II is designed to deliver confident all-season traction and handling to go with a smooth and more comfort ride quality. Built for all types of pickups and SUV's, the D684 II has also been used as original equipment by several auto makers over the years.
Bridgestone uses a unique all-season tread compound, symmetric tread pattern and their exclusive UNI-T technology that is created to give this model dependable dry traction and more precise handling performance, which is a plus for this tire.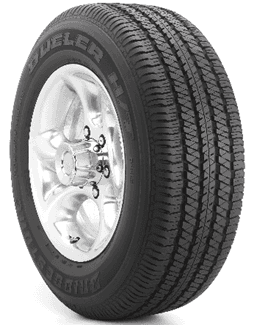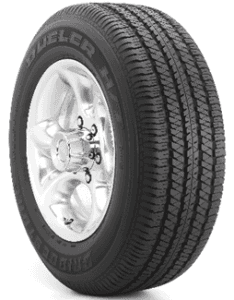 Four circumferential grooves around the tread and notched lateral grooves help in channeling away water for increased grip on wet pavement, however, we would like to have seen sipes added for better traction. Another benefit that these notched grooves provide is bite on snow and slush. Again, the lack of sipes causes traction issues
A 5-degree noise reduction combines with the UNI-T technology to provide for a quieter ride out on the highway, while the rounded casing profile and spiral wrap smoothen the ride and deliver enhanced higher speed drivability.
Inside the tread you'll find dual steel belts with a polyester cord body. Together they add more durability and help in softening the ride over harsher bumps and potholes. Bridgestone offers sizes ranging from 17-22 inches, and with S, T, H and V-speed ratings. A 60K mile tread warranty is also included.
Pros
Dry traction and handling
Responsive steering
Ride comfort
Cons
Increase the wet traction
Grip on snow and ice
Treadlife
Overall Thoughts
The Bridgestone D684 II pretty much fits the model of an OE tire. It does just enough to keep you going in everyday use, but does nothing exceptionally well that makes it stand out from higher performing models that are available today.
Yes, traction on dry road surfaces is very good, steering response is quick and the tire remains stable while cornering. Bridgestone's UNI-T technology helps with the ride comfort, although again, it is nowhere close to the more comfortable tires in this class.
Where this tire stumbles would certainly be in winter conditions. Deep snow, hard-packed snow and ice traction need a boost. We've heard this from many other drivers in reviews of this tire. That said, it does hold its own in lighter amounts of snow and slush. You also have to keep in mind that this is no dedicated winter tire either. Finally, treadlife is another area that could use improvements.
Overall we feel this tire is an average performing truck and SUV all-season tire that finds its best use as original equipment. While it is certainly not a bad tire by any means, we would suggest going with tires like the Michelin Defender LTX M/S or Yokohama YK-HTX among others as better options.
Click Here For Current Bridgestone Coupons
What Vehicles Will The Bridgestone D684 II Fit?
(This is not a complete list of ALL vehicles this tire will fit)
Chevrolet Silverado, Suburban, Avalanche, Tahoe
Dodge Ram, Durango
Ford F-150, Explorer, Expedition
GMC Sierra, Yukon
Mitsubishi Outlander
Nissan Armada, Titan, Xterra
Toyota Tacoma, Tundra, 4-Runner, Sequoia
Tire Sizes
17″
P245/70R17 108S BW
P255/70R17 110S BW
P265/65R17 110S BW
P265/70R17 113S BW
18″
P235/60R18 102H BW
P255/70R18 112T BW
P265/65R18 112S BW
P275/65R18 114T BW
P275/65R18 114T BW
P285/60R18 114V BW
20″
P245/60R20 107H BW
275/60R20 114H BW
22″
275/50R22 111H BW
Price Range
Bridgestone Dueler H/T D684 II prices range from approximately $148 and up. You may also find occasional rebates, discount prices, coupons and special offers on this tire.
Warranty
Bridgestone provides a 5-year or 60,000 mile tread warranty on the HT D684 II. There is a first 1/32 inch of wear guarantee on tire uniformity.
Materials and workmanship are warranted for 5-years and include free replacement during the first 3 years. A prorated amount is given for the remaining time period or down to the final 2/32 inch of wear.
You will also receive a 30-day buy and try guarantee that allows you to refund or exchange the tires if you are not completely satisfied.
---