Bridgestone Dueler H/L Alenza Tire Review & Rating
The Dueler H/L Alenza from Bridgestone sports unique engineering to go with the latest in tire technology. Developed for drivers of all types of SUV's, pickups and crossovers, the Alenza is designed for year round traction and performance to go with a more comfortable ride.
The all-season tread compound includes L.L. Carbon, which improves tire wear and enhances wet pavement performance. What else is unique about this tread compound is that it is a dual-layer compound. Bridgestone incorporates its unique UNI-T AQII technology to create a rubber that prevents it from hardening as the years, and miles, go by.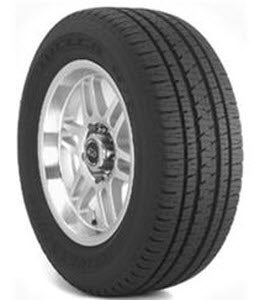 This new technology works by reducing the effects of heat buildup that occurs as the miles go by. As the tread wears, a new layer is exposed which offsets the normal results from heat building up and damaging the rubber.
UNI-T technology ensures a more rounded tire that makes for increased ride comfort whether around town or out on the highway. One of the things that you will immediately notice with this tire is how stable it is. Steering response is enhanced through the tires wide continuous center rib, while larger tread blocks around the shoulders add more stability at highway speeds.
Wet traction is increased through 3-D sipes, wider circumferential grooves and lateral notches around the tread. They provide added traction and grip during heavy rains, or on snow covered roads.
Inside the tire you'll find two steel belts that are reinforced with spirally wrapped nylon for added strength and better ride quality. Bridgestone includes either a 60,000 mile or 45,000 mile tread guarantee depending on the speed rating of the tire.
Pros
Excellent traction and handling on wet/dry road surfaces

Tires are very stable at all speeds

Steering response and feel are above average

Comfortable ride
Cons
A little more road noise than other top models in this class

Treadlife has been an issue for some
Overall Thoughts
The Alenza is one of Bridgestone's more popular truck/suv tires. We feel that the traction, braking and acceleration you have on wet, dry and even snow covered road surfaces is very good in most cases. Tire stability, as well as steering response, is excellent. You feel in control at all times. You'll find the ride is also quite comfortable on this tire. That said… there are some negatives.
Road noise is a bit more pronounced than say on the Michelin Premier LTX. It's not overly loud by any means, but just a little more noticeable, especially when the tire begins wearing out. In addition, some have mentioned treadlife has been shorter than expected. To be fair, others have said they have gotten good tread wear from the tire.
Overall, this is a solid performing tire. However, we would recommend going with the newer H/L Alenza Plus as it has a bit higher performance.
Click Here To Find Current Prices
What Vehicles Will The Bridgestone Dueler Alenza Fit?
(This is not a complete list of ALL vehicles this tire will fit)
Acura MDX

BMW X5

Cadillac Escalade

Chevrolet Tahoe, Trailblazer, Suburban, Avalanche, Silverado

Dodge Durango, Ram

Ford Expedition, Explorer, F-150

GMC Yukon, Sierra, Acadia, Envoy

Honda CRV, Pilot

Infiniti FX45

Lexus RX330

Mitsubishi Outlander

Nissan Pathfinder, Titan

Toyota 4Runner, Highlander, Sequoia, Tundra, Rav4

Volvo XC90
Tire Sizes
15″
P235/75R-15 105T OWL
P265/70R-15 110H BW
16″
P215/70R-16 99T OWL
P225/70R-16 101T OWL
P225/75R-16 104T OWL
235/70R-16 106H BW
P235/75R-16 106T OWL
P245/70R-16 106H BW
P245/75R-16 109T OWL
255/65R-16 109H BW
P255/70R-16 109T OWL
265/70R-16 112T OWL
P265/75R-16 114H BW
P275/70R-16 114H BW
17″
225/65R-17 102H BW
235/65R-17 104H BW
P245/65R-17 105H BW
P245/65R-17 105T OWL
255/60R-17 106H BW
P255/75R-17 113T BW
P265/65R-17 110T OWL
P265/70R-17 113T OWL
P265/70R-17 113H BW
275/55R17 109V BW
P275/60R-17 110H BW
18″
235/55R-18 100V BW
P235/65R-18 104T OWL
255/55R-18 109W XL B
265/60R-18 110V BW
P265/65R18 112T OWL
P265/70R18 114T OWL
275/60R-18 113H BW
P275/65R-18 114H BW
P285/60R-18 114H BW
19″
255/55R-19 111V XL B
P255/60R-19 108H BW
20″
255/50R-20 109V XL B
P255/55R-20 107H BW
P265/50R-20 106V BW
P275/45R-20 106V BW
P275/55R-20 111S BW
P275/55R-20 111H TOY
P275/60R-20 114H BW
22″
275/45R-22 112V XL B
P285/45R-22 110H CAD
Price Range
Bridgestone H/L Alenza prices range from approximately $152 and up. You may also find occasional rebates, discounts, coupons and special offers on this tire.
Click Here To Find The Lowest Prices On All Bridgestone Dueler H/L Alenza Sizes
Warranty
Bridgestone stands behind this tire with a 5-year or 65,000 mile tread warranty on all models excluding W-speed rated tires. A 5-year or 40,000 mile guarantee applies to W-speed rated tires. All tires come with a first 2/32 inch of wear tire uniformity warranty.
Materials and workmanship are for 5-years and include first three years free tire replacement. A prorated amount is given for the remaining time period or down to the last 2/32 inch of tread depth.
You will also get Bridgestone's 30-day buy and try guarantee. If you are not satisfied you can refund or exchange the tires for another Bridgestone model.
---