Bridgestone Dueler H/L 400 Tire Review & Rating
The Dueler H/L 400 from Bridgestone is engineered to provide all-season highway performance to go with a smoother ride quality. Designed for drivers of sport utility vehicles and crossovers, this tire has been used over the years as original equipment on vehicles like the BMW X5, Toyota Highlander and Acura MDX among several others.
An all-season tread compound utilizes L.L. Carbon black for added toughness in resisting cracking and chipping, as well as better overall tread wear. Bridgestone's Computer Optimized Component System technology optimizes the tread design, casing shape, materials and construction to increase the tires performance on both dry and wet road surfaces.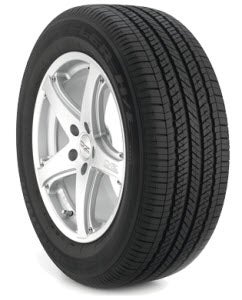 Open slotted shoulders enhance grip on dry and wet pavement while also providing increased steering response. The O-bead construction is developed to increase tire uniformity and additional ride comfort. Bridgestone has also added a run-flat version for drivers seeking added safety and protection from a flat tire out on the road.
Inside the tire you will find two steel belts with spirally wrapped nylon for added strength and durability at higher speeds. A polyester cord body further enhances ride comfort. Sizes are available from 17-21 inches, and with speed ratings up to a V.
Pros
Dry traction and tire stability is excellent

Very good steering response

Ride is comfortable and quiet
Cons
Tread life could be improved

Winter handling is poor
Overall Thoughts
Although this model is used mainly as OE on several different SUV's and Crossovers it is also available as a replacement option, however, we would not recommend it. While you will find very good dry traction and steering response to go with decent ride comfort, that's about the best this tire has to offer.
Traction in any type of winter weather, from a trace of snow to freezing rain and ice is very poor. There is little in the way of grip. This is the opinion of not only us, but many other driver reviews as well. Tread life is another huge problem area with this Bridgestone model.
Overall, we rank the Dueler H/L 400 at the lower end of the highway all-season class. Better options would be models like the Michelin Defender LTX MS or General Grabber HTS60 among others.
Click Here For Current Bridgestone Coupons
Click Here To Find Current Prices
What Vehicles Will The Bridgestone H/L 400 Fit?
(This is not a complete list of ALL vehicles this tire will fit)
Acura MDX

Audi Q7

BMW X5

Chevrolet Avalanche

Honda CR-V

Hyundai Santa Fe

Infiniti FX50

Lexus RX 350, RX450

Mazda CX-9, CX-7

Mercedes-Benz M Class, R Class, GL320

Toyota Highlander, Venza, RAV4

Volvo XC90
Tire Sizes
17″
225/65R17 102T BLK
235/60R17 102V BLK
245/55R17 102H BLK
255/55R17 104V BLK
P215/70R17 100H BLK
P245/65R17 105S BLK
18″
255/55R18 109H XL BLK
255/55R18 109H XL BLK
P235/55R18 99H BLK
P235/60R18 102V BLK
P245/60R18 104H BLK
P255/55R18 104H BLK
P255/55R18 104T BLK
19″
255/50R19 107H XL BLK
255/50R19 107H XL BLK
265/50R19 110H XL BLK
P235/55R19 101H BLK
P235/55R19 101V BLK
P245/55R19 103S BLK
20″
275/50R20 109H BLK
P245/50R20 102V BLK
21″
P265/45R21 104V BLK
Price Range
Bridgestone Dueler H/L400 prices range from approximately $172 and up. You may also find occasional rebates, discount prices, coupons and special offers on this tire.
Click Here To Find The Lowest Prices On All Bridgestone Dueler H/L 400 Sizes
Warranty
Bridgestone provides a limited tread warranty on the HL 400. Tire uniformity is guaranteed for the first 1/32 inch of wear. Materials and workmanship are warranted for 5-years and include free replacement during the first 3-years. A prorated amount is given for the remaining time period or down to the final 2/32 inch of tread depth.
You will also receive a 30-day buy and try guarantee where you can either exchange or refund the tires if you are not completely satisfied.
---