Bridgestone DriveGuard Run Flat Tire Review & Rating
In the past, driving on a run-flat tire used to be about as enjoyable as having to go to the dentist for a root canal. Which is why many drivers have opted to replace their worn RF tires with non-run flat models instead. Well, Bridgestone has attempted to change all that with their new DriveGuard Run Flat tire. Featuring new RF tire technology, the DriveGuard is built to ride just as comfortably as non RF tires.
Without getting into the technical aspects too much the DriveGuard allows you to continue driving up to 50 miles at speeds of up to 50 mph even if the tire has suffered a complete loss of air pressure. The benefits are obvious; no having to change a tire on a busy urban interstate, out in the country on a rural back road, or having to be late to work due to a flat, etc.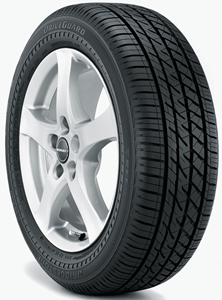 A silica-enhanced all-season tread compound is molded into an asymmetric tread design. The result is better handling and traction on dry or wet pavement, increased cornering stability and a longer treadlife.
Nano Pro-Tech sidewall adds durability and sturdiness to the tires, while Bridgestone's Cooling Fin Design reduces tire weight and enhances ride comfort. Inside the tire are two steel belts which are reinforced with spirally wrapped nylon on top of a rayon cord casing.
The DriveGuard Run Flat is available in a range of 15 to 19 inch sizes, and comes with an exceptional treadwear warranty that is not often found on a run-flat tire.
Pros
Ability to keep driving even with a flat tire

Good performance under normal driving conditions

Ride is excellent for a run-flat tire

Excellent warranty not usually found on run-flats
Cons
Softer cornering/handling at higher speeds
Overall Thoughts
This new Birdgestone DriveGuard Run Flat is truly a game changer in the run flat tire market. We don't say that lightly. Only the most serious of driving enthusiasts will be able to notice any difference in ride comfort from this tire and a similar non-RF tire. That's how far advanced Bridgestone has taken their latest technology. This tire simply rides comfortably on the highway.
Tire performance is very good in dry or wet conditions. While traction in light winter conditions is very good, expect to find winter braking/acceleration performance dropping off when the snow piles up or on icy pavement surfaces. While traction is not terrible, it could be better. The only other concern worth mentioning is the softer handling performance at higher speeds on the highway. If you're a hard-core driving enthusiast this may be a concern for you, but for the vast majority of drivers it is not a major issue in the least.
Bridgestone backs this model with a solid guarantee as well. In fact they stand behind it with a 30-day try or refund it pledge, and beyond that Bridgestone will completely replace the tire if it isn't repairable due to a flat within the first year or 12,000 miles.
Overall, if you're looking to replace your old worn out run-flat tires, or want the added safety that only this type of tire provides in the event of a flat, then the DriveGuard is a solid choice.
Click Here For Current Bridgestone Coupons
Click Here To Find Current Prices
Buy Used for 40 – 50% Less than Retail
What Vehicles Will The Bridgestone DriveGuard Run Flat Fit?
(This is not a complete list of ALL vehicles this tire will fit)
Acura TL, CL

BMW 135i, 330i, 530i

Chevrolet Cobalt, Malibu, Cruze, Impala, Sonic LTZ

Dodge Neon, Grand Caravan, Nitro

Ford Focus, Mustang GT, Taurus, Fusion

Honda Civic, CR-V, Insight, Accord

Hyundai Genesis, Sonata

Infiniti G35x

Kia Optima, Rondo

Lincoln MKZ

Mazda6, 929, Mazda3

Mercedes-Benz E320

Nissan Altima, Maxima, Versa, Leaf, Cube

Pontiac Vibe, Grand Am, Grand Prix, G5

Subaru Legacy, Impreza Outback

Toyota Camry, Prius, RAV4, Avalon, Solara, Sienna

Volkswagen Jetta, Passat, Touareg
Tire Sizes
15″
195/60RF15 88H BW
195/65RF15 91H BW
16″
195/55RF16 87V BW
205/55RF16 91V BW
205/60RF16 92V BW
205/65RF16 95H BW
215/55RF16 93V BW
215/60RF16 95V BW
225/60RF16 98V BW
225/65RF16 100H BW
235/65RF16 103T BW
17″
205/45RF17 88W XL BW
205/50RF17 93W XL BW
215/45RF17 91W XL BW
215/50RF17 95V XL BW
215/55RF17 94V BW
225/45RF17 91W BW
225/50RF17 94W BW
225/55RF17 97V BW
225/60RF17 99H BW
225/65RF17 102H BW
235/45RF17 94W BW
235/50RF17 96W BW
235/60RF17 102H BW
235/65RF17 104H BW
245/40RF17 91W BW
245/45RF17 99W XL BW
255/40RF17 94W BW
18″
215/45RF18 93W XL BW
215/55RF18 95H BW
225/40RF18 92W XL BW
225/45RF18 95W XL BW
225/50RF18 95W BW
235/40RF18 95W XL BW
235/45RF18 98W XL BW
235/50RF18 97W BW
235/55RF18 100V BW
245/40RF18 97W XL BW
245/45RF18 96W BW
255/35RF18 94W XL BW
255/40RF18 99W XL BW
255/45RF18 99W BW
19″
245/40RF19 98W XL BW
Price Range
Bridgestone DriveGuard Run Flat prices range from approximately $107 and up. You may also find occasional rebates, discount prices, coupons and special offers on this tire.
Warranty
Bridgestone provides a 5-year or 60,000 mile tread warranty on H and V-speed rated models, and 50,000 miles for W-rated tires. There is a first 1/32 inch of wear guarantee on tire uniformity.
Materials and workmanship are warranted for 5-years and include free replacement during the first 3 years. A prorated amount is given for the remaining time period or down to the final 2/32 inch of wear.
You will also receive a 30-day buy and try guarantee that allows you to refund or exchange the tires if you are not completely satisfied, as well as a one-year or 12,000 mile road hazard warranty.
---