Bridgestone Blizzak WS80 Tire Review & Rating
For more than 20 years now, Blizzak winter tires have been some of the best quality tires you can drive on in harsh winter conditions, and the new Bridgestone Blizzak WS80 strives to continue that run. Built for all types of coupes, sedans and minivans, the WS80 features a host of new tire technology for added performance.
It all starts with Bridgestone's latest NanoPro-Tech Multicell tread compound, which improves traction when driving on slush, hard-packed snow and ice covered pavement. It is also designed to keep the tread surface flexible when temperatures outside fall far below freezing.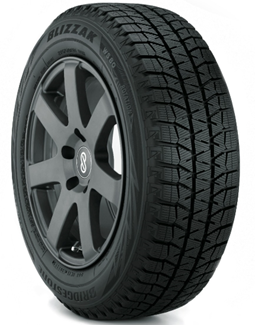 Where the real action is on the Bridgestone WS80 is in how it delivers its sure-footed gripping power. The tire's directional tread pattern utilizes a number of increased block edges over earlier models. In addition, there are 3-D zig-zag sipes and unique tread bite particles that act like studs around the tread. All of this combines to deliver some of the best traction you can find in a studless winter tire. This is not just our word, but the word from an overwhelming number of other driver reviews on this tire.
And optimized tread footprint and circumferential grooves provide for increased wet traction and improved stability and response on cold dry road surfaces. This added safety in tough conditionsis very noticeable on the WS80. Braking and acceleration have proven to be excellent as well. In fact, Bridgestone claims the WS80 stops 22% sooner than the Michelin X-Ice Xi3 in test results. We have no reason to doubt those results either.
Ride comfort is not an issue for this model. It not only provides better comfort than many of the leading competitor tires, but there is not a lot of excessive road noise to go with it, something that is nice when driving longer distances.
Bridgestone currently offers sizes ranging from 15-18 inches, and speed ratings of T and H. Treadlife to this point has shown to be very good, although it is still early to give definitive results. This model includes a limited tread warranty.
Pros
Ice and snow grip

Wet and slush traction

Comfortable ride without a lot of noise
Cons
Softer cornering on dry pavement (Hey, we thought we needed to put something there)
Overall Thoughts
If you liked the overall performance of the older Blizzak WS70, you are not going to be disappointed with the newer WS80. It delivers as promised. The only way to put is to simply say that at this point the Bridgestone WS80 is at the top of the class for studless winter tires.
The grip on snow, ice, wet pavement and any other type of winter road surface condition, is excellent. It's hard to describe the safer feeling this tire delivers when driving in rough weather. As far as negatives goes, there really are none when it comes to a winter tire. Sure, we mentioned cornering power on dry pavement just to put something in there, but this is a winter tire and not a high performance summer tire.
If you're looking to purchase a set of winter tires there are a number of very good models to choose from, but for the money the WS80 is our choice as number one in this category.
Click Here For Current Bridgestone Coupons
Click Here To Find Current Prices
What Vehicles Will The Bridgestone Blizzak WS80 Fit?
Fits these vehicles and many others:
Acura TL, CL

BMW 135i, 330i, 530i

Chevrolet Cobalt, Malibu, Cruze, Impala, Sonic LTZ

Dodge Neon, Grand Caravan, Nitro

Ford Focus, Mustang GT, Taurus, Fusion

Honda Civic, CR-V, Insight, Accord, Odyssey

Hyundai Genesis, Sonata, Elantra

Infiniti G35x

Kia Optima, Rondo

Lincoln MKZ

Mazda6, 929, Mazda3

Mercedes-Benz E320

Nissan Altima, Maxima, Versa, Leaf, Cube, Sentra

Pontiac Vibe, Grand Am, Grand Prix, G5

Subaru Legacy, Impreza Outback

Toyota Camry, Prius, RAV4, Avalon, Solara, Sienna, Corolla

Volkswagen Jetta, Passat, Touareg
Tire Sizes
15″
175/65R15 84H BW
185/55R15 82H BW
185/60R15 84T BW
185/65R15 88T BW
195/65R15 91H BW
205/65R15 94T BW
215/70R15 98T BW
16″
185/55R16 87T XL BW
195/50R16 84H BW
195/55R16 87H BW
195/60R16 89H BW
205/55R16 91H BW
205/60R16 92H BW
205/65R16 95T BW
215/55R16 97H XL BW
215/60R16 95H BW
215/65R16 98H BW
225/60R16 98H BW
225/65R16 100T BW
17″
205/40R17 84H XL BW
205/50R17 93H XL BW
215/45R17 91T XL BW
215/50R17 95H XL BW
215/55R17 94H BW
215/60R17 96T BW
215/65R17 99T BW
225/45R17 91H BW
225/50R17 94H BW
225/55R17 97H BW
225/60R17 99H BW
225/65R17 102H BW
235/45R17 97H XL BW
18″
215/55R18 95T BW
225/40R18 92H XL BW
225/45R18 95H XL BW
225/50R18 95T BW
225/55R18 98H BW
225/60R18 100H BW
235/40R18 95H XL BW
235/50R18 101H XL BW
255/35R18 90H BW
Price Range
Bridgestone Blizzak WS80 prices range from approximately $89 and up. You may also find occasional rebates, discount prices, coupons and special offers on this tire.
Click Here To Find The Lowest Prices On All Bridgestone Blizzak WS80 Sizes
Warranty
Bridgestone provides a limited tread warranty on the WS80. There is a first 1/32inch of wear guarantee on tire uniformity. Materials and workmanship are warranted for 5-years and include free replacement during the first 3 years. A prorated amount is given for the remaining time period or down to the final 2/32 inch of wear.
---